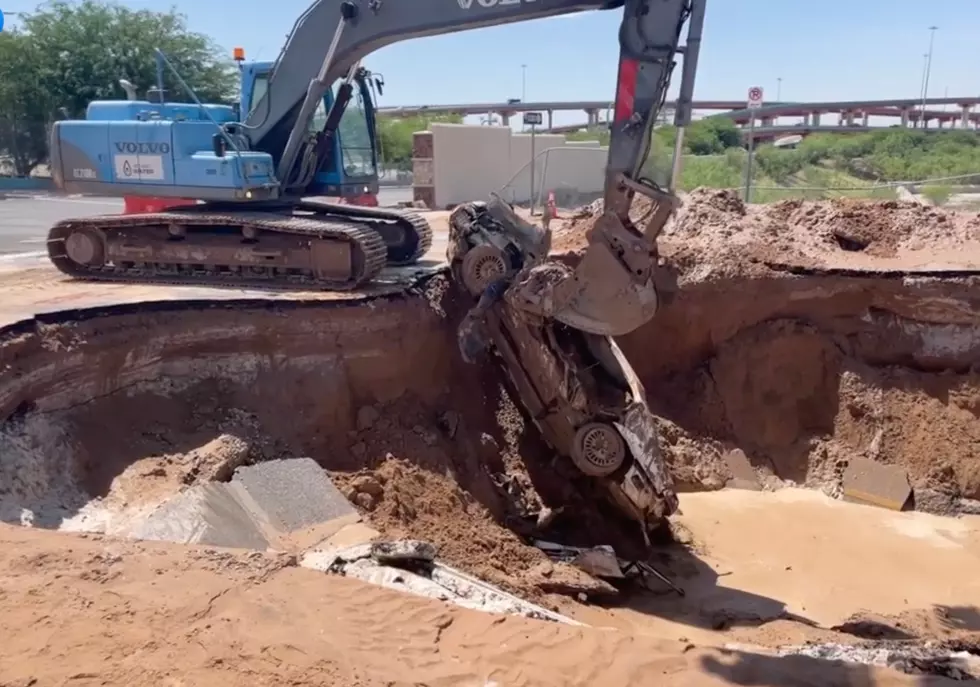 El Paso In National News After 15 Ft Deep Sinkhole Swallows Car
El Paso Water
El Paso made national news after a woman barely escaped with her life when a 15-foot-deep sinkhole opened up and swallowed her vehicle in Central El Paso.
On Tuesday, August 9, a motorist encountered a terrifying moment when a sinkhole 15 feet deep opened in the middle of the road, inundating the vehicle and driver.
El Paso made national news this week, showing a vehicle sinking into the ground as the street flooded at Gateway South and E. Yandell Drive intersection.
Like quicksand, the flood and sinkhole overtook the vehicle and driver quickly; however, thanks to emergency crews and bystanders, the 72-year-old driver was pulled out to safety from the car's rear windshield seconds before the vehicle became submerged underwater.
According to KFOX14, who spoke with Gilbert Trejo, chief operations officer for El Paso Water, the sinkhole was caused partly due to the pressure of a broken water line and heavy rainfall.
The next day the vehicle was unrecognizable as the recovery crew pulled out the car in pieces. Thankfully, the driver was not harmed and taken to the hospital and was released later that evening on Tuesday, but was understandably shocked to learn that her vehicle was a total loss.
While this incident was a combination of rainfall and a waterline break, central El Paso is notorious for flooding streets quickly.
This year our monsoon season has not been as intense as last year, but heavy rainfall can cause significant damage to property, streets, and homes.
El Paso Water reminds our community that:
More than half of the deaths from flooding occur in vehicles each year
Just 6 inches of water can knock over an adult
2 feet of rushing water can carry away trucks and SUVs
12 inches of flowing water to carry away a small car
So be safe, especially when roads flood, and remember, Turn Around, Don't Drown.
All 10 Of El Paso's Nicknames
35 Unwritten Rules That True El Pasoans Know: