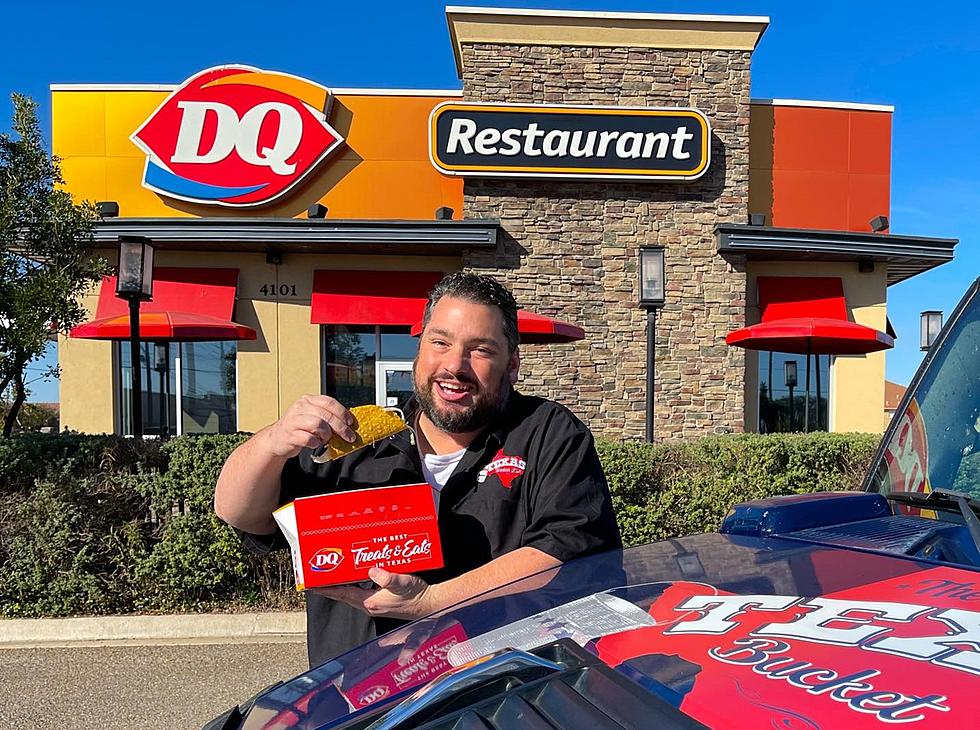 El Paso Dairy Queen to Be Featured on 'Texas Bucket List' TV Show
The Texas Bucket List Facebook
Maye you've heard, seen, or read "The Texas Bucket List" television show will visit a Dairy Queen in El Paso. Show host Shane McAuliffe and the TBL crew will be at the DQ at 12920 Edgemere on May 20.
No word on what exactly the segment will be about, why that particular DQ was chosen, and when it will air, but the first couple of hundred El Pasoans who drop in between 4 and 6 p.m. on that day will get their choice of a free mini-Blizzard, small cone, Dilly Bar or a DQ Sandwich, so I guess it really doesn't matter, amirite?
Now, I understand DQ is a new sponsor this season so I'm thinking probably the Hungr-Buster or BeltBuster will be the featured "Burger of the Week" and they chose a Dairy Queen here because they haven't been in El Paso since they filmed at the Great American Steakburger on N. Mesa in the summer of 2020.
El Paso and the El Paso-area has been featured numerous times on The Texas Bucket List over the last few years. Aside from the Great American Steakburger, local restaurants Chico's Tacos, H&H Carwash, Rosa's Cantina, and the super-haunted Monteleone's Ristorante have all been showcased in past seasons, and locations including Hueco Tanks State Park, the oddity-filled Dave's Pawn Shop downtown, and the moth-balled Wyler Tramway have been too.
Here's a look back at the various times the show put El Paso in the spotlight, from the earliest to most recent:
Enter your number to get our free mobile app
2016 Season 5, Episode 6 featured a "spooky stop" at Dave's Pawn Shop downtown
2016 Season 6, Episode 5 Shane McAuliffe grabbed "the Burger of the Week: at Rosa's Cantina
2016 Season 7, Episode 7 was another "Burger of the Week" stop, this time at Panda Burger
Enter your number to get our free mobile app
2016, Season 7, Episode 8 included a segment that showcased the "sheer beauty" of Hueco Tanks State Park
2017, Season 8, Episode 9 included a peek from the peak of Franklin Mountains State Park via the now closed Wyler Aerial Tramway
2017 Season 9, Episode 6 contained a piece on the National Border Patrol Museum
Enter your number to get our free mobile app
2017 Season 9, Episode 11 was about the "tasty tacos...loved by locals" at, yup you guessed it, Chico's Tacos
2018 Season 10, Episode 10 the TBL crew grabbed a bite and had their SUV washed at H&H Car Wash
2019 Season 12, Episode 3 "The Bite of the Week" featured Cattleman's Steakhouse in Fabens
Enter your number to get our free mobile app
2019 Season 13, Episode 7 was a Halloween episode that included Monteleone's Ristorante
2020, Season 14 Episode 10 was another "Bite of the Week" segment, this time it was the ribeye sandwich at Great American Steakburger on N. Mesa
Times El Paso Was an Answer or Clue on Jeopardy! – 2010 to Present