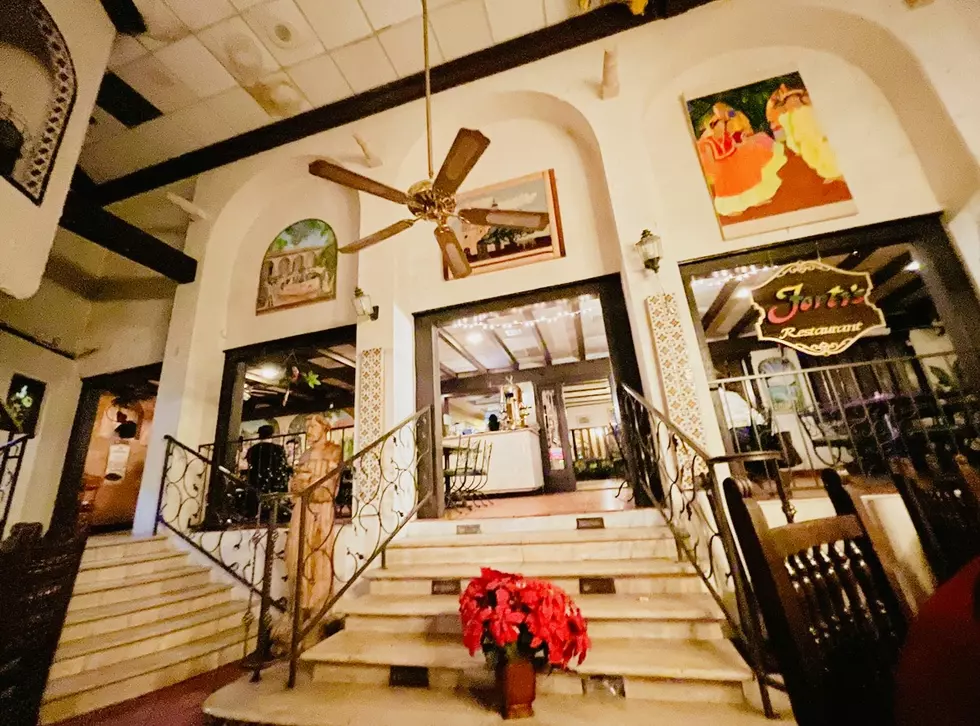 Discover An El Paso Hidden Gem 'Forti's Mexican Elder Restaurant'
ma
Revisiting Forti's Mexican Elder Restaurant, a hidden gem serving delicious authentic Mexican cuisine in Central El Paso.
Forti's Mexican Elder Restaurant has been serving delicious authentic eats in a one-of-a-kind hacienda atmosphere for nearly five decades. If you haven't tried the borderland flavors at Forti's in a while (or ever), it's time to hit up the family-run restaurant.
Since 1976, Forti's Mexican Elder Restaurant has been an El Paso staple for many families and, to this day, continues to offer some of the best Mexican food, impeccable service, and a festive atmosphere, thanks to its faithful customer base.
Named for a yellow berry tree, Forti's Mexican Elder in Central El Paso has expanded over the years. The restaurant located off Chelsea St. includes an outdoor patio and can accommodate a capacity of 250, perfect for banquets or family celebrations.
Apart from serving authentic Mexican fare, the hacienda-style restaurant showcases a mural depicting Pancho Villa, religious objects such as the Virgen Mary, photos, statues, and other knick-knacks across multiple dining areas. The restaurant also features a two-tiered fountain at the center of the main dining area, and it's also a great place to meet up with friends in their bar area backed by live entertainment.
I recently dined at Forti's Mexican Elder, and I couldn't believe it had taken me so long to revisit the longstanding establishment. After friends and I enjoyed an appetizer of queso fundido followed by a shrimp cocktail, red enchiladas, and a Mexican combo plate, I had the opportunity to chat with David Forti, son of the original owners, David Sr. and Consuelo Forti.
David shared that Forti's reopened in December of 2021 after closing due to the pandemic; however, thanks to its faithful customer base via take-out, they managed to stay open but, like other businesses, are now dealing with the shrinking workforce.
Despite the employee shortage, David and his loyal employees continue to push forward, offering the best dining experience featuring its famous jumbo beef flautas.
So what can we expect for the future of Forti's Mexican Elder? David tells me he's had several offers to sell the restaurant but has never taken anyone up on their offer. He also understands that nothing lasts forever, so for now, he is focused on offering customers the best dining experience, even if the restaurant is a reported hot spot for paranormal activity.
Among the bizarre incidents, staff shared moments where lights flicker on and off, the audio system turning on and blasting music late at night while employees are cleaning up, and seeing shadows and men in period attire walking across the hacienda and staircases only to disappear.
The kitchen and wait staff have also heard dishes falling and breaking on their own, boisterous laughs with no customers around, and even reported the apparition of a former musician who passed recently spotted on stage.
But don't let these tales keep you away from one of El Paso's best-hidden gems because Forti's Mexican Elder is a destination dining experience you must rediscover the next time you're craving authentic Mexican cuisine. Trust me when I say you'll wonder why it took you so long to return or why you've missed out on this iconic hot spot this whole time.
321 Chelsea St, El Paso, TX 79905
915-772-0066
Forti's Mexican Elder Restaurant In Central El Paso
El Paso's Carnival-Themed Diner & Attraction: Wrap & Roll
A Look Inside Monteleone's Haunted Motel and Restaurant
Life In Bloom: Charming New Flower Shop In Downtown El Paso
El Paso's Blue Moon Drive-In