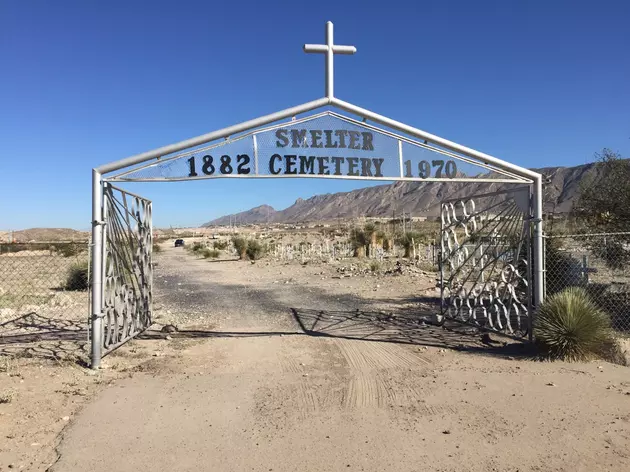 A Walk Through Smeltertown Cemetery — a.k.a. La Esmelda
eddie Gonzalez-el paso
Along the banks of the Rio Grande in west El Paso, west of I-10, sits a huge historic local landmark that's slowly being forgotten by the years -- Smeltertown, or La Esmelda, as it's known to many in the area.
It's not a place that has a lot of old documents or detailed history written about it. It's a place where you really have to talk to those who lived there and hear the stories they have. Those stories are about working-class families fighting to keep their homes and their way of life while facing increasing pollution from the very businesses keeping them alive.
The story of La Esmelda goes back to the founding of the American Smelting and Refining Company (ASARCO) in El Paso in the 1880s. Primarily, the workers there smelted copper and lead, working with ores mined from New Mexico and West Texas. Unfortunately, back when the smelting business came to town, people didn't know what we know today about lead -- it's toxic. And by the end of the 1960s, after generations had grown up on this land and called it home, Smeltertown's soil was hopelessly contaminated with it.
Now, you might wonder why anyone would fight for a contaminated community. But after that amount of time, people felt pride in the work they did. ASARCO was a major metal producer through both World Wars, for instance. A lot of the metal smelted at ASARCO built America.
But just like that, everything began to fall apart. Over the next 20 years, Smeltertown disappeared and ASARCO went bankrupt. Today, all that's really left is the old cemetery. So I went to check it out for myself.
Driving off of Executive Center westbound, just before Paisano, you see this stop sign just south of the drive.
What's there now?  The somewhat hidden cemetery, up a tiny road that leads to the side of the old smelter.  An empty field for the most part.
As I took the drive, I saw the resting place of so many people who make so much of our history here in the 915!
At the entrance, I came across a flag pole that no longer flew a flag. Now it is another lonesome marker of those buried there.
It's an amazing site against the background of the Franklin Mountains,. I felt a chill in the air of history and so much mystery.
As you can see, some graves are marked with the outline with rock. So much of the cement that has crumbled from weather (and I am sure from vandals), yet it sits on the grounds as a picture of history.
This unknown grave has piles of rock and dirt piled on with one of many wooden crosses put to show that there lies someone from La Esmelda.
From a distance you see rock piles of graves some with and without names, in the foreground we came across to visitors from Aurora, Colorado.  They were looking for their grandmother, Maria De La Luz, whom passed in 1959, but couldn't find her grave after a three-hour investigation.
Some sites held cast-iron around them with newer gravestones put upon newer grounds.
Barrels held piles of old flowers and debris that had been thrown around from the wind.  This view shows what Smeltertown is -- a thrown-away piece of history in the city of El Paso.
The graveyard once stood in the shadow of the amazing ASARCO smokestacks.  The stacks were demolished on Saturday, April 13, 2013.
The picture doesn't show as well as I had hoped, but to the right you see cement/rock that outlined the original grave of Mr. Lopez and is the foundation of his new memorial.
This cross took my attention when I first entered Smeltertown Cemetery.  Who was Mr. Villalobos, "father, brother, son, uncle?"  All we know that his last request was to buried in a place of stories and true pride.
You can see that someone was here raking their loved ones final resting place.
On some graves, you can see many old coffee cans that held flowers of someone whom once resided in La Esmelda.
The art work on this cross was beautiful…it stood out to me because someone show there love by their loved one a piece of their talent for eternity!
When I saw the tile on this gravesite, it took me back to the tile used in the 1950s and 1960s. Now, it chips away piece by piece as the world goes by.
So many crosses erected and fallen, while other graves remain completely unmarked. It leaves you to wonder if you are walking on someone's last resting place.
As the marker above reads, "Your courage, kindness and your everlasting love still remains in our hearts."  This holds so true to all those that were worked, raised families, and took pride in place in El Paso, Texas.
This marker was an eye-opener, being a part of my memory when my Mom would tell me stories about visiting friends in the 1950s in La Esmelda.  Mom remembered the dirt roads and just the sense of everyone knowing everybody.  Remember, back in the day everybody knew each other in their neighborhoods and knew who was whom, as opposed to today when we keep to ourselves and don't share too much (because nowadays, you NEVER know).
My mother-in-law, Socorro "Suki" Alonzo Lozano and her identical twin sister, the late Francisca "Kika" Alonso De Santos were born and raised in La Esmelda had the true sense of love, hospitable ways, and heart-felt pride.  I believe they took that from their parents, but also by what was and STILL is in the air.  La Esmelda/Smeltertown!
Below (video is not GRAND quality, but recorded with effort) I was honored to walk and pay my respects to all the souls that once lived their lives  whether it be for a short or long time in brilliant place:
For a piece of Sun City history and respect to those who lived in a missing part of history of the 915!