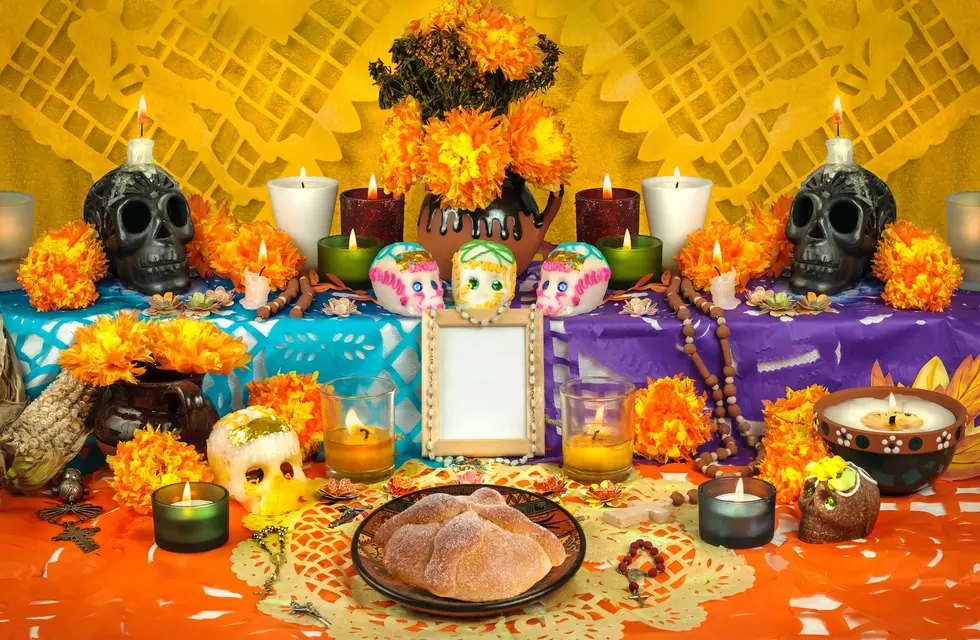 5 Things You'll See On A Dia De Los Muertos Altar And What They Mean
Getty Images/iStockphoto
Dia de los Muertos began as a pre-Columbian ritual in Mexico that honored ancestors. When the indigenous people were conquered by Europeans, they folded their beliefs into Christianity, and the Dia de los Muertos we celebrate now is that mixture of cultures. The day is not a day of sadness, but rather a day to remember all the happiness and life that the deceased enjoyed.
The altars that are built for Dia de los Muertos reflect that celebration. Flowers, food, candles, personal beloved items, even liquor and cigarettes for the deceased to see are placed on altars at their gravesite. The items are not eaten by the deceased, the essence of the offerings are said to be absorbed by the deceased person. They altars are also not meant to suggest that the deceased are being worshipped. They are only being remembered and honored.
Some of the items that are included on a Dia de los Muertos altar include:
1. Photos of the deceased - Photos serve to remind the deceased of their time among the living and the happy times they had.
2. Flowers, usually marigolds - Marigolds are used because their bright orange and yellow colors symbolize the sun. Often, the flowers are laid out in a path to guide the deceased to the area where their family is waiting with food and drink.
3. Favorite foods of the deceased - The food and drink that is placed on the altar is there to help the deceased refresh themselves after their long journey from the afterlife.
4. Candles - Candles on the altar are there to help light the way back from the afterlife for the deceased.
5. Sugar skulls - These brightly colored skulls are used because when the indigenous people of Mexico were being converted, they often didn't have money for fancy decorations, but they did have sugar. The folk art skulls were a way to decorate the altar that people could afford. The names of the deceased are often written on the forehead of the sugar skulls.