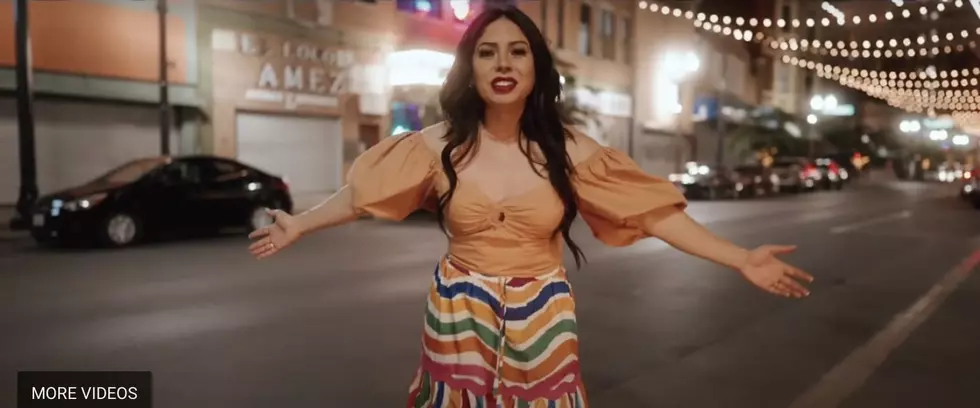 Valerie Ponzio Shows Love For El Paso In New Music Video Premiered In NYC's Time Square
Courtesy: Valerie Ponzio via YouTube
El Paso got a little love in Times Square this past week and it was all thanks to El Pasoan and Country singer-songwriter, Valerie Ponzio.
Ponzio's latest music video for her new single, "Just A Bordertown" premiered on CMT last Friday and the icing on the cake was that the video was also showcased in NYC's Times Square!
Ponzio shared a video on her Instagram with the caption reading "I got to see my video in Times Square!! Loved seeing grandma & El Paso on the big screen! Wow! Gotta love New Yorkers!"
You might remember Valerie Ponzio from when she was a contestant on NBC's singing competition "The Voice" back in 2017.
Valerie was eliminated in the battle round portion of the singing competition, but that didn't stop her from pursuing her dream of becoming a Country singer-songwriter.
Valerie's latest single, "Just Another Bordertown" embraces El Paso's culture and roots and it features a very special guest; her grandma.
The music video takes us all across El Paso as Valerie and her grandma walk around town and her grandma shares stories about her past with her granddaughter, Valerie.
The video was shot in El Paso and it focuses on El Paso being a border town and showcases the border wall between the U.S and Mexico.
"I feel really excited to share this part of my Bordertown story and I'm even more excited to hear all the connections I'm already making with people who feel that same hometown pride and sentiment about where they're from," said Ponzio. "I'm so grateful to be here in Nashville getting these incredible opportunities to tell my story in country music at this moment in time."
Valerie has made it her mission to showcase her Latina culture in the Country music scene and her music definitely showcases that!
"Dedicated to blending Latin sounds with country music's traditions, backed up by indomitable vocals, Ponzio is that rarest of things: something brand new in Music City," said Valerie's team.
Valerie's debut EP titled "Frontera" is set to release on September 30th.
WATCH THE FULL MUSIC VIDEO HERE: 
The PIE Sisters