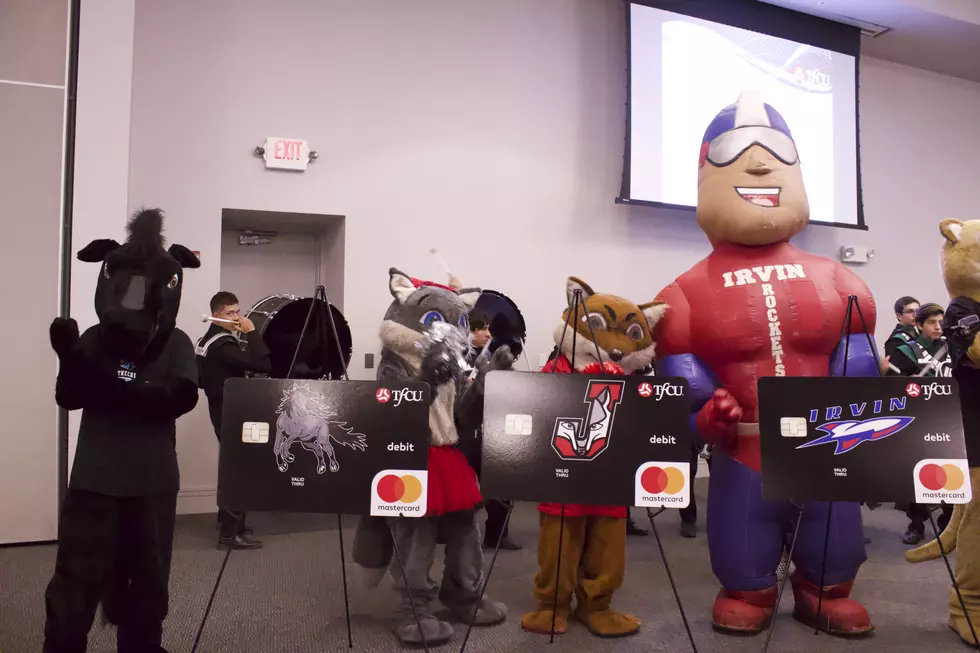 TFCU Donates $1000 to Local Schools to Celebrate New Debit Cards
Emily Slape
On October 15th, TFCU held an awesome pep rally with about 33 local high schools to announce their newest debit card edition. These are not just debit cards, they are debit cards that will give back to local high schools!
During the TFCU pep rally, we learned that TFCU is going to not only offer this amazing debit card but will be matching the donations made from the cards for three years. The crowd, of course, went crazy for this announcement but then, they announced each school would also receive a $1000 donation just for being a part of this new type of fundraiser.
Once all the good news was shared, a debit card showcase began. This showcase featured each schools' cheerleaders, mascot or representative to walk down the aisle showing off the new debit card designs. Even though my hometown high school isn't part of this debit card awesomeness, I really applaud TFCU coming up with a fun way to give back to our local area high school.
Here is a list of participating high schools:
CANUTILLO ISD
CANUTILLO HS
NORTHWEST EARLY COLLEGE
CLINT ISD
CLINT HS
CLINT EARLY COLLEGE ACADEMY
HORIZON HS
MOUNTAIN VIEW HS
EPISD
ANDRESS HS
AUSTIN HS
BOWIE HS
BURGES HS
CHAPIN HS
CORONADO HS
EL PASO HS
FRANKLIN HS
IRVIN HS
JEFFERSON/SILVA MAGNET HS
TRANSMOUNTAIN EARLY COLLEGE
SAN ELIZARIO ISD
SAN ELIZARIO HS
SOCORRO ISD
AMERICAS HS
EASTLAKE HS
EL DORADO HS
MISSION EARLY COLLEGE HIGH SCHOOL
MONTWOOD HS
PEBBLE HILLS HS
SOCORRO HS
YSLETA ISD
BEL AIR HS
DEL VALLE HS
EASTWOOD HS
HANKS HS
PARKLAND HS
RIVERSIDE HS
VALLE VERDE EARLY COLLEGE HS
YSLETA HS