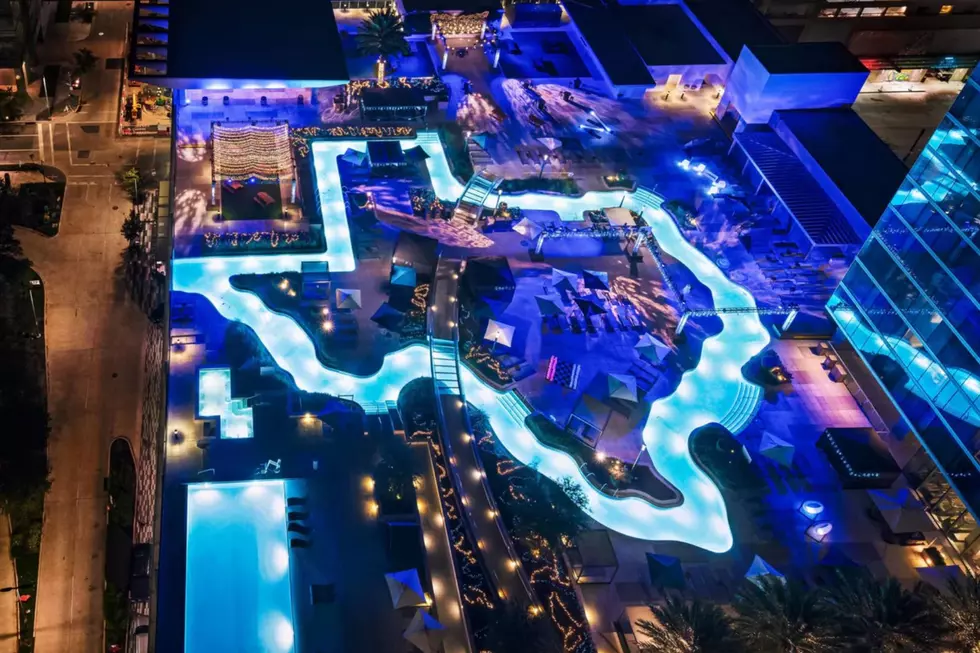 This Texas-Shaped Lazy River Is One of the Best in America
Marriott Marquis Houston
Have you thought about a Texas staycation this summer? A lot of people are trying to save money and cut back on expenses, and taking a vacation in the same state you live in is a great way to do that.
Texas offers a wide variety of experiences to enjoy within a day's drive or less that can make for a great getaway, whether you're looking for family time or just a fun couples' getaway. The Points Guy, an online travel and finance website, just listed the 12 best hotels with lazy rivers in the United States. Three spots in the Lone Star State made the list, and one has a Texas-shaped lazy river!
Lazy Rivers in Texas
When you stay at a hotel with a lazy river, you get the added bonus of being able to stay at the property and visit a water park at the same time -- without standing in line to buy a ticket.
The Points Guy list didn't rank the hotels in any specific order, but the one located in Central Texas would be the Hyatt Regency Lost Pines Resort and Spa, 30 minutes east of Austin. The resort's Crooked River Waterpark has a 1,000-foot-long lazy river, which winds around waterfalls and shade trees. There's also a beach area and an adults-only pool with a float-up bar.
The Hyatt Regency Hill Country Resort and Spa in San Antonio made the list with its five-acre water park and 950-foot Ramblin' River designed to provide the look and feel of a real river tubing experience.
Texas-Shaped Lazy River
Last but most certainly not least, the Marriott Marquis Houston made the list with an infinity pool and what it claims is the world's largest Texas-shaped rooftop 530-foot lazy river.
To see the complete list of 12 of the best lazy rivers in the United States, click here.
Want More Ways To Cool Off?
Feeling hot, hot, hot? Here are six of the best swimming holes in
Texas
to get your chill on and lower that core temperature.
Trips to Discover
and
The Crazy Tourist
both list the following six places as the best places to cool off this summer in the great state of Texas. You'll want to keep this list handy as the mercury rises and the sweat starts to pour!
Blue Bell Ice Cream On The List of Top 15 Brands Nationwide
Blue Bell
is the official ice cream of Texas, and my personal favorite.
According to a new list
of the 15 best brands of ice cream nationwide, Blue Bell was ranked in the middle.
In addition to ingredients, texture, and variety,
Tasting Table
used
Influenster
and other site reviews as part of its ranking process.
Scroll on to find out how Blue Bell compared to the number one ice cream, and how all 15 on the list were judged.
8 Souvenirs Under $80 to Gift Someone Who Loves Texas
If you have someone in your life that loves the Lone Star State, these are some great gifts that won't break your budget!