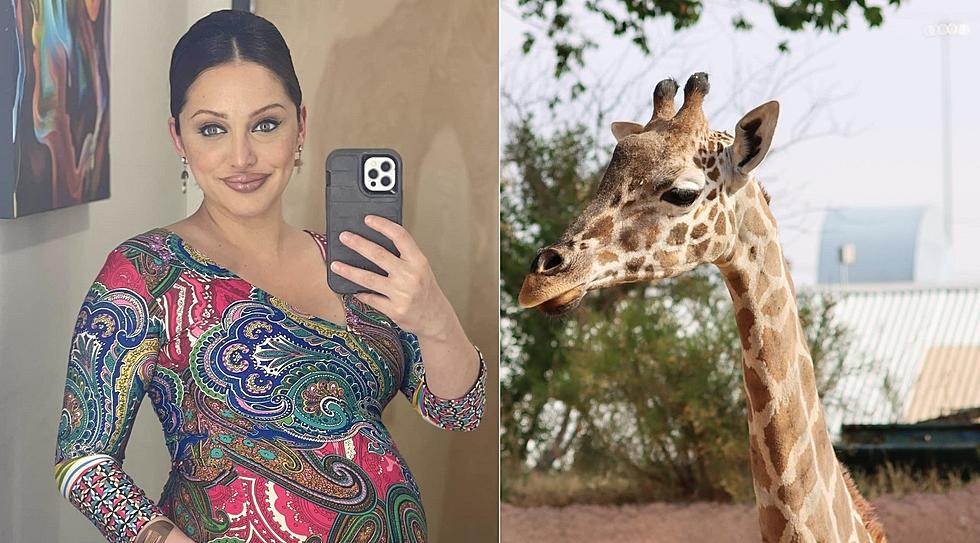 Texas News Anchor, El Paso Zoo Giraffe – Who Will Be the First to Meet Their New Baby?
Natassia Paloma/El Paso Zoo Facebook
KTSM 9 News/El Paso evening anchor Natassia Paloma and Gigi the El Paso Zoo giraffe are both pregnant and expecting to deliver before the end of April.
Both really want their baby's out and can't wait to meet them. But, which mom-to-be will give birth first? Competition always makes things better, even pregnancy, so let's get a baby pool going!
Enter your number to get our free mobile app
Natassia: Counting the Days, Minutes, and Seconds
Natassia, who will be having her second child, just hit the 37-week mark and is due in two-weeks or so, according to her social media.
The baby's father, Trevor Thompson, works at KTSM too manning the anchor desk on the station's morning and noon newscasts.
Gigi: First Time Mom
Gigi will be a first-time mom and her calf will be the first-ever giraffe birth for the city-run zoo. Fellow zoo giraffe, Juma, is the baby daddy. Or should I say zaddy, since he's 12 years older.
According to an April 3 city press release, she's 14 months along and also expected to give birth in the next few weeks.
Yes, 14 months. And you thought carrying a child for 9 months is long, huh Natassia? Juma better get her one hell of a push present, am I right?
The Baby Pool
Many baby pools have you guessing things like the birth date, the baby's sex, and the baby's weight and height.
In this case, gender is off the table because Natassia has already revealed that she's having a girl. Weight and height won't work either because, fun fact, baby giraffe's stand about 6 feet tall and weigh around 150 pounds at birth so no mystery on that outcome.
So, we're only taking guesses on who will give birth first. Who you got, Natassia or Gigi? And, please, no wagering.
Here are 14 Ways to Illegally Name Your Baby in Texas
For the most part, you can name your baby whatever you want. However, there are 14 ways to name your baby that are illegal in Texas.