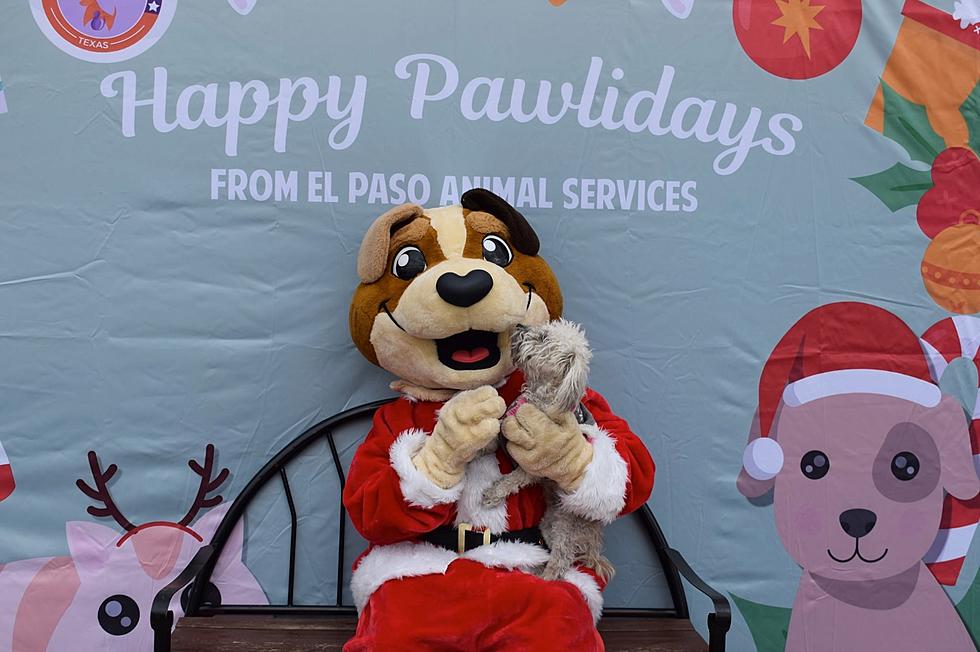 Santa Paws Touring El Paso Offering Free Mircrochips & Pet Photos
El Paso Animal Services
El Paso pet owners can plan a visit with Santa this month to get their furry friends microchipped and take a holiday photo with ol' Saint Nick.
Throughout December, Sunny, Animal Service's adorable mascot, will be dressing up as Santa Paws and embarking on a tour of the city, providing free microchips and holiday pet photos.
The holiday season is always active as family and friends drop in for parties and visits, but it's also a time when pets tend to go missing.
Santa Paws will join Animal Services' Resource Rovers program for the tour to keep pets safe, encouraging pet owners to get their pets microchipped during the festive holiday season.
Apart from the free pet services, families and their pets will be able to take a special holiday photo with Sunny, aka Santa Paws.
Listen to Monika middays all week on 93.1 KISS-FM and download our free 93.1 KISS-FM App.
The next two tour dates will also have Animal Services collecting any pet food donations, which helps the department's growing pet food pantry. The free pet food pantry program helps families in need who may be struggling to provide for their pets.
Also, anyone planning on adding a furry friend to their family this month might consider adopting via El Paso Animal Services who have teamed up with the Bissell Pet Foundation to offer free adoptions through December 20. All adoptions include the spay/neuter procedure, microchips, age-appropriate vaccinations, and city licenses.
Event Dates and Locations:
December 9 at the Dine Out for the Pups Event
1 to 4 p.m. at Trattoria Bella Sera Italian Restaurant, 3512 N Yarbrough
December 11 during the County of El Paso Pet Walk
9 a.m. to Noon at Ascarate Park, 6900 Delta
December 18 during A Home for the Holidays Adoption Event
11 a.m. to 2 p.m. at El Paso Animal Services, 5001 Fred Wilson
For more information on El Paso Animal Services, visit elpasoanimalservices.org or in person at 5001 Fred Wilson.
Discover A World Of Exotic Snacks In El Paso
The 11 Tallest Buildings In El Paso