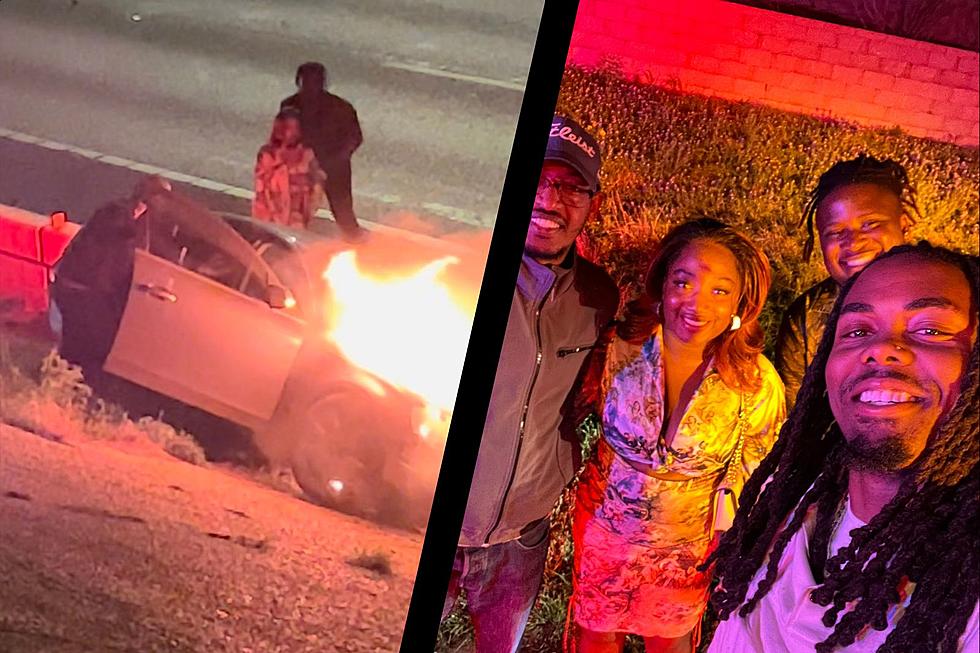 Texas Man Pulled from Vehicle Fire by Hero Who Plays in the NFL
K.J. Osborn via Twitter, Canva
After the NFL season is over most players are looking for some rest and relaxation before they start training and preparing for their next season. It's not just sitting around and enjoying all the money you're making; you have to continue to improve and for Minnesota Vikings Wide Receiver K.J. Osborn that meant training in Austin, Texas. But it's what he did recently that had nothing to do with football that has everyone talking about the hero. 
Osborn was riding in an Uber he noticed a vehicle crash that had taken place. He knew he had to do something to help, but as he admitted after the event on a podcast, he wasn't sure if the people involved in the crash has even survived the crash.  
What Happened to Cause the Crash
As Osborn remembers the vehicle involved in the crash had sped by his Uber and just minutes later It crashed into a pillar under a bridge overpass. The vehicle was quickly engulfed in flames. While Osborn is not a first responder, he felt the need to do something to help the dangerous situation.  
Osborn and Others Jumped Out to Help
It was Osborn, his Uber driver, and two other concerned citizens that all stopped to see if they could assist the man who crashed. They made contact with the driver and Osborn was able to use his strength to pull the driver from the vehicle fire. An ambulance arrived quickly after and transported the victim to the hospital for treatment.  
Osborn is being called a hero, but he says he was just in the right place at the right time. The NFL Receiver says he wants to track down the victim to make sure he is doing okay.  
While he might not be playing for your favorite team, and he doesn't want to admit it, K.J. Osborn is a hero and helped save a Texas man's life.
10 States With Most NFL Players Per Capita
Which states produce the most NFL talent per capita? The top 10 list has a few big surprises.
LOOK: The story behind every NFL team name
Stacker
delved into the story behind every NFL football team name. Overall team records, also included, are reflective of NFL regular-season games. There are some football teams with well-known nicknames—the Jets, for instance, are often referred to as Gang Green—but we also divulge how some teams' official names are sparingly used (the Jets' neighbors, the Giants, are actually known as the New York Football Giants). Sometimes a team name can tell you a lot about local history: The Vikings of Minnesota draw upon the area's strong ties to Scandinavia, and the Tampa Bay Buccaneers are dripping in local legend related to Florida's pirate past.
Let's kick off the countdown with the folks who earned their nickname by buying boxes of used team jerseys.