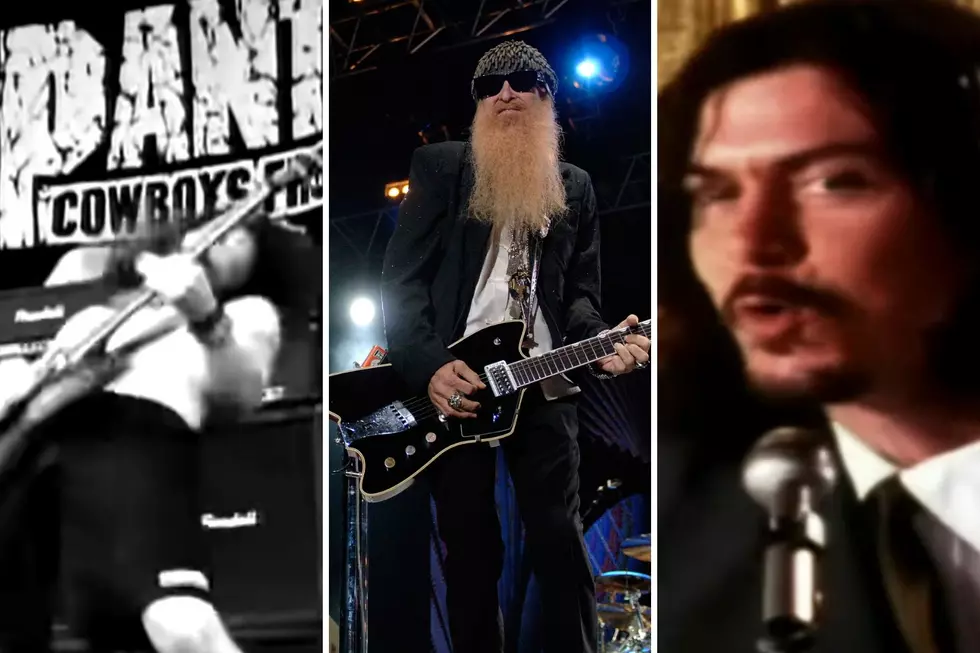 Names Of Popular Texas Bands Before They Got Famous
Pantera via YouTube/Getty Images/Xcfirecraft via YouTube/ Canva
Some of our favorites bands in the world don't always stick with their original names. I'll bet you that if the Red Hot Chili Peppers, Seether or Led Zeppelin didn't change their names, they wouldn't be the superstars they are. And the same goes for some Texas bands.
Many have changed their names like
Pantera:
The pioneers of groove metal in the 90s were not always called Pantera. In an interview with Loudwire, Vinnie Paul revealed they had two original names: Gemini was their first name, then Eternity. before finally setting on Pantera.
Good thing too because I'm not quite sure either names truly capture the POWER that the name Pantera has.
ZZ Top:
They are THE quintessential Texas band. ZZ Top was formed out of the breakup of blues band in Houston called the Moving Sidewalks back in the mid 1960s. After a few lineup changes, ZZ Top formed a new band in 1969. The band nearly had a different name as he originally had thought of the name "ZZ King" first before settling on the name ZZ Top.
Although some Texans would say that ZZ is the... KING of Texas rock.
Butthole Surfers:
One of the most intriguing names for a rock band of all time has to belongs to San Antonio's Butthole Surfers. As interesting as that name sounds, it normal compared to their earlier names like the Dick Clark Five & the Ashtray Babyheads.
Although... saying the Ashtray Babyheads - Pepper on the radio does sound quite hilarious.
MDC:
One of the most aggressive bands from Austin is the hardcore punk band, MDC. They were originally called The Stains in 1981, they released two singles under that name, before changing their name to MDC in 1982 after their relocation to San Francisco.
Fastball:
The rock band, Fastball, formed in Austin back in the mid 90s used to be called Magneto USA. That was until they signed onto Hollywood Records, then they changed their name to Fastball. Part of me wishes they would've kept the name but Fastball is a good name for them; and it's stuck with them all this time.
Memphis May Fire:
Metalcore fans know the Denton, TX rockers Memphis May Fire. But EARLY MMF fans might know their original name in 2006: O Captain, My Captain. While getting your bands name from poetry is a great idea; I'm glad they changed their name to something more... fitting with their style of music.
Flyleaf:
Since the 2000s, Belton TX's Flyleaf & Lacey Sturm have become big names of the rock world in the mid 2000s. However they used to be called Passerby in the early 2000s. They even released an EP under the name Passerby, before having to legally change it in 2004. The EP is available to listen to on YouTube under their original name.
Honorable Mention - Destiny's Child:
While technically not a band, Beyonce IS from Texas & the whole group, Destiny's Child, was formed in Houston back in 1990. Their original name? Gyrl's Tyme. But that wouldn't be the only name change: Something Fresh, Cliche, the Dolls, Destiny were all names they went by before settling on Destiny's Child in 1996.
In case you're curious, there DO exist clips of early Gyrl's Tymes dance performances online.
40 Of The Best Musicians Born In the Lone Star State
Texas has been home to a wide variety of musical genres; many musicians have become staples of rock, metal, pop, country & more. Here are some of the greatest musicians to ever represent the state of Texas.