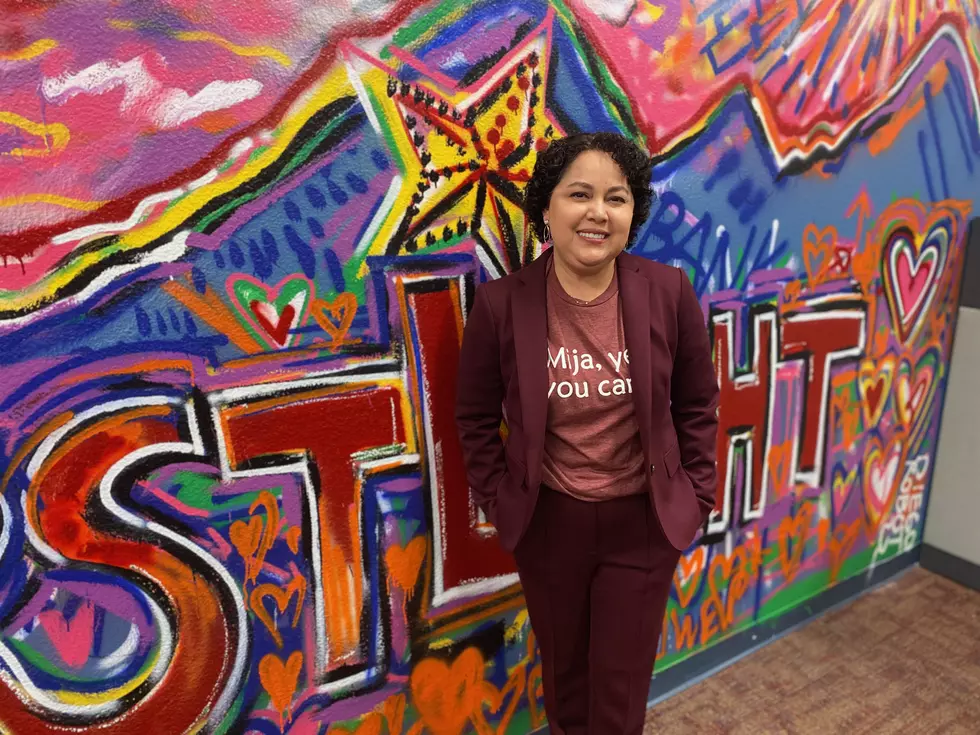 Meet The El Pasoan Who Is Making History As First Light's First Female CEO
Courtesy: Iris Lopez
One of the largest credit unions in El Paso is making history with the latest announcement of their new CEO.
In its 60 year history, First Light Federal Credit Union has named Margie Salazar CEO making her the first female CEO in the credit union's history!
Who is Margie Salazar:
Margie is a hometown girl! Born and raised in El Paso, Texas. She grew up in north east El Paso and went to Irvin High School.
Margie has been married to her husband for 24 years and she is a proud mother of two.
Margie graduated from UTEP with a Bachelor of Business degree in Marketing and Management and began working at First Light Federal Credit Union as a college student.
She started her career as a teller and has held several positions overseeing various areas of the FirstLight, including branch operations, marketing, human resources, consumer, mortgage and business lending, asset quality, E-Services and most recently finance and risk management. 
Margie was previously the Chief Financial Officer before becoming CEO for First light Federal Credit Union.
"I am excited, grateful, and humbled, says Ms. Salazar. Adding, "I am extremely passionate about the credit union movement and our overarching mantra of "people helping people".  And as a proud Latina from El Paso, I look forward to building upon our mission of improving lives so our members and community alike can achieve their dreams.
Two years ago Margie was diagnosed with blood cancer and would go through intensive chemotherapy treatments that caused her to lose her hair along with other side effects.
However, that did not stop margie from continuing her work with First Light Federal Credit Union.
"It could have been easy for that to prevent me from achieving my goals, but I did not want that to happen," said Margie. "I did not want that to be an obstacle to achieving my goals and I told myself that this was not going to stop me from getting to where I wanna be."
Margie will take on her new role as President and Chief Financial Officer for First Light on February 1st.
Who Will Margie Be Replacing?
After 38 years of service, Karl Murphy will retire as chief executive officer at the end of January.
"Karl has been a remarkable leader during incredibly transformative times in the financial industry. He is one of the most effective CEOs I have ever had the pleasure of working with," said Jaime Barceleau, chair of the Board for FirstLight Federal Credit Union. "The Board is truly grateful to Karl for all he has done for our members and the Las Cruces, Fort Bliss and El Paso communities. We are also excited that his focus in succession planning has allowed us to appoint new leadership from within our credit union."
Karl joined the credit union in 1984 and has served as chief executive officer since 2003. Karl has worked with Margie for many years and was excited for this new chapter in her career.
"Margie is an accomplished leader with extensive experience in the financial industry. I have had the pleasure of working with Margie for many years and know she has the spirit and temperament to lead our credit union. She understands the needs of our members, our employees, and our community  stakeholders," said Karl. "Margie is an innovator in the finance space and will thoughtfully guide FirstLight into the future."
For more information about FirstLight Federal Credit Union visit: https://www.firstlightfcu.org.