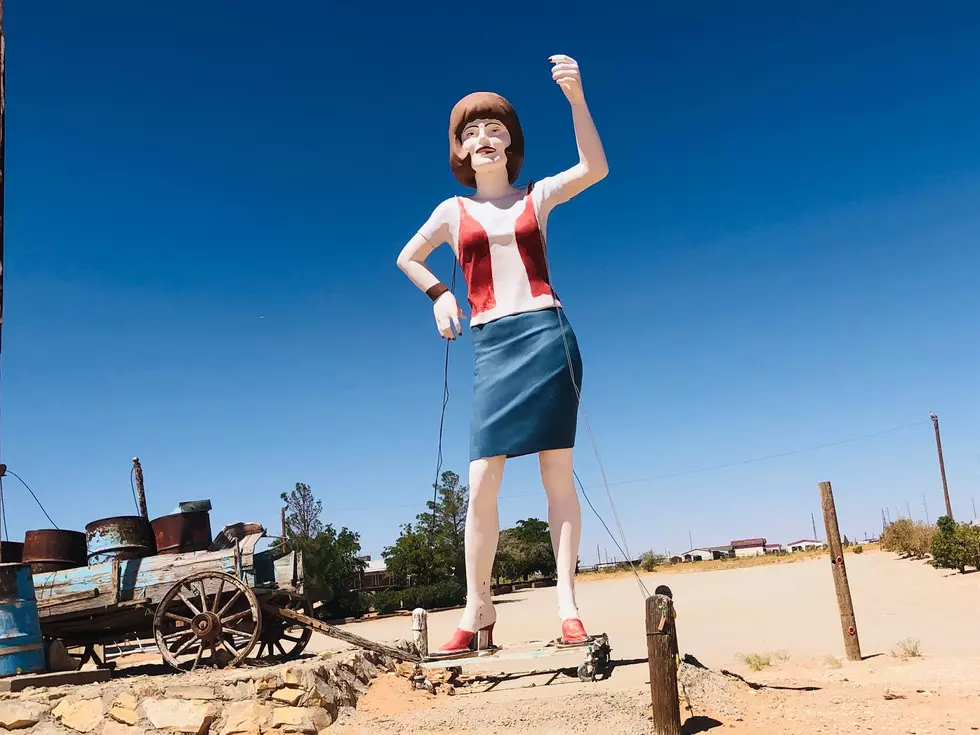 Meet El Paso's Unique Uniroyal Gal
ma
Standing at over 15 feet tall, the Uniroyal Gal is one of El Paso's little known amazing desert treasures.
The Uniroyal Gal dates back to the 1960s when she was manufactured by International Fiberglass, the same folks who made all the muffler men and dinosaurs that stood in front of gas stations such as Texaco and Phillips 66 across the country.
The very rare Uniroyal Gal was so innovative for its time especially since she came with a built-in bikini underneath her removable fiberglass skirt and shirt. She even came with an extra skirt with a longer hemline for the modest business owner.
This giant beauty weighs in at about 450 lbs. and measures a cool 17 ft., 6 inches, and was originally made to stand outside gas stations and automotive repair stores that sold Uniroyal products.
Uniroyal Gal and Jackie Kennedy Onassis
If you look at the Uniroyal Gal closely she resembles the late Jackie Kennedy Onassis and that's because the artist who created her mold was infatuated with the former first lady.
Uniroyal Gal Cosmetic Features
The Uniroyal Gal is wearing a blue skirt with a white tee
She has brown hair and a red lipstick lined smile
Two new add-ons (not on the original model) include a red vest that has been painted on, and a watch or bracelet
She has a mole near her mouth on her right cheek
Her nails are perfectly painted
You can see her red bikini underneath her removable clothes
She is wearing red mules
By the late 70s, Uniroyal ended their Gal promotions and soon after discontinued the program across the country. The remaining Uniroyal Gals were either torn down or ended up being sold to collectors.
This Uniroyal Gal is so rare that there's only twelve left in the world and one of those can be found standing in front of the Adobe Hacienda Hall in Far East El Paso.
I wasn't able to figure out who exactly has been maintaining her all these years but it may well be the folks of the Adobe Hacienda Hall. I attempted to call and find someone who could provide more information but the hall is currently closed.
The impressive giant woman has been so well maintained by someone that you can tell she's been receiving regular cosmetic touch-ups including getting her nails, vest, and shoes repainted.
So, where can you find this amazing desert El Paso treasure?
It is located near the entrance of the Adobe Hacienda Hallat 7200 located Mager Dr, El Paso, TX 79938
Traveling time from downtown is about a 30-minute drive
KEEP LOOKING: See what 50 company logos looked like then and now