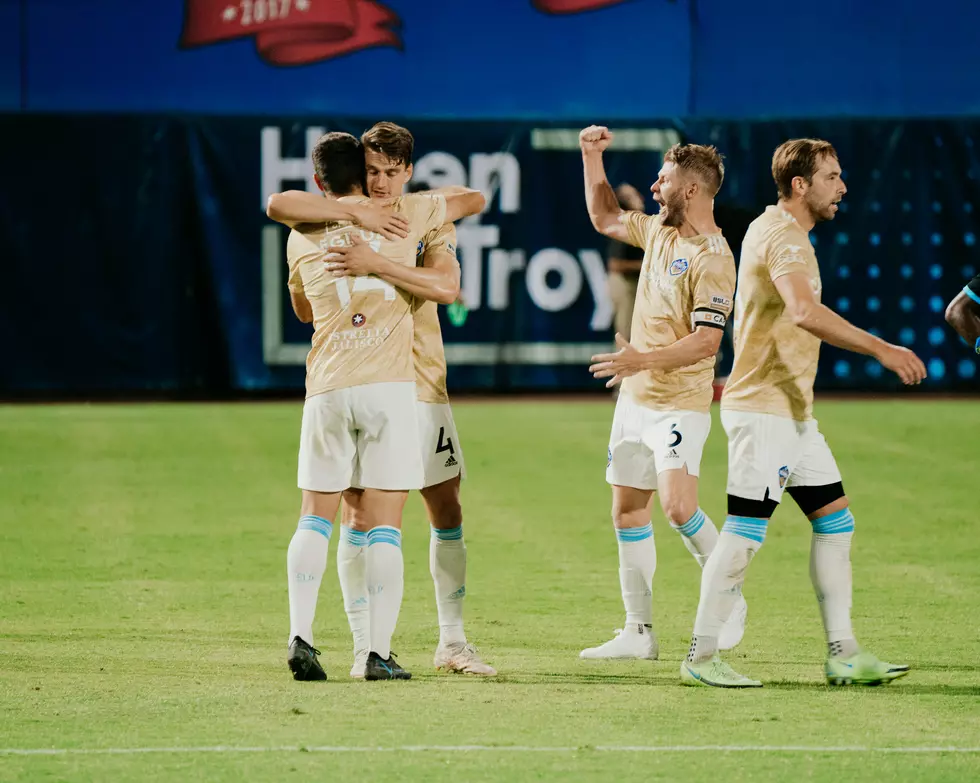 Locomotive Unbeaten in Last Ten After Win Over Switchbacks
El Paso Locomotive FC
El Paso Locomotive FC battled hard to defeat Colorado Spring Switchbacks FC on Saturday night 1-0 at Southwest University Park in downtown El Paso. This ninth win of the season for Locomotive also extended their current unbeaten streak to 10 matches.
This was also El Paso's eighth clean sheet of the 2022 season.
Josue Aaron Gomez was the star of the night as he scored the lone goal of the night. The goal that was good enough to be number two on SportsCenter's Top 10 came in the 18th minute off of a cross from left fullback Eder Borelli.
The win against the Switchbacks, a team that was in second place in the western conference coming into the '915' this Saturday, is undoubtedly a quality win for El Paso who has struggled this season against teams that sit in the upper positions of the standings table.
Here's what happened
Locomotive ran into some unexpected adversity early in the match four minutes after the opening whistle, team captain Yuma left the match due to injury. Martin Payares came on as the early sub.
Despite the early inconvenience of the injury, El Paso got off to a quick start, dominating ball possession and setting the offensive tone of the match in the opening 15 minutes. That offensive proactiveness would pay off in the 18 minute when Eder Borelli sent in a cross that found a diving Aaron Gomez just outside the 6-yard goalbox who put it in the back of the net by way of a header. Locomotive held a 1-0 lead going into halftime.
The Switchbacks came out in the second half with a noticeable sense of urgency to get the equalizer. At times, they had the Locos on their heels, creating constant threats on goal. The Locos struggled to establish any rhythm in the second half due to constant stoppage of play due to fouls called by referee Adam Kilpatrick.
In the 76th minute El Paso obtained a one-man advantage as Matthew Mahoney received a red card. That advantage only lasted 11 minutes as Luis 'Lucho' Solignac received a second yellow card that led to his red card.
What was said
Defensive midfield Richie Ryan and forward Josue Aaron Gomez both recognized that it was a very tough match against a tough team. Ryan said, "Colorado is a tough team, especially going forward, they have a lot of threats and are a difficult time to deal with in transition moments and the times they caused us problems was in those transition moments."
As for his goal, Gomez commented, "I thought it was a great cross (by Borelli), a great play and I can't think of a better way to score a great goal at home against a tough team. I'm happy because it happened."
Locomotive head coach John Hutchison said, "Overall it wasn't very pretty, but definitely hard fought. We knew that danger was the transition for them, and they did transition really well but my boys stood tough and credit to them on a clean sheet."
The Locos boss called the first 35 minutes of Saturday's match "some of the best football we've played all year". For that to happen against one of the best teams in the entire USL Championship speaks volumes about El Paso's effort.
What's Next
Locomotive will now travel to Northern California next weekend to face Oakland Roots SC. Back in April, the Locos and Roots played to a 1-1 draw in downtown El Paso. The match is scheduled to kickoff at 8pm MT from Laney Football Stadium. As always the match will be televised nationally via streaming on ESPN+.
Match details
Match: El Paso Locomotive vs Colorado Springs Switchbacks FC
Date: July 9, 2022
Venue: Southwest University Park; El Paso, Texas
Weather: 79F and Scattered Thunderstorms
Scoring Summary       1 2 F
El Paso Locomotive      1 0 1
Switchbacks FC            0 0 0
ELP – Aaron Gomez (Eder Borelli), 18'
Lineups:
El Paso Locomotive FC (4-3-3): Evan Newton; Eder Borelli (Christiano Francois, 78'), Yuma (Martin Payares, 6'), Andrew Fox, Eder Borelli, Richie Ryan, Eric Calvillo (Ander Egiluz, 78'), Dylan Mares (Sebastian Velasquez, 88'), Nick Hinds, Aaron Gomez (Emmanuel Sonupe, 88'), Lucho Solignac
Subs not used: Philipp Beigl, Raul Vasquez
Colorado Springs Switchbacks FC (3-4-3): Christian Herrera; Triston Hodge (Isaiah Foster, 41'), Dennis Erdmann, James Ockford, Matthew Mahoney, Michee Ngalina, Cameron Lindley (Steven Echeverria, 84'), Beverly Makangila (Kharlton Belmar, 90'), Malik Johnson (Issa Rayyan, 85'), Hadji Barry, Elvis Amoh (Aaron Wheeler, 84')
Subs not used: Jefferson Caldwell
Stats Summary: ELP | COS
Shots: 18 | 10
Shots on Goal: 6 | 2
Saves: 1 | 5
Corner Kicks: 5 | 10
Fouls: 15 | 14
Offside: 3 | 6
MISCONDUCT SUMMARY:
COS – Dennis Erdmann (Caution), 28'
ELP – Richie Ryan (Caution), 44'
ELP – Martin Payares (Caution), 45'+3
ELP – Matt Bahner (Caution), 52'
ELP – Lucho Solignac (Caution), 75'
COS – Matthew Mahoney (Ejection), 76'
COS – Jefferson Caldwell (Caution), 77'
ELP – Christiano Francois (Caution), 79'
ELP – Ander Egiluz (Caution), 85'
ELP – Lucho Solignac (2nd Caution; Ejection), 87'
FANCY: 25 Celebrities Who Have Stayed at The Historic Hotel Paso del Norte