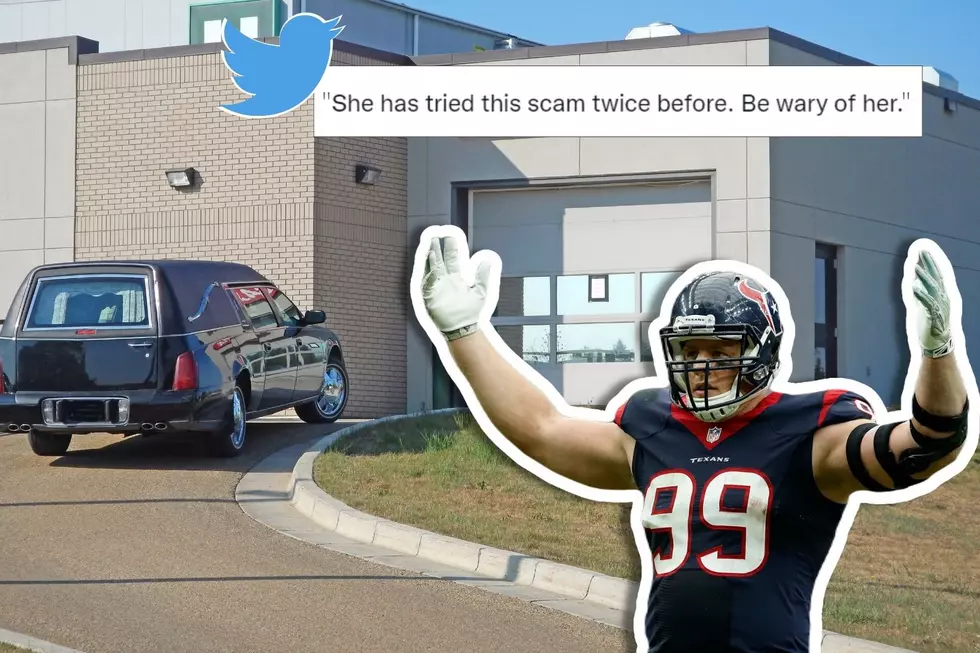 Scammed? JJ Watt Graciously Helps Texan Fan With Funeral Expenses
Scott Halleran Getty Images
Losing a loved one is never easy, but it's even harder when you are tight on funds and have to begin selling off personal items to help cover the funeral bill.
STRUGGLING WITH FUNERAL EXPENSES
A Texan fan named Jennifer Simpson from Houston, Texas had just lost her grandfather. She and her family had been struggling to gather money for his funeral expense. She began ruffling through some of her prized possessions and on June 20th she tweeted this message:
I have a pair of @JJWatt women's edition of Reebok shoes size 9 $60. I've worn them twice. They are great shoes, im only selling them because we are raising money for my grandpa's funeral. I also have a Watt women's XL Texans Jersey for $30. Anyone interested?
A FAMOUS REPLY
To help contribute to the hefty funeral expenses she was trying to sell Texan gear. Knowing there is a mass abundance of Texan fans in the area it wasn't a bad idea. However, Jennifer was beyond surprised by the quick response she received.
The man himself, former Texan, J.J. Watt responded to Jennifer's tweet.
The tweet reads, "Don't sell your shoes and jersey, we'll help with the funeral. I'm sorry for your loss."
RESPONSE GOES VIRAL
Amazed by the reply the grateful Texan fan replies, " freaking love you man. It's been a hard year for me, and this last month has been hard since the death. I wish I could tell you my story."
The pair public exchange quickly blew up with 16,000 retweets and nearly 240,000 likes.
SOME SKEPTICISM
However, a portion of the response was very skeptical. A user did some digging into Jennifer's profile and noticed something interesting. 
"She tried selling this jersey for another funeral in 2018."
Many other people began speculating the entire situation could be a scam. however, others quickly came to Jennifer's defense saying it's not far-fetched to believe someone tried to sell a jersey for a different funeral in the past. 
Another user mentioned the funeral home did not have her grandfather's obituary listed on their site. 
SETTLED AND CONFIRMED
The skepticism was settled after many other users confirmed they had taken the step to call the home and verify. 
"I called up the Funeral Home mentioned. The grandfather is there but not listed because funeral arrangements have not yet been finalized pending full payment."
Unfortunately, the family had to be scrutinized and examined online during a time of mourning. Everything ended well; way to step up and be so incredibly compassionate J.J. Watt regardless of the online pushback.
9 Essential Items For A Rowdy River Get-Together