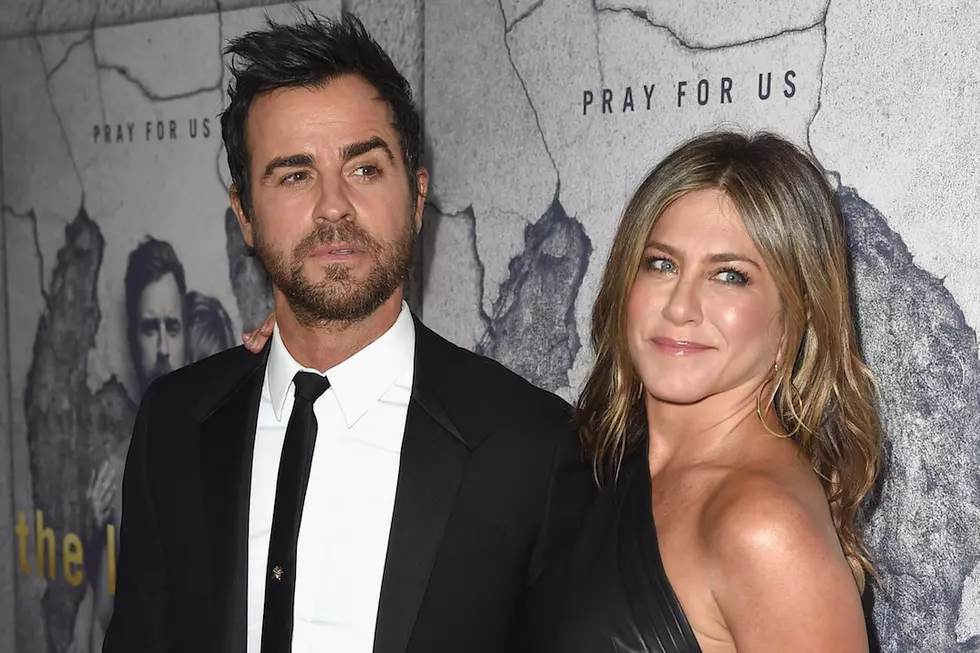 Jennifer Aniston and Justin Theroux Announce Their Separation
Kevin Winter, Getty Images
The Wanderlust couple declared their separation in the following statement obtained by People via Associated Press through Aniston's trusted publicist, Stephen Huvane, on Thursday (February 15):
"In an effort to reduce any further speculation, we have decided to announce our separation. This decision was mutual and lovingly made at the end of last year. We are two best friends who have decided to part ways as a couple, but look forward to continuing our cherished friendship. Normally we would do this privately, but given that the gossip industry cannot resist an opportunity to speculate and invent, we wanted to convey the truth directly. Whatever else is printed about us that is not directly from us, is someone else's fictional narrative. Above all, we are determined to maintain the deep respect and love that we have for one another."
All smiles and amongst friends, Aniston was photographed in an Instagram pic posted by Teen Witch actress-turned-yoga instructor Mandy Ingber, who captioned the celebratory photo, "Thanks @aleenkeshishian for posting this shot of these incredible women. We love our Jen. Magical Malibu day!"
Also amongst the close-knit crowd of Aniston's friends participating in the birthday festivities was Suddenly Susan star Andrea Bendewald, a longtime confidant of the Cake performer, who acknowledged her bestie with a throwback shot of the two during their teenage years.
Strangely enough, however, the most obvious and uncanny absence from the party crowd was that of Aniston's husband, Theroux, who was supposedly on the other side of the country for work, spotted walking his dog in the streets of New York City, People reports.
Supposedly, the married couple's relationship had been hanging by a thin thread for quite a while due to their conflicting career schedules which hardly offers them enough quality time together.
Nonetheless, a source close to the duo assures the decision was mutually beneficial for both parties involved.
"Justin often spends a few days in NYC by himself," the insider previously told People. "When he is in NYC, Jen will catch up with friends and enjoys her own life. When Justin is in L.A., it's very special for them. They socialize together with friends. They often go out to dinner or have people over."
Aniston and Theroux first met in 2008 on the set of Tropic Thunder in Hawaii, although it's believed they didn't begin dating until years later, in 2011. They would engage in 2012, and on August 5, 2015, the 46-year-old Mulholland Drive star and Friends alum married in a private ceremony at their Los Angeles home.
10 Celebrity Divorces That Rocked Hollywood