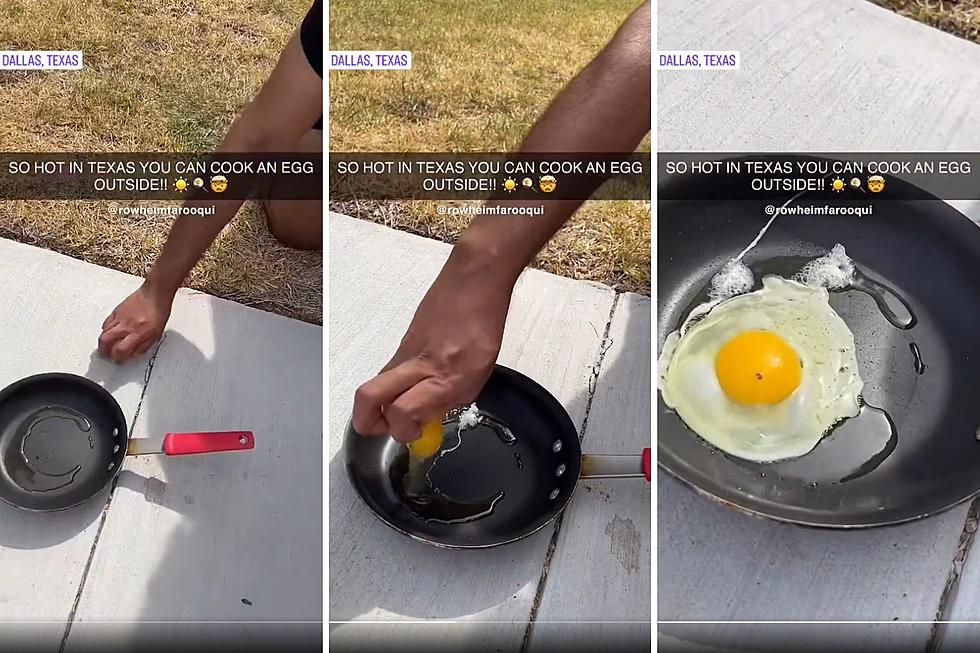 Texas Man Cooks Egg on Scorching Sidewalk
Twitter/Canva
Unbelievable! Texas Man Demonstrates Sizzling Culinary Skills by Cooking Egg on Sweltering Sidewalk
Everything's bigger in Texas, including the heat. When temperatures soared to record-breaking levels, one Texan decided to put the scorching sidewalks to a culinary challenge.
Armed with just an egg and a frying pan, this daring individual sought to prove that Texas summers can cook up more than just BBQs and Tex-Mex. The result? A sizzling spectacle that has left the internet amazed and inspired. Let's dive into this egg-citing story and witness the impressive heat-defying feat.
The Sizzling Showdown
With the stage set and anticipation building, the rascal carefully cracked an egg into a frying pan on the pavement, and it instantly started sizzling. As the egg white solidified and the yolk retained its sunny demeanor, the video suddenly ends, but not before we see that it actually worked.
What Experts Say
While this astonishing feat is undoubtedly impressive, experts advise against replicating it. Cooking food on a sidewalk can expose it to harmful bacteria and pollutants present on the ground. Not to mention, using public property for cooking might not sit well with local authorities.
So, the next time you find yourself in Texas during a heatwave, remember this egg-traordinary story of culinary audacity and innovation. Just don't forget to carry a water bottle and plenty of sunscreen – leave the cooking to the experts and the sidewalks to pedestrians!
That's it, check out this sizzling hot video for yourself below!
10 Common Laws Broken in Texas
Here are some examples of laws that are frequently violated in Texas.
Interesting Facts About the Great State of Texas
Here is a look at some little-known facts about the state of Texas.
24 Girls From Texas Went Missing In June. Have You Seen Them?
24 Girls from Texas who went missing in June are still missing as of July 16, 2023. These girls are from all across the State of Texas. Girls went missing from Dallas, San Antonio, Garland, Houston, Temple, and other cities across the state. They also range in age from 12 years old to 17. Please look through the pictures and see if you recognize anyone. Let's bring these girls home to their families.