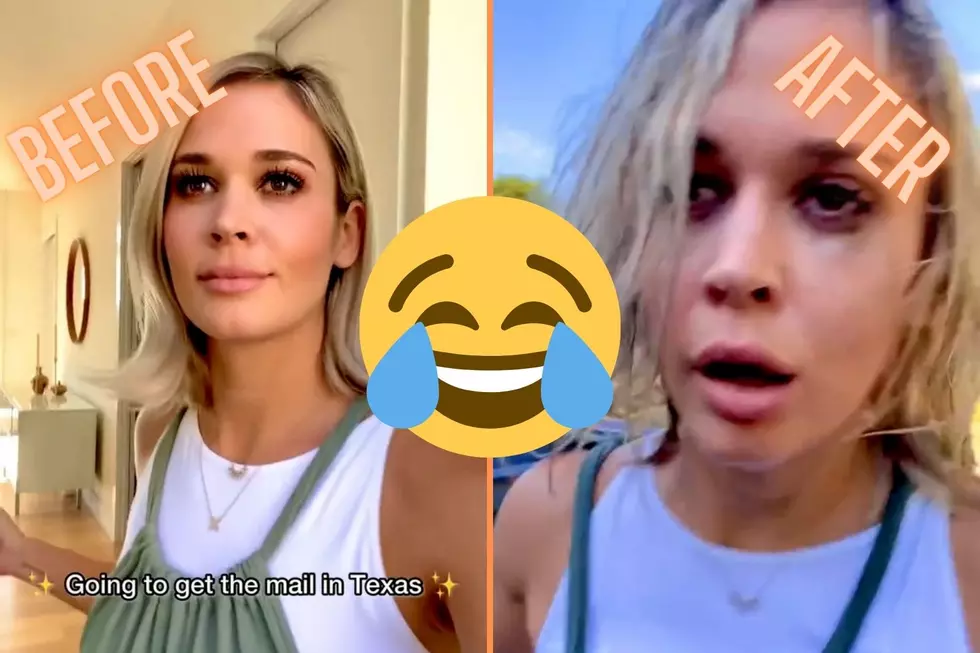 Ha! Hilarious TikTok Perfectly Sums Up What a Texas Summer Is Like
iamlaurencompton, TikTok/Canva
Summer is just one of those seasons that you have to brace yourself for. But let's be real here: even if you think you're prepared for summer, you truly aren't. You can slap on all the sunblock you want and crank up the A/C, but you're never really ready for it when the heat starts to slap.
And then there's a Texas summer.
Now, don't get me wrong - Alabama summers were hot. But I'm not sure I'm ready for a Texas summer. Heck, we're under a heat advisory right now at the time of writing.
If you're even seen me, I'm a tiny individual. Which means I can't hold any heat. So when a building is cold, I'll be shivering. So at the station, I'm basically bundled up because we have to keep the equipment frosty.
Stepping into 100 degree while in jeans and a sweatshirt isn't fun to say the least.
But for others, simply wearing a shirt and shorts still doesn't make it easy. Take TikTok user Lauren Compton, for example:
This...tracks on all levels. I mean, I feel this. Literally there have been times where I've wanted to check the mail and it feels 25 miles away in the heat when it's like a 2 minute walk.
Also this begs the question of how does anyone survive this season? I'm already afraid of getting into my car when it's in the direct sunlight!
Maybe it's time to invest in a sunscreen. That or a fan that I carry with me at all times. Not sure which one comes first.
I turn the question to everyone: How do you all deal with the summer heat in Texas? Let us know by tapping the Chat button in our free app.
Chill Out This Summer at the 6 Best Swimming Holes in Texas
Feeling hot, hot, hot? Here are six of the best swimming holes in
Texas
to get your chill on and lower that core temperature.
Trips to Discover
and
The Crazy Tourist
both list the following six places as the best places to cool off this summer in the great state of Texas. You'll want to keep this list handy as the mercury rises and the sweat starts to pour!
Why the Most Expensive House in Belton, Texas is Perfect For Parties
This spacious 3 bedroom, 5 bath home in Belton has 5,580 square feet, but the star of the show is the incredible piece of land that comes with it.
The property includes over 300 acres and is
listed at $25,000,000
. Let's explore the house, pool, and all the great places you can throw a party without leaving your home!
PICS: Explore Flophouze Shipping Container Hotel in Round Top, Texas
You've got to love what Matt White and his team have done with these old shipping containers. If you like what you see, you can even buy one and have it custom made and shipped to you. If you're just looking to get away for a while, you can stay in one of these Houzes you'd never suspect were made from recycled and reclaimed materials. Let's take a look.
No Fares Needed: Go Back to School With This Bus Airbnb in Austin, Texas
When all of us were younger, we dreaded getting on the school bus, so why is this unique
Airbnb
in Austin, Texas so charming? The wheels on this bus don't go 'round and 'round, but board it and you'll be on the fastest route to rest and relaxation.