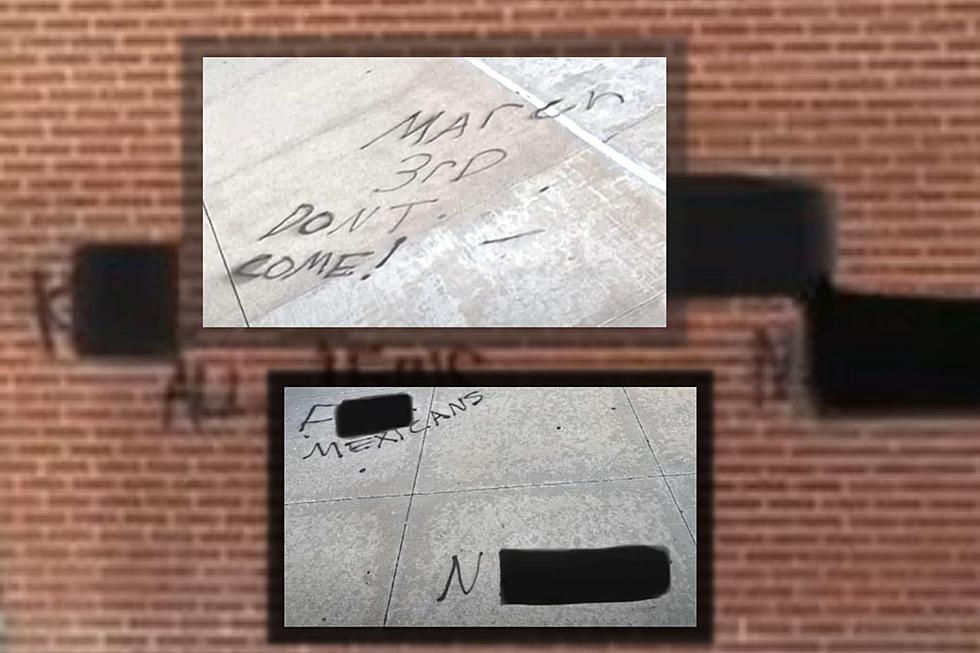 Disturbing Graffiti With Hate Messages Covers Two Texas Schools
Fox4/YouTube/TSM
Imagine having a great morning with your child, then pulling up to school to see it covered with hate messages.
That's exactly what happened to parents and students of two North Texas schools this week as investigators begin their search for possible suspects.
Arguably more disturbing than the racial slurs that were plastered on the walls in black spray paint was the alarming message on concrete that hinted at possible violence to come in the days ahead.
The heart breaking encrypted message reads " March 3rd. Don't Come."
That message was likely enough for some parents at Eagle Mountain-Saginaw ISD in Ft. Worth Texas to contemplate continuing to bring their small children to school in the future at all, although some parents offered in an interview with FOX4 that the parents they spoke too offered that, "they still plan to send their kids to school Friday despite the threat."
Here is a video on Youtube from Fox4 that covers the story.
Are Texas schools safe?
After the horrific violence that occurred just days before the end of the school year in Uvalde Texas 2022, families continue to wonder just how safe public schools in Texas are after that heartbreaking shooting.
Katy Perry on American Idol is in the news for her outrage against the school systems in America after Trey Louis from Santa Fe Texas shared his heartbreaking story as a student experiencing a mass campus shooting in his hometown in 2018.
Here is that video on the American Idol YouTube page.
The racial slurs and hate messages are in the process of being removed or covered as well as the encrypted hint regarding missing school on March 3rd while investigators continue to review video footage in an effort to identify who may have written these alarming messages. 
103 iconic photos that capture 103 years of world history
Stacker
gathered some of the most iconic images from the past 103 years, beginning in 1918 and leading up to 2020 during the COVID-19 pandemic.