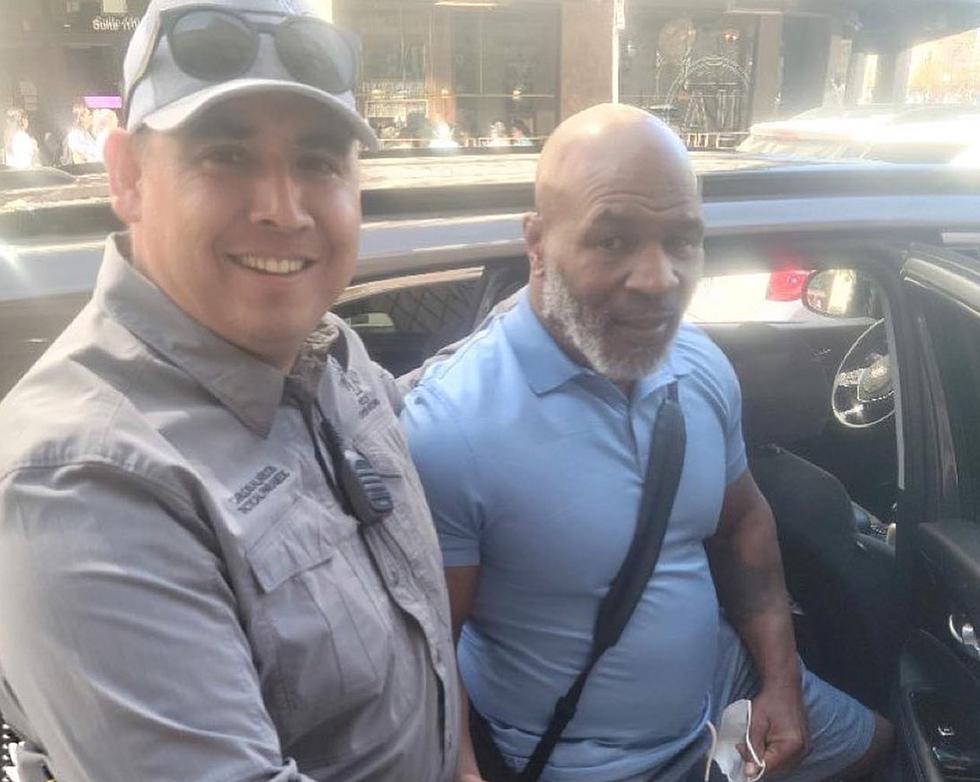 Former Heavyweight Boxing Champ Mike Tyson Spotted In El Paso
Revive Medical
Mike Tyson, the former heavyweight champ, was spotted in downtown El Paso near San Jacinto Plaza over the weekend.
Legendary "Iron" Mike Tyson was in El Paso over the weekend after he was spotted leaving The Plaza Hotel on Saturday morning.
On Saturday, I was at San Jacinto Plaza for the Pet Pawty hosted by El Paso Inc., and that's where my friend Carlos and the rest of the crew of Revive Medical were also on hand working the event.
After coming over to say hello to me, Carlos then says that he and the rest of his group walked down towards the Plaza Hotel, where they spotted Mike Tyson.
He tells me that he immediately noticed that it was Tyson and approached him asking to take a photo. Carlos said he was super friendly but that it all happened so fast that he didn't have time to say anything else but, "Thank you for the picture."
So now everyone is curious to know what Mike Tyson was doing in El Paso?
While we don't officially know what the youngest heavyweight champion in history was doing in El Paso, we can only speculate.
Blue Origin 
Maybe Mike Tyson wants to check Jeff Bezos digs in Van Horn to score a trip to space onboard Blue Origin.
Mike Bites
Tyson might have met with folks in New Mexico for his CBD and cannabis-related products, including a new line of edibles in the shape of ears called "Mike Bites" in homage to Tyson's most notorious moment in the ring against Evander Holyfield.
Charity Event
Maybe Tyson is preparing for another exhibition match benefiting charity. After all, his 2020 match against Roy Jones Jr. was one of the hottest tickets in California, which raised money for charity and paid out $10 million for this comeback fight.
Passing Through
Or maybe Mike Tyson was just on the road and made a pit stop in El Paso and decided to stay at the historic Plaza Hotel. Who knows?
Whatever the reason was for his visit, we hope Mike Tyson enjoyed his stay in the Sun City over the weekend.
25 Celebrities Who Have Stayed at The Historic Hotel Paso del Norte
Here's Where To Find All 10 Of El Paso's Balloon Mural Series:
Experience El Paso's Only Goat Yoga Farm