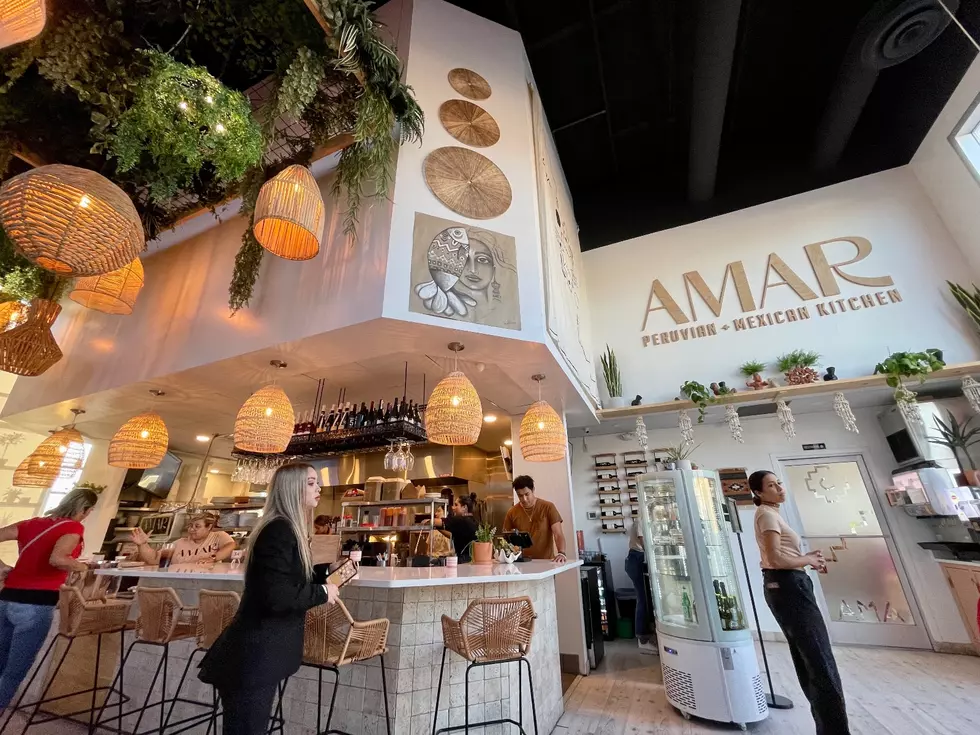 El Paso's 'AMAR Peruvian Mexican Kitchen' Impresses Texas Monthly
Marcos Rey
AMAR brings the rich and exotic flavors of Peruvian cuisine to the borderland, and now it's set to be featured in Texas Monthly Magazine.  
Texas Monthly, the regional magazine out of Austin, was in El Paso earlier this week to visit and taste AMAR's Peruvian Mexican cuisine. 
Three months since opening, AMAR Peruvian Mexican Kitchen is turning heads and attracting the folks at Texas Monthly for its extraordinary cuisine. 
Yes, Peruvian cuisine is now in El Paso, thanks to Tania Peregrino and her family, owners of Don Carbon.  
The concept of opening a Peruvian/Mexican kitchen evolved from Tania's encounter with her now Peruvian husband over a decade ago, discovering Peru's exotic and bold flavors while dating.
As Tania began to learn how to cook Peruvian style thanks to her mother-in-law, over the years, the couple's respective families started to integrate their cuisines during family gatherings, and a new idea was born during the pandemic.  
Tania's love of food, in general, has been the driving force behind the opening of the new eatery located off N. Mesa sharing the same building as Don Carbon (formerly Carl's Jr.). 
While El Paso's foodie scene has been growing, we've never really had a Peruvian restaurant at the level AMAR brings to the table with its authentic sourced ingredients and home-style recipes. 
El Pasoans will find a delectable menu with plenty of seafood and authentic Peruvian signature dishes such as the Lomo Saltado and Ceviche AMAR.  
During our visit, my friend and I dined on mind-blowing dishes such as AMAR's Empanadas, Mahi Mahi Tacos, Arroz Chaufa Mixto, and an Elote a la Brassa dish which will ruin you for life because it's so good you'll never want it prepared any other way. 
AMAR's ceviche dish, in particular, was a refreshing surprise, especially since I was unaware that the dish originated in Peru and is not the same as the ceviche we grew up eating on the borderland.  
This ceviche includes a variety of fresh seafood such as Mahi Mahi, mussels, the tenderest octopus, shrimp, and calamari. It also includes Choclo (Andean corn), sweet potato, Canchita (Roasted Peruvian Corn Nuts), Aji Limo chiles, and spices, all marinated in Leche de Tigre (lime-based marinade).  
The dish is simply stunning.  
The bold flavors of Peruvian cuisine are complex, evolving over generations thanks to the influence of Inca, the Spanish, and Japanese and Chinese immigrants.  
From the light and airy décor in neutral tones, artwork by Tania, Macrame chandleries, and curtains handmade by a longtime friend, hanging rattan lamps and planters to an open kitchen view and attentive staff, AMAR aims for a welcoming vibe as if taking a seat at a friend's kitchen table.  
And this is why Texas Monthly reached out to Tania weeks ago, asking for her to submit photos, and then decided to come to El Paso to see what the buzz behind AMAR is all about.
And come September, AMAR will join the list of El Paso restaurants featured in the popular magazine, such as El Charlatan, ELEMI, and 1700 Steakhouse.
If you plan to visit, you'll also notice that tables are set up primarily for two. Tania purposely designed the seating area for a solo dining experience after reading the Artist's Way by Julia Cameron. But no worries, there's plenty of room, including an outdoor patio for larger groups. 
Nonetheless, AMAR is such a unique and immersive dining experience that you'll not only find the courage to dine alone perhaps but also discover a world bursting with flavor and love at El Paso's only Peruvian + Mexican Kitchen. 
AMAR Peruvian + Mexican Kitchen In El Paso
AMAR Peruvian + Mexican Kitchen opens in El Paso serving authentic Peruvian cuisine.
Glam & Posh Picnic Setups In El Paso
These are not typical picnics - the fine folks at Picnic On A Sunday, Sun City Picnics, and Celestial Picnics By Star Glampers in El Paso are creating whimsical picnic setups at any park or home to help celebrate any occasion from birthdays to anniversaries and everything in between.
Yum! Weso Steakhouse Sneak Peek & Menu In Downtown El Paso
Weso Steakhouse is a new restaurant that will have carnivores drooling over their prime-cut meats.