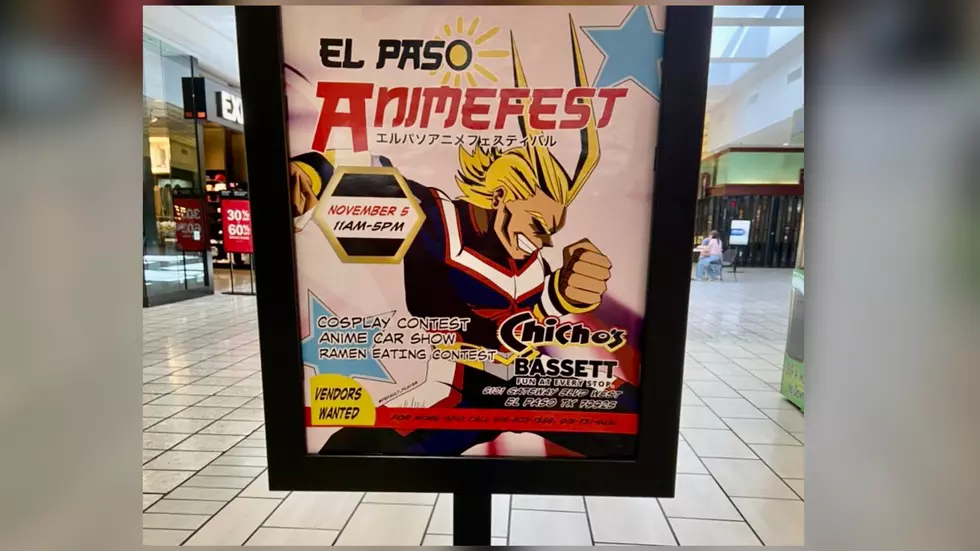 El Pasoans Invited To Chicho's Second Anime Fest Inside Bassett Place Mall
Courtesy: Chicho's
Anime lovers have the chance at enjoying yet another Anime Fest at Bassett Place mall all thanks to the local shopping & retail store Chicho's.
This past May, Chicho's hosted their first-ever Anime Fest inside Bassett Place Mall. Dozens of Anime lovers showed up and made the first-ever Anime Fest a huge success.
The event was so well received that store owners are excited to bring another Anime Fest this November.
Chicho's, which is located inside Bassett Center Mall, will be hosting its second Anime Fest inside Bassett Place Mall on Saturday, November 5th.
Chicho's is a locally owned business that sells Anime items including funko pops, Anime Croc charms, Cosplay outfits, Anime posters, and more.
The Anime Fest will be a FREE event and will include over 30 Anime related vendors. Vendors will be set up outside of Chicho's store and all around Bassett Place Mall.
Guests are encouraged to dress up in their best Cosplay outfit to enter the Cosplay Contest. There will also be a Ramen eating contest along with an Anime car show. 
Store owners are hoping that this Anime Fest will be the first two of many. They are hoping to continue putting on this event at least two times a year.
Store owners are still looking for more vendors. Vendors must sell Anime related items to participate in the event.
If you would like to be a vendor at this first-time event you can call Chicho's Store owners at 915-803-1366 or 915-731-9651.
Anime Fest Details:
Chicho's Store Inside of Bassett Center: 6101 Gateway Blvd West

Saturday November 5, 2022

11 am - 6 pm

No Cost & Family Friendly

Cosplay Welcomed
El Paso Anime Fest
Bassett Center Through The Years