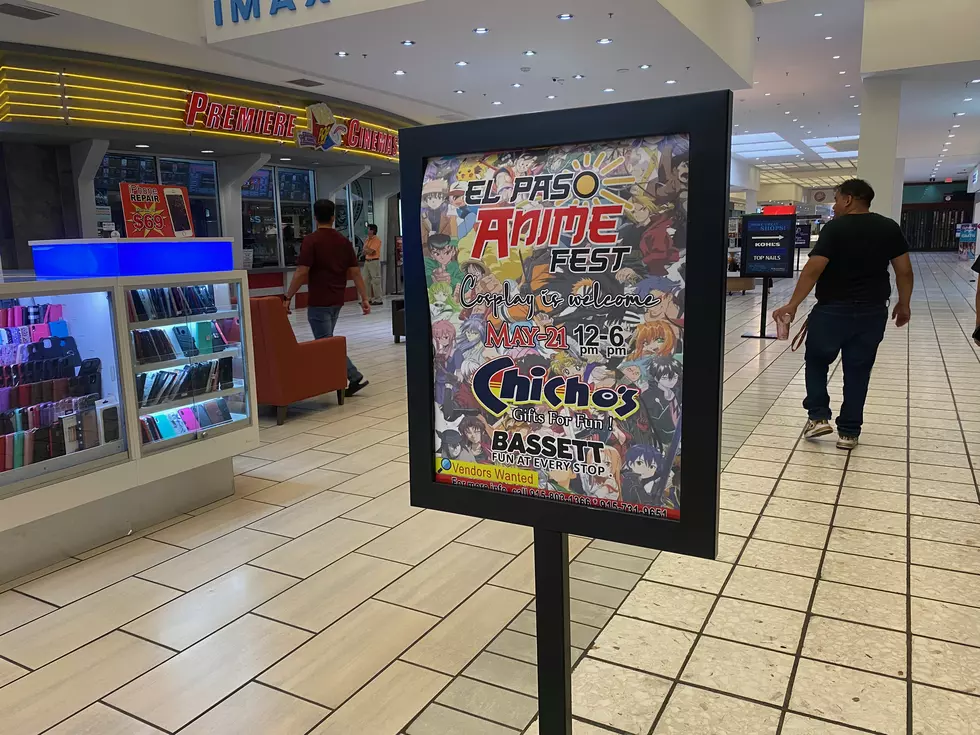 El Paso's First-Ever Anime Fest Is Coming To Bassett Place Mall This May
Iris Lopez
Anime lovers, get ready for a festival that is the first of its kind! Well, at least in El Paso it will be!
El Paso's first-ever Anime Fest is coming to the borderland this May and it's all thanks to a local store, Chicho's.
The local shopping & retail store Chicho's, which is located inside Bassett Center Mall, will be hosting its first Anime Fest inside Bassett Place Mall on Saturday, May 21st.
According to store owners, this will be the first Anime Fest in El Paso and the first that will take place inside a shopping center.
Chicho's is a locally owned business that sells Anime items including funko pops, Anime Croc charms, Cosplay outfits, Anime posters, and more.
The Anime Fest will be a FREE event and will include over 30 Anime related vendors. Vendors will be set up outside of Chicho's store and all around Bassett Place Mall.
Guests are encouraged to dress up in their best Cosplay outfit to enter the Cosplay Contest. Winners will get special prizes and the opportunity for a FREE photoshoot in their Cosplay outfits.
Aside from being able to shop for your favorite anime gifts, guests will also be able to enjoy a photo shoot and other family-friendly activities.
Store owners are hoping that this Anime Fest will be the first of many. They are hoping to put on this event at least two times a year depending on how well this first-ever Anime Fest goes.
Store owners say that they have already booked over 20 local anime vendors but they are still looking for more vendors! Vendors must sell Anime related items to participate in the event.
If you would like to be a vendor at this first-time event you can call Chicho's Store owners at 915-803-1366 or 915-731-9651.
Anime Fest Details:
Chicho's Store Inside of Bassett Center: 

6101 Gateway Blvd West
Sunday, May 21, 2022
12 pm - 6 pm
No Cost & Family Friendly
Cosplay Welcomed
El Paso Anime Fest
Bassett Center Through The Years