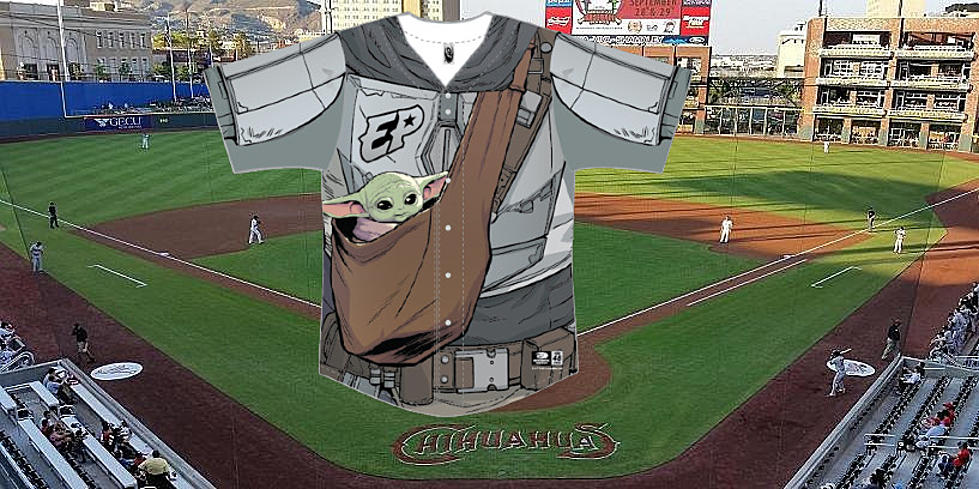 El Paso Chihuahuas Reveal Star Wars Night Jersey, Game Night Promotions
mike/El Paso Chihuahuas
Attention Mandalorians, Jedis, and Stormtroopers: if you want to embrace all things Star Wars with other like-minded nerds, er, I mean, fans that share your enthusiasm, make a note on your calendar that Star Wars theme night returns to the ballpark this spring.
Enter your number to get our free mobile app
Star Wars Night Jersey Reveal
The El Paso Chihuahuas are gearing up for the 2023 baseball season and a particular promotional night in April is drawing a lot of excitement and attention: Star Wars Night.
The team will celebrate the intergalactic movie and television franchise by taking the field wearing jerseys inspired by The Mandalorian streaming series on Saturday, April 29. Cool! That gives me plenty of time to get my Spock ears dry cleaned!
But what has Padawans geeking out most is the specialty jersey auction.
Jerseys, featuring Baby Yoda -- who I understand is not a baby or Yoda and for all I know might not even really be green -- will be auctioned off with proceeds benefiting a local nonprofit.
Star Wars Characters + Themed Fireworks Show
The night will feature photo opportunities with a couple of local Star Wars costuming organizations, and a Star Wars themed Fireworks Spectacular choreographed to John Williams' franchise score.
So, buy your single game tickets in advance, dust off your light saber, gas up your Millennium Falcon and ready your nerdy self to make your way downtown.
Because like that one character always says, "Live long and prosper." Or is it, "Nanu nanu"?
El Paso Photographer J Diego Gonçalves Clones Star Wars Planet In Fun Red Sands Photo Shoot