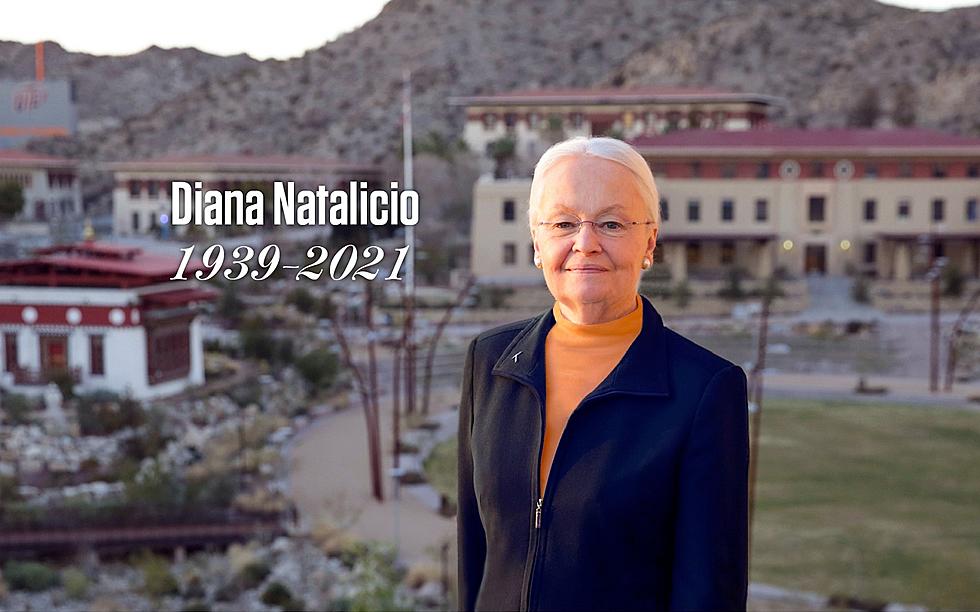 El Paso Bookstore To Hold Sale Of Diana Natalicio's Memorabilia
UTEP
El Pasoans lost a beloved leader and educator last year when former UTEP president Dr. Diana Natalicio died. Dr. Natalicilo was at the helm of UTEP for 31 years. She had the longest-serving tenure among presidents at any major public research university. She was a real El Paso treasure and generations of students mourned her passing. She lived in the Kern Place area in a home that is occupied by UTEP presidents. In March, some of Dr. Natalicio's memorabilia will be available to the public in a sale at a local book store in Central El Paso.
NATALICIO'S LIFE AND LEGACY
Dr. Natalicio grew up in St. Louis and studied Spanish as an undergraduate. She had a master's degree in Portuguese, and earned a doctorate in linguistics. She came to El Paso in 1971 and stayed for forty years. A year before she retired I was lucky enough to spend about an hour with Dr. Natalicio after a press conference at her residence in Kern where she reminisced about so many of her personal items that she had acquired through her years at UTEP. She was a huge fan of baseball and a lifelong St. Louis Cardinals fan. She had a quite a few pieces of memorabilia from her time as a fan, and she also had an extensive book collection.
Some of those books and personal items will be on display and available to purchase beginning March 12 at a local bookstore. There will be an opening reception and the items will be available for a month at the bookstore.
WHAT: Dr. Diana Natalicio memorabilia sale
WHEN: Beginning March 12, 2022
WHERE: Brave Bookstore, 1307 Arizona
LOOK: Milestones in women's history from the year you were born
Women have left marks on everything from entertainment and music to space exploration, athletics, and technology. Each passing year and new milestone makes it clear both how recent this history-making is in relation to the rest of the country, as well as how far we still need to go. The resulting timeline shows that women are constantly making history worthy of best-selling biographies and classroom textbooks; someone just needs to write about them.
Scroll through to find out when women in the U.S. and around the world won rights, the names of women who shattered the glass ceiling, and which country's women banded together to end a civil war.