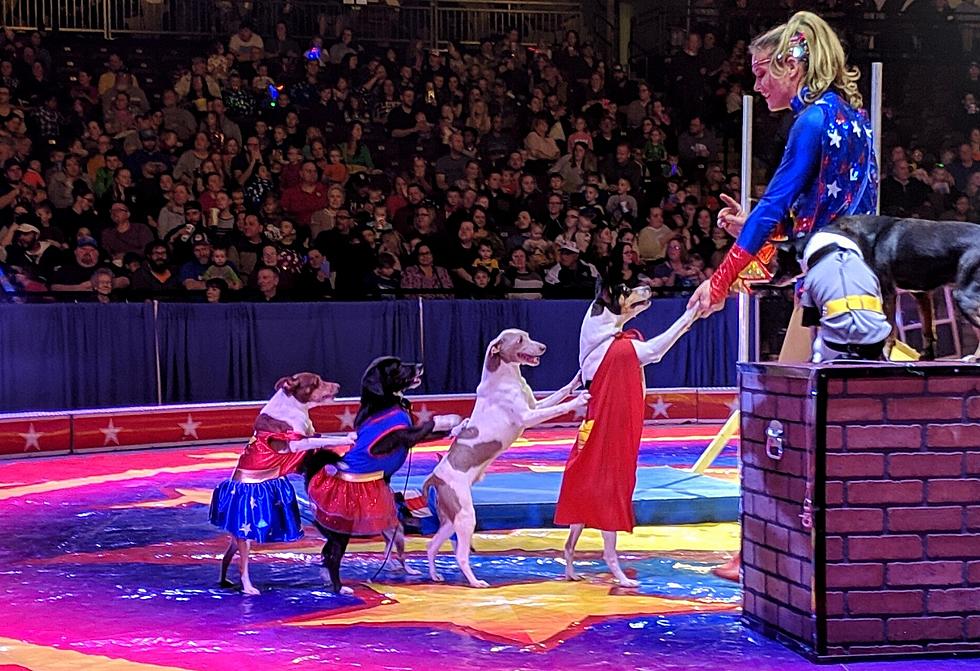 From Acrobats to Animal Acts, Carden Circus Rolls into El Paso This Weekend
SpectacularCircus.com
Ladies and Gentlemen, and children of all ages, the Carden Circus is back in El Paso this Saturday and Sunday with three rings of acrobats, aerialists, and animal performances.
Laugh, gasp, and cheer under the big top, metaphorically speaking that is. It's actually under the roof of the coliseum, but that doesn't make it any less magical for the wide-eyed kid in all of us.
Enter your number to get our free mobile app
Animals, Acrobats, and Clowns, Oh My!
Thrilling performances will include the high-flying Mongolian Acrobat troupe, and the Wheel of Destiny.
Of course, it wouldn't be a circus without jugglers, contortionists, and those colorful (some might argue, creepy) painted up clowns with their laughable antics.
Lastly, no big top would be worth its peanuts, popcorn, and cotton candy without elephants, camels and horses. And let's not forget the dogs.
My favorites have always been the dogs. Their stunts never fail to entertain. And when they saddle up on a miniature pony, well what can I say: adorbs.
If you want to ramp up the fun and create a few more magical memories, show up one hour before show time.
Pre-show activities include elephant and pony rides (for an additional fee), face painting (additional), and meet and greets and photo opportunities with some of the circus stars.
Animal Care
Care and treatment of circus animals has always been a concern.
Carden is committed to the ethical treatment of all animals, per the Our Animal Family section on its website, and "strongly opposes any form of cruelty or mistreatment."
Our staff consists of animal experts who have devoted their lives to living, working with, and caring for these animals. They meet the animals' physical needs with food and regular veterinary attention; as well as their mental and emotional needs by providing a stimulating environment and companionship
2023 Carden International Circus Dates/Performance Times
• Saturday, August 26: 11 a.m., 3 p.m., 7:30 p.m.
• Sunday, August 27: 12 p.m., 5 p.m.
Ticket Links
Tickets can be bought in person at the El Paso County Coliseum box office or online via the Carden Circus website. Go HERE to screenshot a free kid's pass.
Top 14 Exotic Animals That You Can Legally Own in Texas
Texas has an estimated 7.2 million dogs, more than any other state, this according to the American Veterinary Association. Safe to say, dogs are a Texan's best friend. But perhaps you're interested in branching out a bit and adding a less common exotic pet to your home.
Granted a few of these exotics are regulated and will require permits.