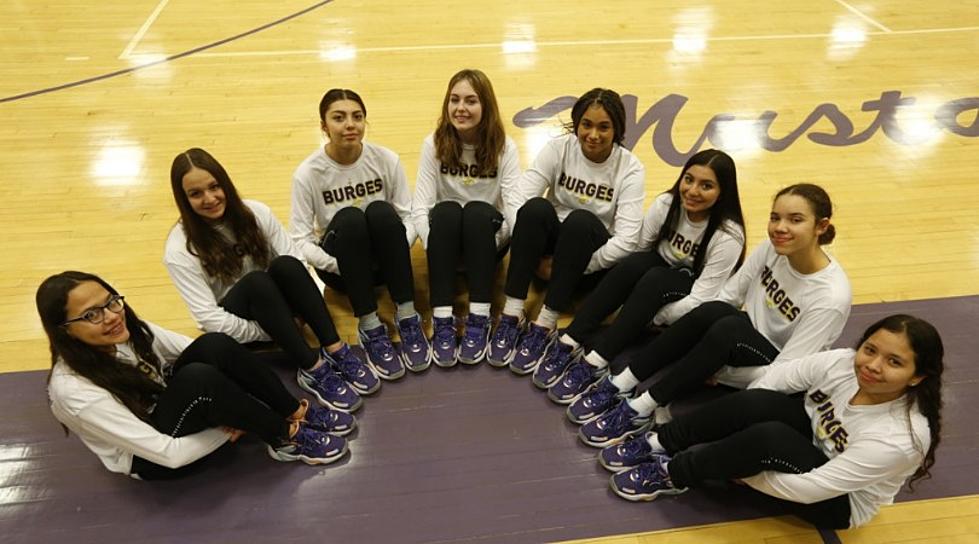 Aaron Jones Gifts Shoes to Burges Varsity Girls' Basketball Team
elpaso_isd via Twitter
As if Aaron Jones couldn't be any more loving to El Pasoans, he just showed some major love to some talented El Paso basketball players.
The Burges Mustangs varsity girls' basketball team was just gifted some gorgeous and comfy-looking new shoes from the NFL star.
According to El Paso Independent School District's website, Jones donated new purple Adidas shoes for the team to use on game day and practice. You know he had to hook up this top-ranked 5A team in the city, plus they are ranked 13th in the state of Texas.
While this is a sweet gesture from the superstar alumni, what is really sweet is the team dedicating their season to Jones's Dad, Alvin Jones Sr.
To show their love for Mr. Jones, the team is sporting t-shirts with a basketball shaped into a heart and Mr. Jones's name on the back. These shirts are so gorgeous and go perfect with their new shoes.
Jones was even kind enough to not forget the junior varsity girls' basketball team and gifted them purple Adidas backpacks. This kind gesture is just another example of how much heart he really does have for the community.
Especially because when I was in school, everyone ignore junior varsity. So glad to know, Jones appreciates all teams.
Jones' Heart Recognized by NFL
In case you didn't know, even the NFL has acknowledged how giving Aaron Jones and his whole family is. He is a nominee for NFL's 2021 Walton Peyton Man of the Year award. Which you can watch his nomination video here.
The Jones family has always given back to the community and always has shown so much love to El Paso. They even have their own A&A All the Way Foundation to help people all over the country. Fingers crossed Aaron Jones will be acknowledged as the man of the year for 2021, but he is already the man in most of El Pasoans' hearts.
UTEP vs. NMSU Battle of I-10 Gallery Recap
These photos were taken Saturday, August 28th, 2021 when UTEP defeated NMSU 30-3 in the annual Battle of I-10 at Aggie Memorial Stadium.
Celebrities Busted With Pot In & Around El Paso, TX