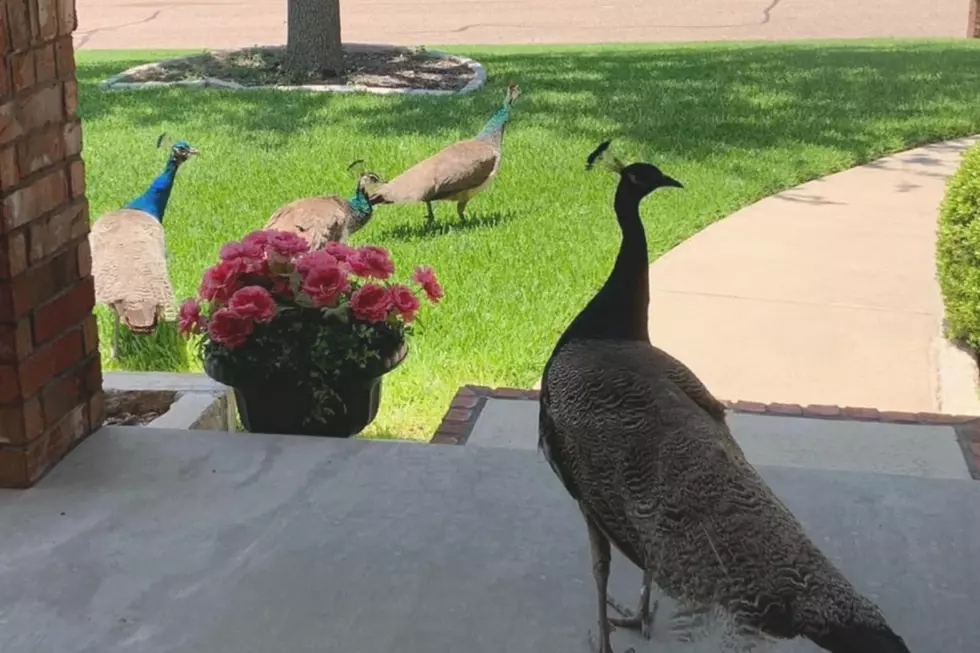 A Pretty Party! Have You Seen These Texas Peacocks?
Lynette Talasek via KWTX
Did you know that a group of peacocks is called a party? It can also be called a pride or a muster, but a party just sounds more fun. Peacocks can live up to 20 years in the wild, so it can be a long party!
Photos of four peacocks wandering through Temple, Texas neighborhoods have been circulating on social media. The peacocks are thought to be female, according to our news partner KWTX.
Shelby Michalewicz, the owner of Tiny Hooves Rescue and Petting Zoo in Temple, says she's been trying to find them by using peacock calls. However, the birds move very fast, and she hasn't been able to locate them.
Where Have the Peacocks Been Seen?
Michalewicz says the birds have been reported all over the area, from Airport Road to East Temple, as peacocks are known to travel long distances. The peacocks have been seen crossing roads, on people's roofs, and perching on front porches.
She says she believes the peacocks are female and are wild, but says they could also be pets that got away from their home.
If You See a Peacock
All animals not under restraint are considered 'at large' and subject to be impounded by Animal Services, according to the City of Temple Animal Code of Ordinances. In Texas, peacocks are considered a non-native species, or 'exotic fowl' by Texas Parks and Wildlife. They are not protected by federal laws, but are protected by cruelty laws.
LOOK: 15 Pets You CAN'T Own in the City of Temple
Temple is a super pet-friendly place to live, but there are some animals city officials would really rather you not try to tame and keep in your home. Let's take a look at a few of the critters on the
banned list
.
This Ain't No Zoo! 20 Pets You CAN'T Own in Killeen, Texas
Killeen, Texas is a very pet-friendly place, but there are limits. You may think keeping a kangaroo around shows some hometown pride, or that an anteater could save you money on pest control, but they're among these 20 animals that are
banned
within the City of Killeen.
The Perfect Safari Vacation Spot Is Right Here In Central Texas
Do you love wildlife? How about giraffes? If you want to get up close and personal with them while enjoying a comfy Airbnb, then
Blue Hills Ranch
located in McGregor, Texas is the perfect getaway for you and your family. Let's look around at this charming safari right here in our backyards.