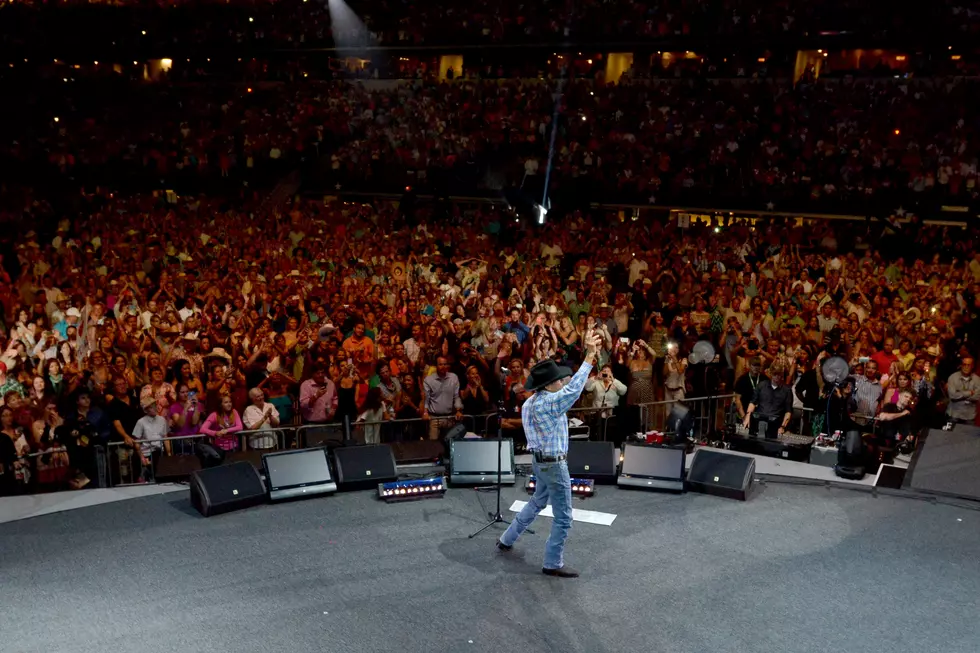 The 5 Most Massive Concerts to Rock the Lone Star State
Cooper Neill
We love concerts. You love 'em, I love 'em & Texas sure does love concerts too. But which ones were the biggest concerts ever held in Texas? We've seen what the biggest was in El Paso: One Direction back in 2013 had an attendance of over 41,000 people. But that doesn't come close to THESE shows:
The last ever televised Selena concert was held at the Houston Astrodome. Over 61,000 people attended the sold out show & I don't think anyone would've ever expected what would happen after the show. But all those fans got to be part of history; the live concert would be released posthumously & be titled "Selena LIVE! The Last Concert". I can also guarantee that if she has alive today, she would still be selling out shows. Today the Astrodome sits abandoned, with people going back to look through the history of the building. But never forget the memories it gave us & never forget Selena.
While Selena had the biggest attended show at the Astrodome, that wasn't the biggest in Houston. THAT record goes to Los Tigres Del Norte in 2019. 75,586 fans attended the Houston Rodeo show & that would beat the previous record: Cardi B's concert that same year. 75,580 saw Cardi B perform....So let that sink in. Los Tigres Del Norte beat her record by just 6 people... DANG
George holds the record of having the highest attended record inside the home of the Dallas Cowboys: AT&T Stadium. At his farewell concert, 104,793 fans watched George along with Eric Church, Miranda Lambert, Alan Jackson, Kenny Chesney & more. A ton of country legends are saying farewell to The King Of Country.
This wouldn't be the only record broken that night:
it was the largest attendance at a single-show concert in United States history,
the largest "indoor" concert in U.S. history,
and it was also highest grossing single-show country concert at a whopping $18,194,374
Considering this concert NEARLY beat the attendance record of the very first Cowboys home game, that's pretty impressive.
104,793 is impressive but that's nothing compared to...
Before Coachella & Austin City Limits, music festivals weren't that common; they'd only happen every once in a while. Back in the mid-90s, when MTV was KING of music/reality tv, they would hold one of the biggest festivals in US history: the 1997 Blockbuster Rockfest. Over 400,000 people who attend the one day festival at the Texas Motor Speedway in Ft Worth, TX.
The line up was INSANE: No Doubt, Bush, Collective Soul, Jewel... the show absolutely defined Generation X. Gavin Rossdale, 20 years after the concert, still has fond memories of that performance. In fact some people have shared their experiences on Reddit, so if you were there, feel free to add yours!
There still exists VHS copies of that performance. But if you don't have a VCR, thankfully someone uploaded the whole hour & a half performance on YouTube.
But not even the 1997 Blockbuster Rockfest could match the numbers of the concert at number 1.
The biggest concert ever held in Texas, and one of the biggest held in the WORLD, happened at Rendez-Vous Houston in 1986. 1.3 MILLION people attended this historic concert by the French composer. According to the Guinness Book of World Records, it was the largest crowd to ever attend a sound & light display.
Many special occasions happened that night: it was the 150th anniversary of the city of Houston & the 25th anniversary of NASA. It was also just 2 months after the Challenger explosion. It was certainly a huge occasion of everyone: Jean, for the city of Houston, for America & for the world.
Will we ever see a concert top any of these in the future? Considering concerts are back & people want to go out & have fun again, I'd say it's very possible.
Amazing Rock Art Pieces by El Paso Artist Karmann "Sketchy Goat" Sloane
Karman Sloane, aka Sketchy Goat, has made some amazing art used by big names in the rock world. Here's a look at some of her favorite art designs that you might have seen.