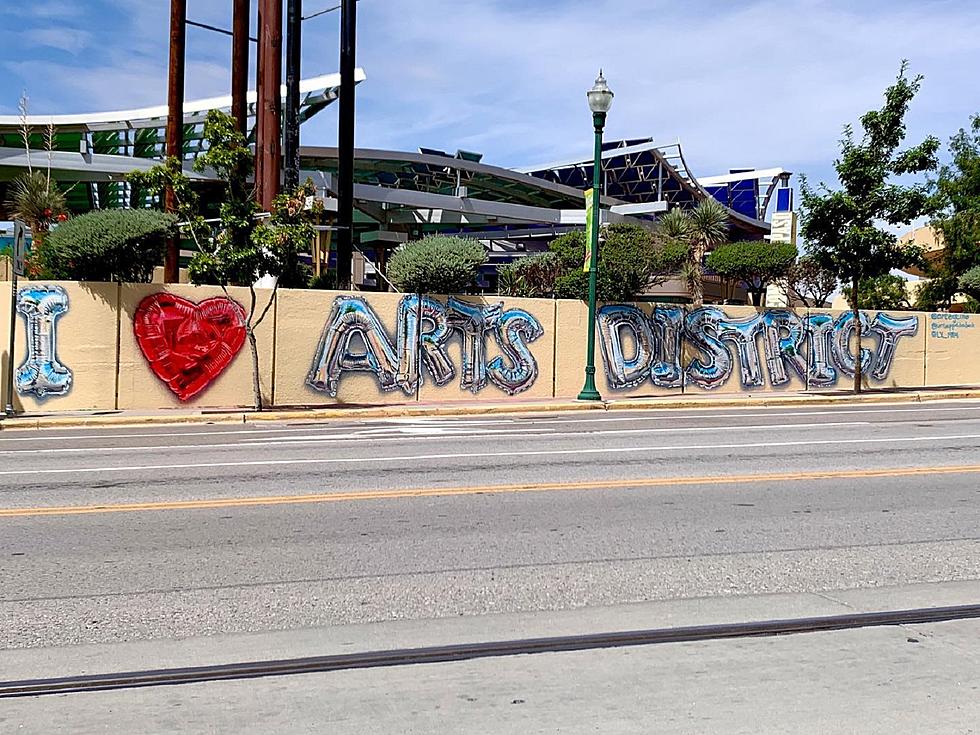 3D Balloon Mural Series Expands To 8 In Downtown El Paso
Tino Ortega
A new mural installment, part of a 3D balloon mural series, expands to eight in the heart of downtown El Paso.
The new mural reads I (Heart) Arts District, appropriately located within walking distances of the Center, museums, Arts Festival Plaza, and the historic Plaza Theatre Performing Arts Centre.
Listen to Monika middays all week on 93.1 KISS-FM and Download our free 93.1 KISS-FM App.
Native El Pasoan Tino Ortega is the phenomenal artist who began to make these interactive and lifelike murals last summer when he began on a journey to create 23 murals in remembrance of the victims of the August 3rd Walmart shootings and to help unite our community.
The first in the continuing mural series includes the original and most memorable, the I (Heart) EP piece that depicts three Mylar balloons, one as a red heart and the other two as silver letters, spelling out I (Heart) EP.
Since then, Ortega has gone onto create eight murals thus far, telling me,
When the August 3rd shooting happened, the community foundation played a vital part in helping the victims and their families. To have them sponsoring this mural is a huge honor. On the road to 23!
Over a handful of days last week, Tino Ortega, including local artists @untappd.babak @lx_1984 @dilution_art @king._jon @ashes.arte artists created the I (Heart)Arts District mural, featured on the wall in front of the Convention Center Plaza off Sante Fe Street.
So, the next time you're downtown heading to a Chihuahuas game or taking in a show or just hanging out, make sure to stop by and take a picture not only in celebration of our city's resiliency but also in remembrance of the souls we lost on August 3, 2019.
Here's Where To Find All 10 Of El Paso's Balloon Mural Series:
20 Words and Phrases That Are So 2020