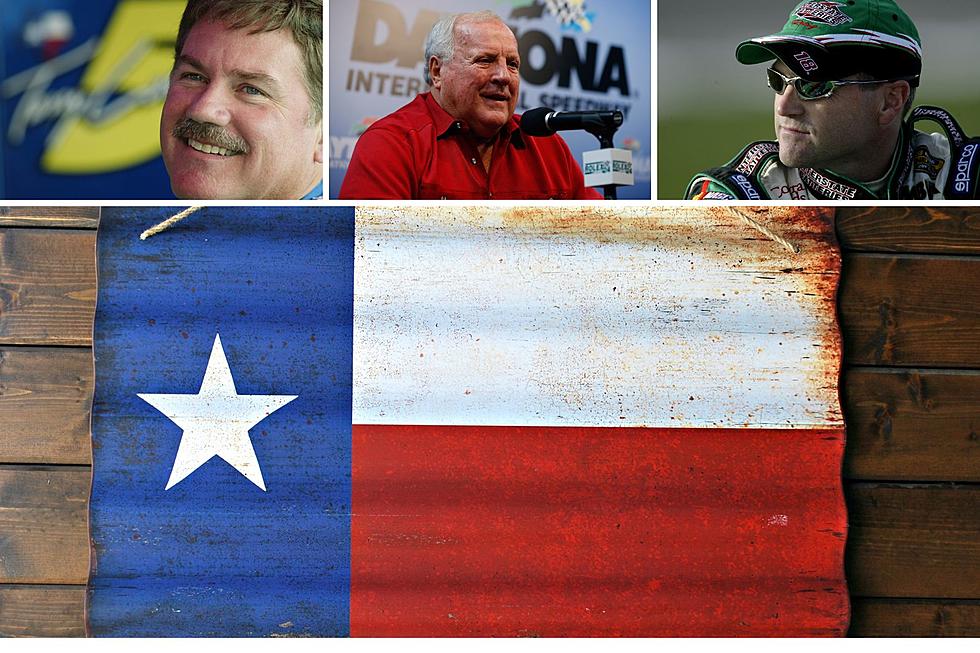 10 of the Best Race Car Drivers From The State of Texas
Getty Images/Canva
I think it's obvious that I have a thing for racing. I can't help it! I've always loved racing when I was young & I still have a passion for it today.
So I wanted to know who the best race car drivers from Texas & these are 10 of them, in no particular order.
A.J. Foyt:
Whether it's open wheel, sprint cars or NASCAR, Houston's A.J. Foyt is easily one of the most successful drivers in the world.
He won the Indianapolis 500 4 times (1961, 1964, 1967 & 1977)
159 victories in his USAC career (United States Auto Club)
He's won the 1972 Daytona 500. 7 wins in total in NASCAR
He's a successful driver & owner whose name is renowned everywhere in the world of racing.
Jim Hall:
Abilene's Jim Hall is not only an amazing constructor of Chaparral cars, but his racing career is nothing to snuff at:
2 US Road Racing Championships (1964-65)
2 Road America 500 wins ('62,'64)
1965 Canadian Grand Prix
I mentioned that he had a hand in helping build the company Chaparral; their cars have won MANY races. Fun fact: after his win at the 1965 L.A. Time Grand Prix, fellow Texan A.J. Foyt nicknamed Jim's cars: "Texas White Lightning".
Carroll Shelby:
Jim Hall isn't the only successful car designer from Texas. Leesburg's Carroll Shelby is one of the most important in American sports. Not only did he help create the AC Cobra, the Ford Mustang, his own company Shelby Americans, but his biggest racing accomplishment was his help of being a co-driver & won the 1959 24 Hours of Le Mans (he won in an Aston Martin).
That wouldn't be the last time Carroll would be involved at Le Mans. He would help Ford with creating the GT40, and that car would win the Le Mans 4 years in a row. From 1966-1969.
Bobby Hillin Jr:
Despite only scoring one win in NASCAR, Bobby Hillin Jr from Midland is a name many NASCAR fans remembered. He scored 2 wins in the Busch series (now called Xfinity) & would race in the Winston series (now the Cup Series) from 1982-2000.
His sole win came in 1986, winning the Talladega 500. But it was quite significant because he would be the youngest driver to win in the "modern era of NASCAR": 22 years, 1 month & 22 days.
Terry Labonte:
When you talk about greatest Texas race car drivers, you can't leave out the Labonte brothers from Corpus Cristi. Let's talk about "The Iceman" first:
"Texas" Terry Labonte was a HUGE main stay in NASCAR; he raced from 1978-2014 with an impressive 655 consecutive starts. He's a 2 time NASCAR champion winning in 1984 & 1996 with a total of 22 wins. Terry would join the NASCAR Hall of Fame in 2016.
Now let's talk about his brother..
Bobby Labonte:
The younger brother of Terry, Bobby would also have quite the successful NASCAR career:
21 total wins, including the 2000 Brickyard 400
He became the 1991 Busch Series Champion
He would win his 2nd NASCAR championship by becoming the 2000 Winston Cup champion. They would be the first pair of brothers to become NASCAR champions.
Bobby would join his brother in NASCAR Hall of Fame in 2020.
Ryan Hunter-Reay:
Hailing from Dallas, Ryan-Hunter Reay has done something many of us will probably NEVER do:
Become the IndyCar champion in 2012
Win the Indianapolis 500 in 2014 in one of the closest photo finishes in Indy 500 history.
Ryan became the first American driver to do so, since Sam Hornish Jr's in BOTH instances. Those are just two of his MANY accomplishments in racing.
Chris Buescher:
The brother of James Buescher, Chris Buescher, the 2015 Xfinity Series champion was born in Prosper, TX in 1992. He currently has 3 wins in the Xfinity Series & 2 in the Cup Series. His first win came in 2016 in Pocono & in 2022 at Daytona.
Kitty O'Neil: Born in Corpus Cristi, Kitty O'Neil became know for her amazing stunts (she was a stunt double in the original 1979 Wonder Woman). She was the fastest woman in the world by setting the land speed record on Dec, 6, 1976 by going over 512mph (a record that would stand until 2019). She would also break the water speed record, at the time, at 275 mph.
But the most amazing thing about Kitty? She accomplished everything while being DEAF. Kitty would pass away at the age of 72 on November 2, 2018. But she will forever be known as one of the fastest women in the world.
Johnny Rutherford:
A 3 time Indy 500 champion (1974,1976 & 1980) & the 1980 IndyCar champion, Johnny Rutherford is one of the BIGGEST names to ever represent Texas. Even though he was born in Kansas, Johnny is such a HUGE figure in Texas motorsports, I had to include him. After all...his nickname is "Lone Star Jr".
Honorable Mention 1 - Jaime Dick: The only El Paso race driver to ever race in the big leagues in NASCAR. I HAD to make a mention to Jamie. You can see a whole list of his achievements right here.
40 Of The Best Musicians Born In the Lone Star State
Texas has been home to a wide variety of musical genres; many musicians have become staples of rock, metal, pop, country & more. Here are some of the greatest musicians to ever represent the state of Texas.