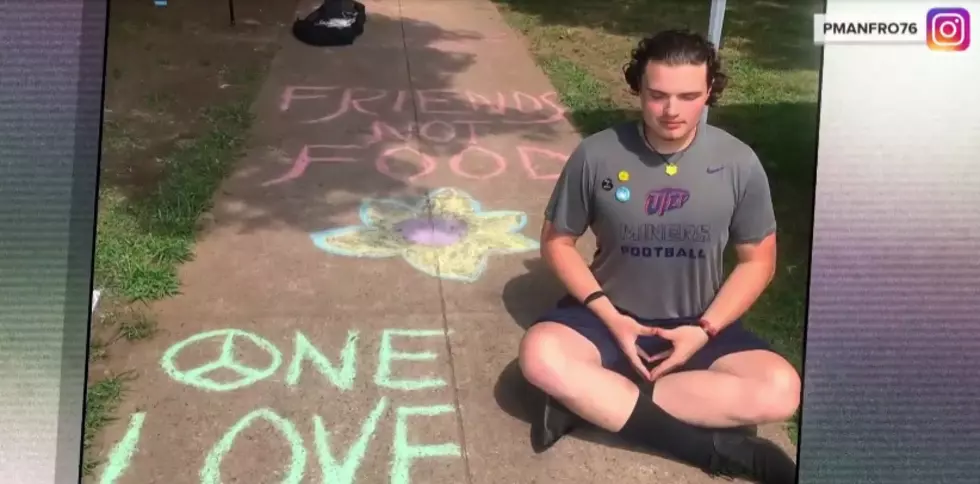 Why Was UConn Alleged Murder Suspect Wearing A UTEP Football Miners T-Shirt?
ma
The UConn alleged murder suspect was spotted wearing a UTEP Miners football t-shirt in a photo shown on the Today Show.
I was surprised to see that the alleged murder suspect was wearing a UTEP Miners football t-shirt yesterday morning after seeing it on a friend's post on Facebook – so I had to see for myself.
Sure enough, after logging onto the Today Show, the video indeed shows a picture of  Peter Manfredonia wearing the t-shirt that was apparently posted at one point on his Instagram account - I took a screenshot too:
According to Connecticut State Police - after a six-day manhunt the alleged murder suspect was taken into custody without incident on Wednesday evening in Hagerstown, Maryland.
Since Tuesday, the 23-year old UConn student had been on the run after the killings of two men. In two separate incidents, a 62-year-old was offering Manfredonia a ride when he was attacked and killed by a machete while his former high school classmate was shot in the head.
I did my best Nancy Drew to find out how Manfredonia had ties to UTEP but came up short. His social media accounts had since been deleted and there are no clues online tying the two together.
It turns out that his father, Robert Manfredonia was the one with ties to UTEP when he attended the University back in the '80s. According to KTSM the father of the suspect received his bachelor's and master's degree from the University of Texas at El Paso and was also a defensive back from 1984 to 1987.
And it seems that Manfredonia senior has also had a brush with the law as he was arrested back in April on sexual charges. To read more click here.
PHOTOS: Protests around the world in the wake of George Floyd's death