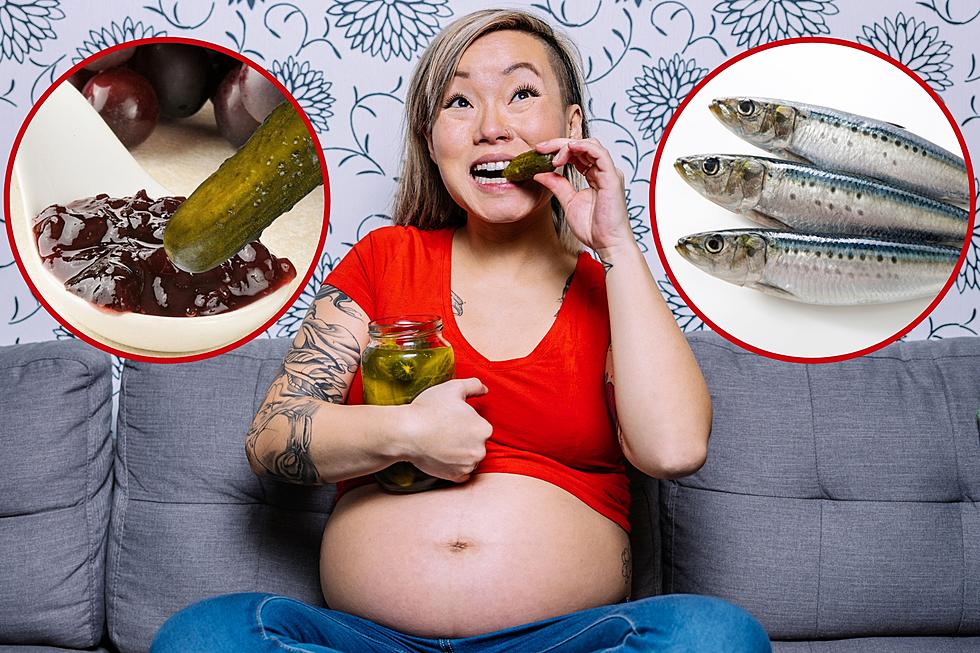 These 8 Weird Pregnancy Cravings Will Make You Go Ewe
Photo: Canva
I'm proud to be the dad of two awesome kiddos. All throughout their mom's pregnancy, there I was, at the ready. I was there to experience the first heartbeats, the belly kicks, and of course their mom's pregnancy cravings. Some of these cravings are perfectly normal and harmless. For example, bean burritos and cake donuts. Whether they are eaten together or apart, there's nothing really unusual about either of them.
On the other hand, things can get crazy. Recently, an article from Buzzfeed asked a community of ladies what they craved when pregnant. I remember a friend of mine had a craving for boiled eggs with creamy horseradish sauce during her pregnancy. Another had an extreme craving for tuna fish with chocolate syrup. What's the deal with these weird combinations? Let's take a look at some of these crazy cravings according to Buzzfeed.
LOOK: THESE 8 WEIRD PREGNANCY CRAVINGS WILL MAKE YOU GO EWE
Nutella on a Burrito
There are a bunch of things I love to put Nutella on, but a burrito? This one is definitely out there.
---
Powdered Donuts Dipped in Cheese Sauce
I don't even like processed cheese sauce on anything, let alone a powdered donut.
---
Doritos Dipped in Clam Chowder
For those of us who don't mind a good bowl of clam chowder, this doesn't seem all that bad.
---
Kosher Dill Pickles With Grape Jelly
This one got me. There is no way that I'd ever even try it.
---
Pizza With Icing
Almost all of us have had a bite of dessert pizza but this is taking it too far. This one is a big "nope".
---
Ice Cream on Pulled Pork
Texans are serious about their ice cream and their pulled pork but not necessarily at the same time. I'd give this one a go. It reminds me of a barbeque joint outside of Gainesville Texas that serves up a mean piece of brisket pecan pie.
---
Twinkies Dipped in Ranch
Another example of two things that are absolutely delicious apart, but together...the jury is still out.
---
Sardines on Ritz Crackers With Blueberries
I had to save to worst one for last. Sardines have to be the worst. Just the smell can induce vomiting. The whole combination is just, well, weird.
As odd as these pairings sound, in most cases, they're legit cravings as pregnancy requires different levels of vitamins and minerals in the body. Sometimes only certain foods will do the trick. Above is only a sample of the unusual combinations out there. For some reason, I am willing to bet they can get even stranger and that's just how it goes.
Do you know somebody who is a mommy-to-be? Pregnancies are a big deal. The announcement, the reveal, the shower, there's a bunch to plan for. It even gets exciting for celebrities. Look below for pregnancy announcements that made major headlines.
Celebrity Pregnancy Announcements That Made Major Headlines
From
Beyonce
's record-breaking Instagram announcement to
Britney Spears
' first pregnancy, we've rounded up the most memorable celebrity pregnancies that made history in pop culture. Check it out, below.