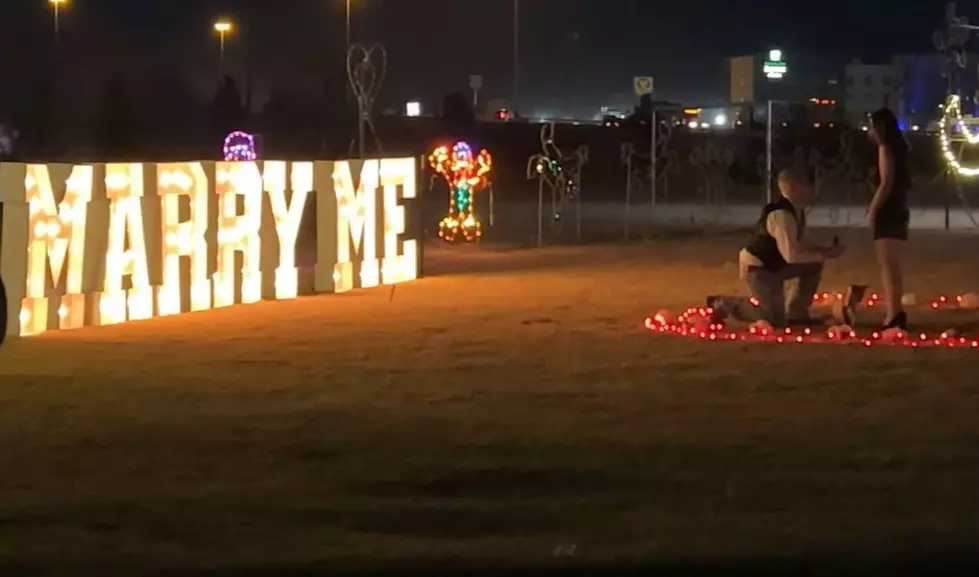 Texas Man Uses Awesome Marry Me Christmas Light Display To Propose
Via City Of Odessa Facebook
It's Christmas time! A time to get in the car and head on over to see the Christmas Lights! And, if you are in Odessa, Texas then you hit up Starlight Village to check out the full display of Christmas Lights! Well, what if you and your man are checking out the lights and all of a sudden among all the exhibits, you see a special message to you? That's what happened recently at Starlight Village in Odessa. See Video Below!
MARRY ME ON DISPLAY AT STARLIGHT VILLAGE FOR SPECIAL LADY! 
According to the City of Odessa Facebook Page...
If you went to Starbright Village last night, many of you may have noticed a Marry Me display at the end of the trail. Steve Patton, the Director of Parks & Recreation, was approached by Derek Judkins requesting to put a small sign made with battery operated lights, at the end of Starbright Village's walking path that said, "Will you marry me?" Derek was wanting to propose to his girlfriend, Brittany Alvarez, after walking through the trail of the Starbright Village displays.Steve loved the idea and said, "I told him that if he didn't, I would be very disappointed! Derek was given the green light by Steve and he and his friends went into action to get everything ready for the big day.
WHAT AN AWESOME WAY TO PROPOSE!
What an awesome sweet moment that will always be remembered! And a big shout to the City of Odessa for helping Derek propose to his bride-to-be, Brittany! And from the looks of it, she said YES!!!!
 CHECK OUT THE AWESOME MOMENT AND VIDEO BELOW!
See The Lone Star Shaped House!