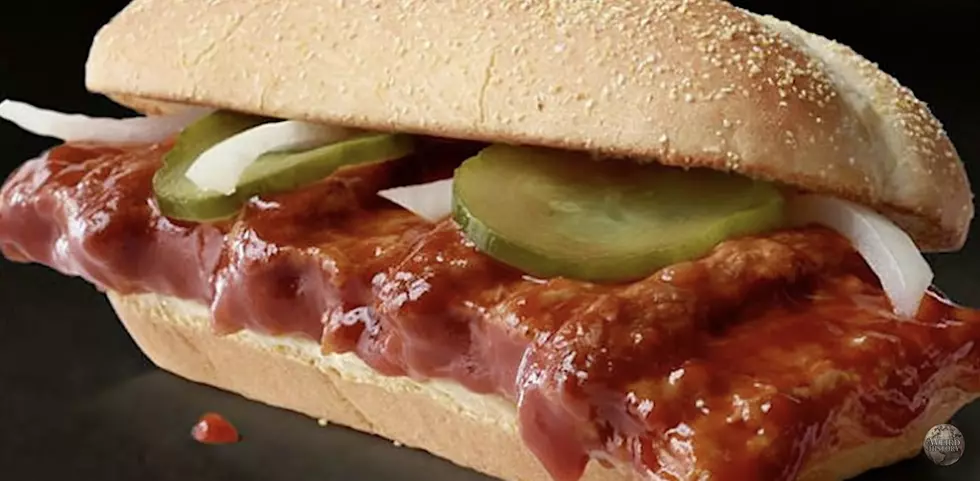 Say It Ain't So: Is The McRib Being Taken Off McDonald's Menu FOREVER?!
Courtesy: Weird History via YouTube
First an adult happy meal, then the return of the classic Halloween Boo bucket. It's safe to say that McDonald's is on a roll, but it seems like their roll on a certain favorite limited menu item is coming to a stop! I'm talking about the famous McRib.
The McRib Sandwich made its grand debut back in 1981 in Kansas City, Kansas before being offered at McDonald's all across the country.
The sandwich is described as seasoned boneless pork dipped in a tangy BBQ sauce, topped with slivered onions and dill pickles, all served on a toasted homestyle bun. 
I have in fact tried this cult favorite and I will admit, It was great! But It's not something I'll run to McDonald's for the second it's back on the menu, but that's just me.
In case you haven't noticed, the McRib usually only comes back on the menu during the colder season and this year it is set to make its Fall return but according to McDonald's website…. This may be the last time it returns.
"Order yours in the McDonald's app for delivery or pick up before you say goodbye on 11/20/22. Enjoy our famous pork sandwich as if it's your last," reads a description on the fast food restaurants website.
Wait. WHAT?! As if it was…our last?! Could this cryptic caption mean that the franchise fast food restaurant is going to be taking away the cult classic?!
Who knows, only one can wonder. And one can also wonder when the sandwich will be back on the menu. Sources say that it is expected to be back on the Mcdonald's limited-time menu early this week.
The Golden Tamal