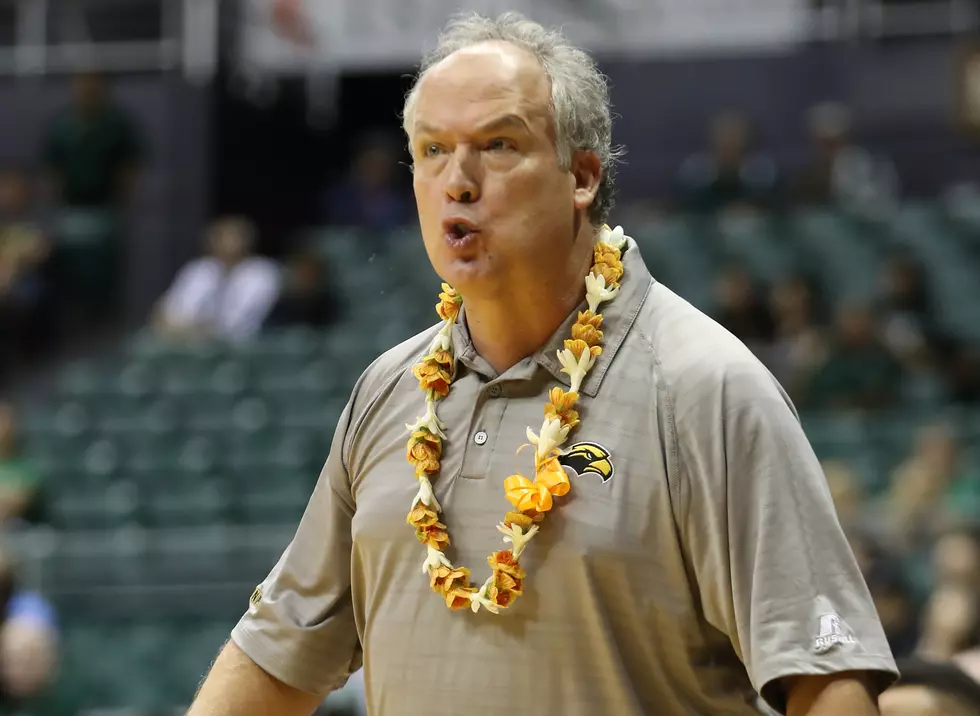 Pick or Pass: Breaking Down UTEP's Reported Coaching Finalists
Getty Images
UTEP has reportedly narrowed their lists of candidates for their men's basketball coaching opening to five and they will interview in Dallas over the next two days. According to a source, UTEP President Dr. Heather Wilson will be in Dallas for the interviews. Multiple sources told 600 ESPN El Paso that UTEP did not hire a search firm this time around and they want to have a new coach in place by no later than Wednesday. This morning, Stadium's Jeff Goodman tweeted the Miners reported list of finalists.
Let's take a closer look at each finalist and then weigh in on whether or not UTEP should pick them as their next head coach or pass on them.
Jerome Tang - The longtime Baylor assistant coach has been rumored to be in the mix since the beginning, and multiple erroneous reports on Friday (now deleted Tweets) announced that he would be the new head coach. Tang brings 18 years of experience as a college basketball assistant coach, and all of them have been spent at Baylor with Scott Drew. He's known to be a strong recruiter across the state of Texas and he has been a finalist for head coaching positions before.  Prior to Baylor, Tang coached high school basketball in Texas for 10 years and he won four state titles.
PICK OR PASS:
Steve - Pick. Tang is a basketball lifer who has not yet received a chance to run his own program. He did reportedly interview for the NMSU opening years ago when the Aggies hired Paul Weir. Tang knows Texas basketball, he has a strong reputation, and just like he helped rebuild Baylor's program to a National Championship, he would be someone who could resurrect the Miners.
Adrian - Pick Tang is someone that has been deserving of a head coaching job for a while now. This is not just a good opportunity for him, but it could also be a golden opportunity for UTEP. Fresh off a national championship with Baylor, what else is there for Tang to do for the Bears? It's time for him to get a chance at running his own program. He's my top choice right now for the UTEP gig. Best case scenario if he gets the job: brings a few high-name prospects, keeps the nucleus intact and then builds a respectable program.
Joe Golding - One of the hottest names in basketball coaching, Golding has been the architect of the Abilene Christian men's basketball program since 2011. He was there for their transition from D2 to D1 and he has taken the Wildcats to the NCAA Tournament twice in the last three chances, including a First Round upset of Texas last month. Golding knows West Texas and he was also in the mix for the Texas Tech opening until the Red Raiders hired longtime assistant Mark Adams. He has deep roots in West Texas that will help with recruiting. If he doesn't get the UTEP gig, Golding could be a trendy mid-major candidate that might climb his way up to a Power-5 job.
PICK OR PASS:
Steve - Pass. Golding is tempting and he has a lot of support in the coaching community as well as in the media, but would he be a finalist if his team lost to Texas? It is hard for 40 minutes of basketball to be a determining factor in a coach getting a job like UTEP. Also, it took Golding seven years to turn ACU into a power and the Miners need a quicker fix for their turnaround. However, as a buddy pointed out, if Golding gets hired, it's only right since his win is what led to Terry leaving UTEP and going to Texas.
Adrian - Pick The West Texas connection is a sell for me. Golding could recruit high-caliber players to UTEP and bring some of his standouts from ACU. The Miners need someone that can build this program into a consistent winner, and his recent success at ACU suggests that he can steadily develop a top-level squad. If he parlays a job like UTEP to a Power-5 position, so be it. For me, Golding would be my third choice behind Tang and Jans, respectively.
Chris Jans - the current head coach of the NMSU Aggies, Jans brings a career win percentage of 76% (78% in JUCO) to the table. Jans has won everywhere he has been as a head coach and in four seasons at NMSU, he guided the Aggies to a pair of NCAA Tournaments. Two seasons ago, COVID cut short his season as the top seed in the WAC, as the Aggies held a 22-game win streak going into the WAC Tournament during 2020. Last season, his team struggled through injuries, along with being displaced to Phoenix and later Eastwood High School for their home games—yet, they still advanced to the WAC title game.
PICK OR PASS:
Steve - Pick. Jans is my top choice to take over the Miners program and I don't think it's a tough decision at all. He has been a winner throughout his coaching career and he worked under Gregg Marshall on two occasions as an assistant at Wichita State. He knows the area and what it takes to win conference titles. Detractors will point out that every Aggies coach to leave Las Cruces since Lou Henson has failed in their next job (Reggie Theus, Marvin Menzies, and Paul Weir). However, Jans is the exception. His ability to coach and recruit would turn the Miners program around overnight and even UTEP's biggest diehards would quickly get over a bitter rival moving across I-10 to take over the Miners.
Adrian - Pick Who wouldn't like Jans in this situation? What if he takes some of the current Aggie players and brings them to UTEP? He knows the lay of the land, he could get a pay raise in El Paso and he's a proven winner. Not to mention the fact that he is a consistent winner in conference play, which is something that UTEP hasn't done in a long time. The rivalry between UTEP and NMSU would intensify to new levels. If the Miners want a coach that could win—and win quickly—Jans is the guy.
David Patrick - the wildcard of the UTEP coaching search. Patrick's name surfaced for the first time this morning in Goodman's Tweet, and nobody had the longtime assistant and head coach on their radar for the Miners job. Patrick was born in Hamilton, Bermuda and he was raised in Melbourne, Australia. After his playing career ended in 2005, he bounced around as an assistant coach at Nicholls State, St. Mary's, LSU, and TCU before he received his first head coaching job at UC Riverside in 2018. He only spent two years with the Highlanders and despite a losing record (27-38), he holds the best two-year start in school history. Last season, he joined Eric Musselman's staff at Arkansas as an assistant coach. A former colleague of Patrick described him as "an elite level coach and maybe one of the best recruiters in the country."
PICK OR PASS:
Steve - Pick. I could go either way on this one. The challenge is that his name just surfaced, and it is more of a gut reaction. However, the people that are familiar with Patrick absolutely love him, and his reputation as both a coach and recruiter is a must for a UTEP program that needs a quick fix.
Adrian - Pass Though he's brought his reputation back to being in the conversation for a head coaching job, Patrick might be better suited for another mid-major head coaching position with more regional ties first. The urgency to turn the Miners' program around is at an all-time high. Granted, Patrick needed more time at UC Riverside for us to evaluate how good of a coach he could be before he left for Arkansas. If Patrick's recommendations are solid and if he already has a roadmap in place for recruits to come to El Paso, I could be talked into this hire.
Doc Sadler - Doc is the only reported finalist that has ties to the Miners. He arrived at UTEP as an assistant to Billy Gillispie and he took over the program when Gillispie left for Texas A&M. Doc led the Miners to the NCAA Tournament in his first season as head coach and then to the NIT in his second season before he left for Nebraska. He later took over the program at Southern Miss and he spent five seasons with the Golden Eagles before he left to return to Nebraska in 2019 as an assistant coach. The 60-year old brings 40 years of coaching experience to the table and he is hoping to become the first two-time head coach of the Miners in program history.
PICK OR PASS:
Steve - Pass. Let me start by saying that I love Doc Sadler, having covered him during his time in El Paso. Doc is as colorful as they come in college basketball and he is an unbelievable bench coach. He also would rather wear sweats than a suit and tie and he is terrific sound bite. However, my concern is that he will be taking over a fractured program in El Paso, which needs a quick turnaround to get the fan base back and return the Miners to prominence. Doc took over a situation at Southern Miss that was so bad, the death penalty was being discussed for the program. He later called it the hardest situation he dealt with in over 30 years of coaching. The school self-imposed a two year postseason ban and the NCAA added a third season, while they reduced their scholarships by five over a three year period. It took Doc four seasons to produce his only winning record with the program. If Sadler was coming back to El Paso to take over a winning program on top, I would be all for it. But this is a much different situation and UTEP cannot afford to wait three or four years before they see a payoff.
Adrian - Pass. Doc Sadler is someone that has shown he can be successful in Conference USA. He's a defensive mind and a program builder. Though, UTEP might need a quicker fix than what Sadler can offer. I flirted with the idea of having a two-time head coach return to El Paso for the second stint in El Paso, but I thought the coach would be Tony Barbee, not Sadler. I'm happy UTEP is giving Sadler a chance to interview into the finalist round for this position, but it's not the right time, nor the right fit for what this program needs.