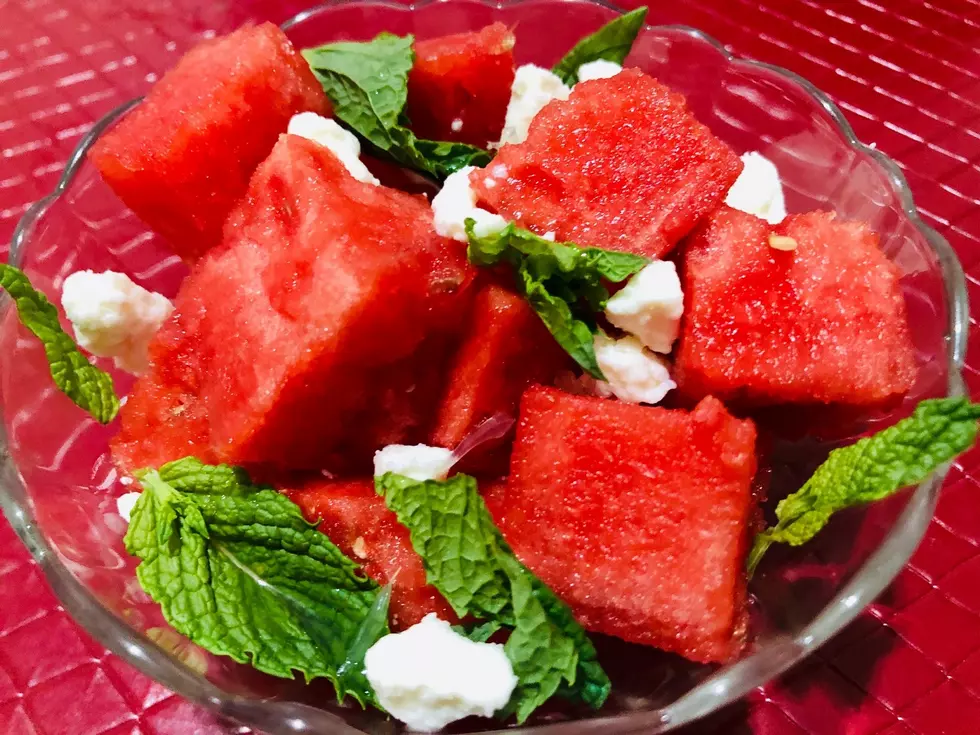 Monika's Go-To Sweet & Savory Summer Salads
ma
Monika is sharing her three favorite and refreshingly sweet and savory summer salads.
Now that summer is here cool off with three of my favorite go-to summer salads. Not only are they effortless to make, but they are also healthy, refreshing, vegetarian friendly, and most of all delicious.
Watermelon Salad
This recipe is by no means unique but it's probably my favorite watermelon recipe out there – it's the perfect balance between the sweetness of the watermelon combined with the savory feta cheese and tart lemon juice that gives this summer salad its bold taste.
Cold chunked up watermelon
Add feta cheese (preferred amount)
Juice of one whole lemon
Add some freshly chopped mint leaves
Lightly sprinkle some kosher salt
Mix and enjoy
Garbanzo Beet Salad
This salad is crunchy and filling especially for a vegetarian because it's full of protein thanks to the garbanzos and tastes even better after a couple of days in the fridge.
1 can of low sodium garbanzos
1 cup of frozen chopped beets
½ cup of chopped red onion
5 chopped up radishes
Juice of one whole lemon
Handful of cilantro
Salt and pepper to taste
A dash of red pepper flakes
Spinach, Fruit, Blue Cheese & Walnut Salad
If you couldn't tell already – I love the sweet and savory combo. This salad gets you your fortified greens along with sweet summer fruits such as peaches and strawberries, the creaminess of a good blue cheese along with crunchy walnuts or almonds that make this salad an easy go-to lunch or snack.
1 bag of fresh spinach (washed)
Sliced ripe and ready to eat peaches
Ripe and ready to eat sweet strawberries
Add 2 oz. of a good creamy, crumbly blue cheese
Add a handful of walnuts
Dressing: Keep it simple or add your favorite poppyseed dressing to add a pop of flavor.
All these salads are perfect for any summer day or weekend BBQ. What's even better is that all salads can easily be substituted with your favorite fruits, cheeses, or even proteins but one thing's for sure - you will be eating clean, delicious, and healthy.
KEEP READING: 3-ingredient recipes you can make right now