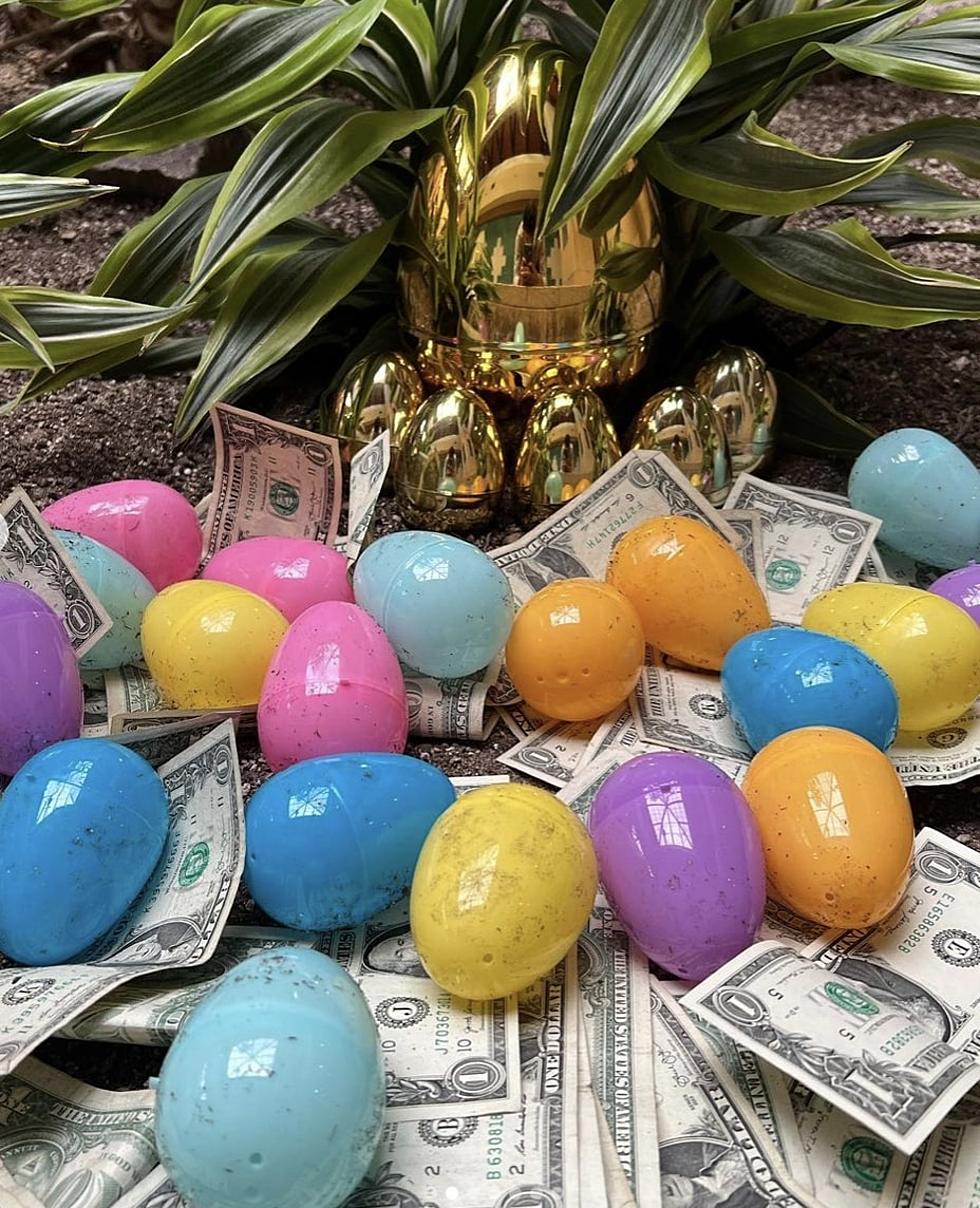 Money Filled Easter Eggs Are Popping Up Across El Paso Thanks To This Stash & Dash Egg Hunt
Courtesy: KickPlexx
Easter isn't until April 17th but that isn't stopping the Las Cruces business, KickPlexx, from giving locals the best Easter egg hunt ever!
KickPlexx buys, sells, and trades all sorts of high-end products in their store which is located inside the Mesilla Valley Mall in Las Cruces, NM.
Their products include vintage shoes, clothes, and more.
"I thought about doing this Stash & Dash because I wanted to do something big and fun for Easter," said KickPlexx founder and owner, Daniel Olivas. "I also wanted to introduce my business to El Pasoans and encourage them to check us out in Las Cruces."
What is a Stash & Dash?
I'm glad you asked because I had no idea what that was either until I read the details on their recent post and honestly, why didn't I know about these before?!
A Stash & Dash is when Internet users stash a prize somewhere and leave clues on social media for the items to be found and for you to dash away with them!
These types of social media trends are a way for businesses to advertise themselves while providing some fun for people who participate.
How Can I Play?
The rules for this Stash & Dash egg hunt are simple! First, you'll need to have an Instagram account in order to find clues to where each egg is.
This Stash & Dash Egg hunt started on March 24th but it will be going on until Easter Sunday which is April 17th.
The business will be hiding Easter eggs with cash prizes that range from $1 to $100 dollar bills inside the eggs.
Eggs will be hidden on different dates, times and in different locations across El Paso and Las Cruces. People can find clues to where the eggs are hidden by following KickPlexx on Instagram and keeping up with their Instagram stories which will be providing people with clues as to where the egg of the day is hidden.
The first person to find the egg wins whatever is inside of it! It's as simple as that!
However, a person can't win two times because…sharing is caring so let others try and win some money too!!
The big golden egg will be hidden on Easter Sunday, April 17th and according to KickPlexx's post, these golden eggs have the BEST prizes!
The response Olivas has received about this fun egg hunt has been nothing but positive.
"People will tell me that they came all the way from wherever it was they were at when they saw the story just to participate," said Olivas. " Sometimes people don't even have shoes on when they hop off the car to look for the egg!"
I mean, if you told me that there was a plastic egg near my home with $100 inside of it I would probably run out of the house without my shoes, too! (Let's just hope people don't run outside of their homes without their clothes!)
Kudos to KickPlexx for allowing us adults a chance to feel like kids again with this Easter egg hunt!
Love Alumni Boutique