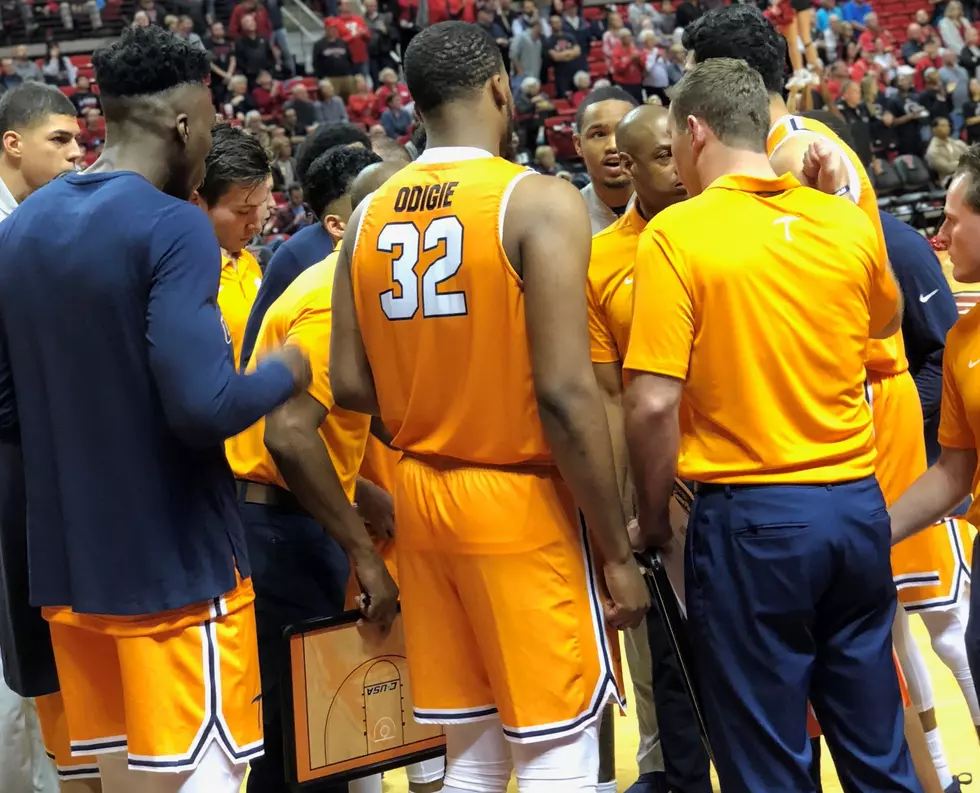 Miners Hang Tough with Texas Tech for Most of Hoops Exhibition
Edgar Montiel.
In sports, scores can sometimes be a little misleading. Hoops fans in the Sun City might be a little discouraged from the 85-61 final score from last night's charity exhibition game between UTEP and Texas Tech. However, when you examine who played for the Miners and how close the game was for 30 minutes, you start to get excited about the team's potential over the next few seasons.
Head coach Rodney Terry suited up only nine players and eight of them saw action against the Red Raiders. Despite being undermanned, his team trailed 48-41 with about 13-minutes left in the second half. However, Paul Thomas, Efe Odigie, and Kaosi Ezeagu all quickly fouled out and Tech was able to extend their lead over the final 10-minutes of the game. Those three Miners played most of the game in foul trouble but the team still held their own against the Big 12 power in Lubbock. UTEP did not offer a game recap or any postgame comments from coaches or players. However, Texas Tech head coach Chris Beard was happy the Miners made the trip to United Supermarkets Arena.
"Appreciate UTEP playing this game, (I) know we raised some real money for a cause that's really important to us," Beard told the Lubbock Avalanche Journal after the game. "We hope that we raised some good money tonight and send that down there to the people that are still in need.""
Coach Terry has five players sitting out this season per NCAA rules and four of them have Division 1 experience. He knows that his young team will get valuable experience on the hardwood over the next five months before their roster gains more veteran leadership both in the backcourt and frontcourt for the 2019-20 season.
Jordan Lathon and Evan Gilyard led the way for UTEP with 17 points each and Odigie chipped in with nine. Texas Tech destroyed the undersized Miners on the glass 55-30, while UTEP shot just 11-23 from the line. Freshman Nigel Hawkins, who led the Miners with 27 points in their first closed scrimmage against Grand Canyon on October 20th, missed last night's game due to injury. No word on his timetable for return or if he will be available when the team hosts Texas Pan American next Tuesday at the Don Haskins Center for their first home game of the regular season.