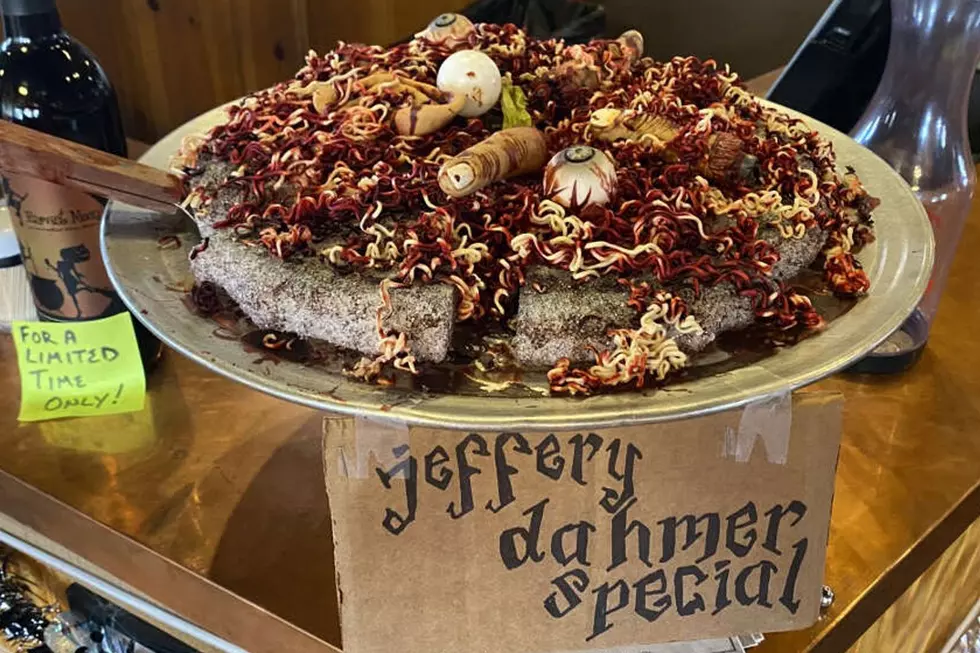 You Can Order the Jeffrey Dahmer Special at this Texas Pizza Place
Capital Pizza
People have lots of preferences when it comes to their pizza. Some like pepperoni, some like sausage, some prefer no anchovies- but what would Jeffrey Dahmer's favorite pizza look like?
Enter your number to get our free mobile app
One pizza joint in Texas thinks they now how Dahmer might like it- and some people are not happy about it.
Capital Pizza in Lubbock recently debuted their Halloween display and it's called the "Jeffrey Dahmer" special. The display, for the record, is completely fake and inedible but still, some people were upset.
The fake pizza includes fake human fingers, eyeballs and ramen noodles mimicking entrails, all doused with a red liquid made to look like blood.
It defitniely looks gross, and it brings to mind the scene in the hit Netflix show "Monster: The Jeffrey Dahmer Story" where he asks the neighbor if she's a vegetarian after she refuses to eat the sandwich he made her.
With Halloween around the corner, the manager of Capital Pizza, Keifer (who only gave one name) says it was just a fun prop for Halloween:
It being spooky season and the popularity of the Netflix series one of our waitresses came up with the idea and made the pizza and just put it up as a fun prop for Halloween. It's just a Styrofoam base. It's got plastic prosthetics on it … eyeballs fingers, there's an ear. Ramen noodles are kind of the main thing here and some fake blood and then we, as we do with all of our pizzas, we topped it with a pepperoncini.
It was supposed to be a spooky and fun decoration, but the pizzeria faced backlash, and it's not surprising.
With the recent success of the Netflix show, there has been so much backlash, from Katy Perry's "Dark Horse" to families of victims speaking out against the series and eBay banning costumes resembling Dahmer, this fake pizza is no different.
Home Sweet Haunted Home Entries
Thanks to Mt. Franklin Insurance, we are hosting a Halloween-decorated contest city-wide. You can submit yours in the form below.