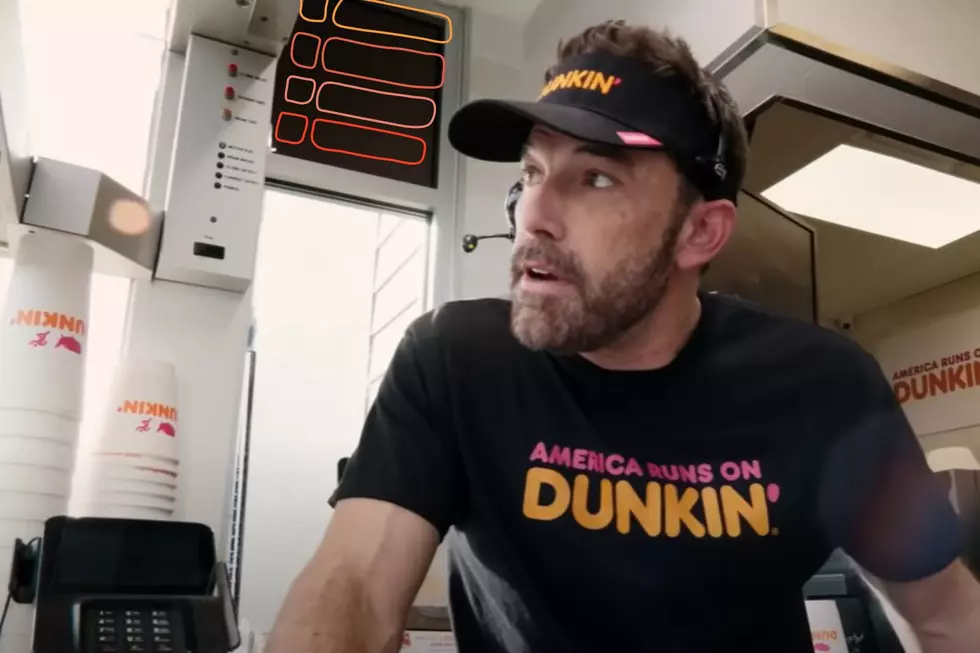 Reddit User Leaks Dunkin' Donuts Spring Menu. Ben to Blame?
Dunkin' via YouTube
There is a fresh new Dunkin' Donuts spring menu dropping by the end of February. Arriving nationwide (yes, including El Paso) beginning on February 22, 2023 - the new additions mean some popular menu items will be departing as well. But, shh, this is all still a secret.
Items remaining on the menu for the spring include Omelet Bites, Biscuit Bites, and Sweet Black Pepper Bacon while Brownie Batter Signature Latte, Brownie Batter Donut, Peach Passionfruit Refresher, Cupid's Choice Donut and Bacon Avocado Tomato Sandwich will be leaving the menu.
All of this information is made available due to a leak by Redditor u/IDon'tWantYourPoints - who may or may not be Ben Affleck.
Rewards member? Get ready for some special *and exclusive* deals. In March and April, you will receive one-time-use offers that need activating before using them. Scroll down to the bottom to find out exactly what those deals are and how to become a rewards member if you aren't already.
Here are all of the NEW Spring Menu Items Dunkin' Donuts has in store for us for 2023:
Caramel Chocolate Cold Brew with Chocolate Cold Foam – Dunkin's signature cold brew coffee with stirred caramel chocolate syrup topped with cocoa caramel sprinkles and new chocolate cold foam. Caramel Chocolate Syrup and Chocolate Cold Foam can be added to any beverage on the menu at participating locations.
Irish Crème Swirl – Irish cream with a touch of whiskey and hints of chocolate flavor can be added to any iced, hot, or frozen drink. It looks like this will be a "Member Exclusive" that will be showing up in March.
Carrot Cake Muffin – a muffin with grated carrots, cinnamon, and nutmeg topped off with a drizzle of sweet cream cheese icing.
Breakfast Taco – includes scrambled eggs, white cheddar cheese, corn, and lime crema on a warm, flour tortilla. You can also order this one with or without crumbled bacon.
Mango Pineapple Refresher – a returning item that features mango and pineapple flavors mixed with coconut milk, green tea, or lemonade.
Chocolate Croissant – another returning item featuring a warm croissant stuffed with chocolate batons.
Rumored to be back as a permanent menu staple on March 22, the Mango Pineapple Refresher features a combination of mango and pineapple flavors mixed with either coconut milk, green tea, or lemonade.
Sounds like something Jennifer Lopez might like.
Prices have yet to be announced for the new menu items, but member deals are announced and they look solid. Check 'em out.
March Deals
Free Carrot Cake Muffin with any full-price beverage purchase, only good for on-the-go orders.
Receive a free medium Cold Brew that includes the new Caramel Chocolate Cold Brew with any purchase.
Buy a full-priced beverage and get a Chocolate Croissant for $1.
Get 2 Breakfast Tacos for $3 with any full-priced beverage purchase.
Members can also get a medium iced coffee for $2 every day from March 1 – March 31, and on March 20, the first day of spring, members can get a medium refresher for $2. Both must be ordered through the app.
April Deals
Get a free medium Iced Coffee with any purchase.
Free medium Dunkin' refresher.
Purchase a full-priced beverage and get a Chocolate Croissant for $1.
Score a hot or iced signature latte for $3.
Buy a full-priced beverage and receive Two for $3 Breakfast Tacos.
On April 1 get a free medium hot or iced coffee with any purchase.
On National Cold Brew Day on April 20, get a free medium Cold Brew with any purchase.
Click Here to join Dunkin' Donuts rewards program.
LOOK: The biggest scams today and how you can protect yourself from them