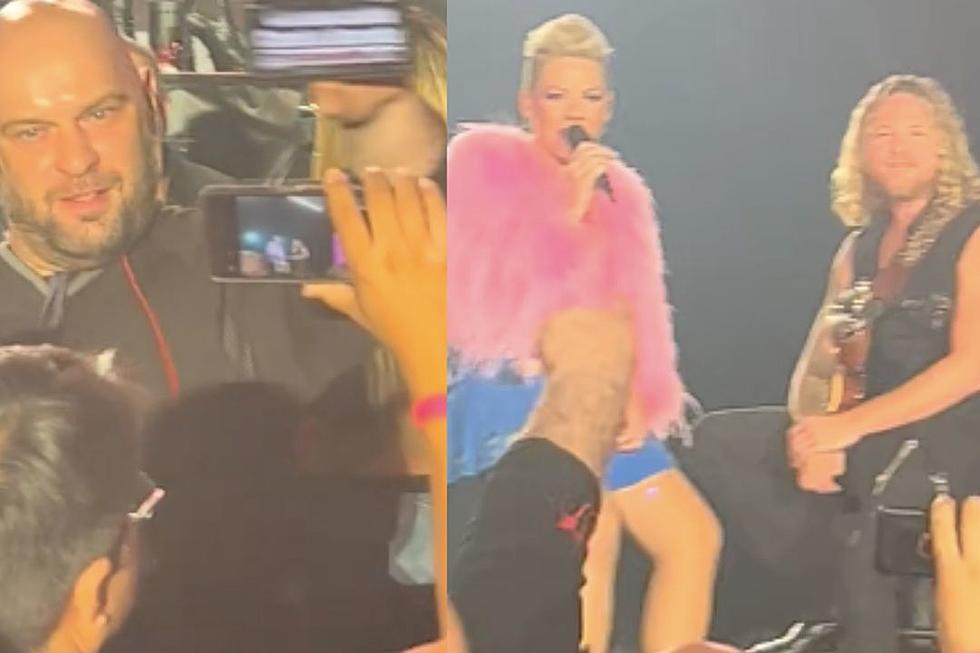 Pink Fan Kicked Out of Concert After He Holds Up Bizarre Message About Circumcision
@3BTreasuresCo via TikTok
Pink roasted and subsequently booted a concertgoer who held up a bizarre message about circumcision at one of her recent shows.
During Pink's concert in San Antonio, Texas, on Sept. 25, Pink kicked a man out of her audience after he disturbed her concert with a message on his phone, which read, "Circumcision: cruel and harmful."
Pink, who was in the middle of her acoustic set, turned her attention to the disruptive man.
"Oh, you're making a whole point right now, aren't you? Do you feel good about yourself? You spent all this money to come here and do that? I'm gonna have to buy a Birkin bag with that type of money. Get that s--t out of here," Pink said.
READ MORE: Pink Fan Throws Mom's Ashes to Singer Performing on Stage
As the man turned around so others could read the message on his phone, the crowd booed him.
"He wants all of you to read it. He came here tonight to talk about circumcision," Pink added, before her security team removed the concertgoer from his prime spot at the barricade.
"I feel bad. I feel bad that he wasted his time tonight," Pink quipped.
Watch the moment unfurl, below:
It's likely the concertgoer's message was in response to backlash Pink received in 2019 when she posted — and subsequently deleted — a video of her son Jameson, then around 3 years old, at the beach, during which his diaper briefly fell out.
Many people left intrusive comments about her young son's genitals under the initial video post, which led Pink to respond with a lengthy statement on Instagram.
"There's something seriously wrong with a lot of you out there. Going off about my baby's penis? About circumcision??? Are you for real? As any normal mother at the beach, I didn't even notice he took off his swim diaper," Pink wrote.
"I deleted it because you're all f---ing disgusting. And now I'm turning off my comments and shaking my head at the state of social media and keyboard warriors, and the negativity that you bring to other people's lives. There is something seriously wrong with a lot of you out there ... Here's a picture of the pelican we obviously caught and abused for hours before dangling baby penis in its face," she continued.
14 Times Fans Threw Objects at Artists Onstage
From drinks to bouquets and cowboy boots, out-of-control fans keep throwing objects at musicians during concerts.