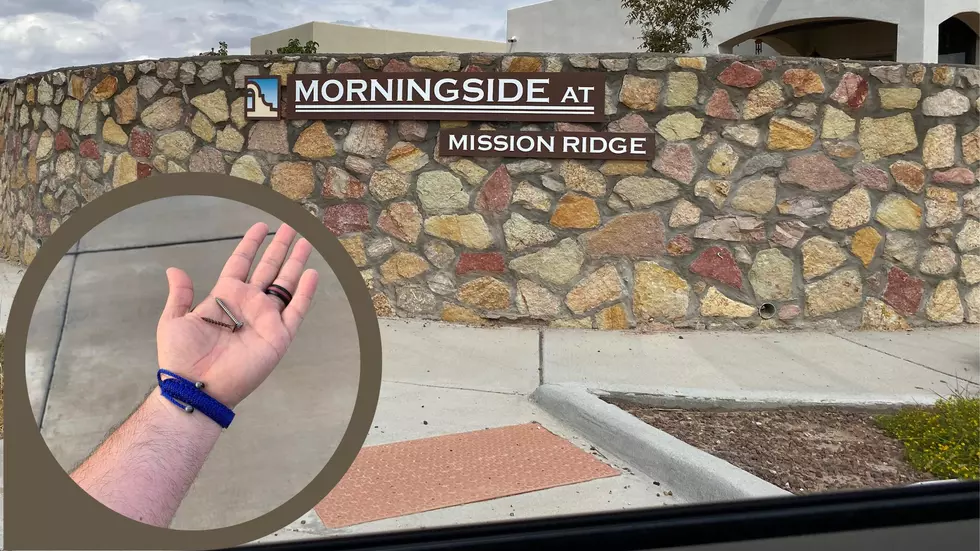 Horizon City Residents Are Concerned About Loose Nails On Their Driveways
Courtesy: Iris Lopez/ Courtesy: Gilberto Quintero Jr.
Question: What's worse than waking up for work, leaving the house and realizing that your gas tank is empty?
Answer: HAVING A FLAT TIRE!
Many Horizon area residents woke up to that unsuspecting surprise this morning but more surprising was realizing that those flat tires may have been intentional.
My sister and I live a few blocks away from each other and she sent me a message this morning warning me about nails being placed on driveways in the neighborhood. Her car got a flat and she wasn't the only one who experienced that.
There's a Facebook page for our neighborhood and one resident posted a photo of nails that he found on his driveway. In the post, Gilberto Quintero wrote:
"Just FYI… check your driveways. Someone has been putting screws on our driveway. We've had two flat tires recently due to driving over screws and now I know why."
He followed it up with a photo of the screw that he found on his driveway:
Well, to my surprise this isn't the first incident like this that's happened in the neighborhood. Other residents shared their experiences with nails and flat tires too:
"That was my issue a year ago on Garforth multiple flat tires."

 

"Us too. We currently have a flat."

 

"Omg same. My husband's truck had a flat like a week ago and I also found a screw like that one the smaller one."

 
Where Are All These Nails Coming From?
Simple. Construction. However, how the nails are getting on houses' driveways still is a mystery to me.
Back in August, I was a victim of a nail to the tire myself, but I just assumed I got the nail by driving past an area where there was construction.
Since the Horizon area is growing, there is always a new home under construction which means debris is left around the home, and yea, sometimes that debris includes nails.
Now, I'm not saying it's the construction worker's fault. (Don't come for me construction workers.) However, if there are evil people out there that just want to ruin people's days by flattening their tires then I wouldn't be surprised if they are getting nails from nearby construction sites.
No official word on whether or not this is a cruel act by people in the neighborhood, but if it is…. I will find you, and I will…. Yell at you in my Mom voice to leave our tires alone!
Horizon City Home Construction