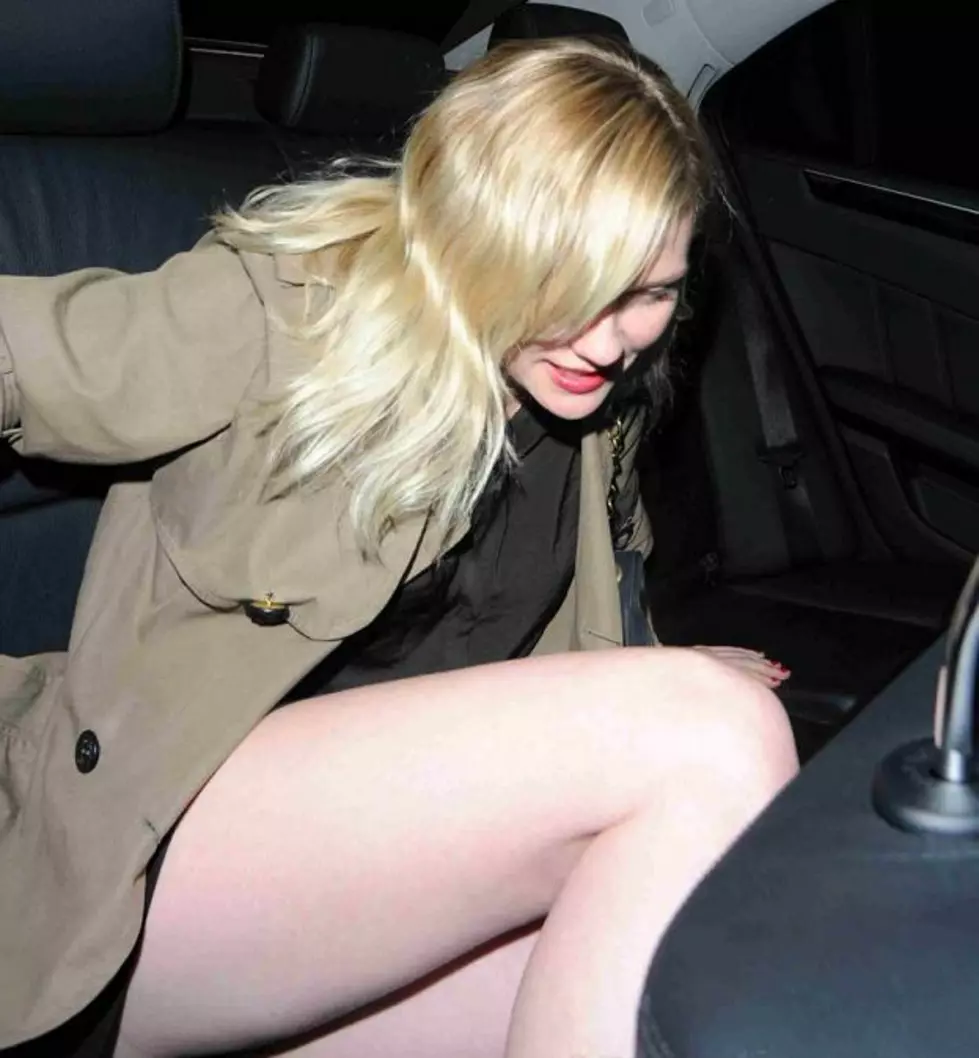 Hollywood Dirt: Kirsten Dunst's Wardrobe Malfunction [PHOTOS] and Shia Labeouf admits to Affair with Megan Fox
PacificCoastNews.com via Egotastic
AND NOW A KIRSTEN DUNST (INADVERTENT) WARDROBE MALFUNCTION: KIRSTEN DUNST is the latest celebrity to accidently show some of her down there parts. While partying in London the other night, Kirsten showed off a little too much of a particular area getting out of a car ...
SHIA LaBEOUF A D-BAG; CLAIMS AFFAIR WITH MEGAN FOX: SHIA LABEOUF dropped a bomb in an interview with "Details" magazine. Asked if he and MEGAN FOX ever hooked up while filming "Transformers", Shia nodded, then said, quote, "Look, you're on the set for six months, with someone who's rooting to be attracted to you, and you're rooting to be attracted to them. I think you can see the chemistry onscreen."
Asked if Meg was with her then-boyfriend, now husband, Brian Austin Green at the time, Shia appeard flustered before replying, "I don't know, man, I don't know. I don't know. I don't know." He then said "I don't know" eight more times, for a grand total of 12, before adding, quote, "It was what it was." No word yet from Megan or Brian. Megan's rep simply says, quote, "We have no comment."
LINDSAY LOHAN A FREE WOMAN: LINDSAY LOHAN gets sprung from house detention today, and guess how she plans to celebrate? If you answered 'party' give yourself a hand. Her mom Dina tells the New York Daily News it'll be a "low-key" bash this Saturday in Los Angeles, which will also serve as her daughter's 25th birthday. "And then," Dina assures us, "she plans to return to her community service right away on Monday."
VIDEO - LADY GAGA IS A PANDA: I think we can all agree LADY GAGA has worn plenty of ridiculous outfits and costumes since hitting the scene a couple of years ago. Her latest: panda.
Gaga did the panda thing on a Japanese TV show recently. In addition to black and white clothing, she had her hair done up in Princess Leia side-buns, and had black circles painted around both of her eyes. Here's video. She appears 20 seconds in.
NUPTIALS - AMERICA FERRERA MARRIES: "Ugly Betty" star AMERICA FERRERA married boyfriend Ryan Piers Williams Monday in what 'People' called "an intimate setting amongst close friends and family."
Her rep tells the mag America made THE BIG MISTAKE at former co-star VANESSA WILLIAMS' home in New York, with JUDITH LIGHT – another former co-star - officiating the ceremony. Other celebrities in attendance included yet another "Ugly Betty" co-star, REBECCA ROMIJN, along with her husband JERRY O'CONNELL, and BLAKE LIVELY. Sadly, Blake did not bring boyfriend Leonardo DiCaprio.
SPLITSVILLE: DAVID DUCHOVNY and TEA LEONI have split. Sources say the couple - who also briefly separated in 2008 after David admitted to being a sex addict - have not decided if they'll be making it permanent. They've been married for 14 years and have a 12-year-old daughter and a 9-year-old son.
ROMANCE REPORT - OLIVIA WILDE: Is there anyone in Hollywood OLIVIA WILDE isn't dating? If we're to believe the tabloids and the World Wide Web of Speculation, she's hooked up Ryan Gosling, then Justin Timberlake, then Bradley Cooper all in the last few months.
Now People is pairing her with JAKE GYLLENHAAL. According to the magazine, Olivia and Jake were spotted at the Chateau Marmont in Los Angeles over the weekend. A witness claims they were all "touchy feely," and "at one point, he had his hand on hers."
BABY NEWS: It's a boy for "Sister Sister" star Tia Mowry. The 32-year-old actress welcomed the eight-pound baby yesterday. Tia and her husband have not revealed the name of the baby.
NICOLE KIDMAN'S baby daughter Faith is a redhead just like mom. Paparazzi caught Nicole arriving at Sydney airport Monday carrying the adorable five-month-old in her arms with Big sister Sunday by their side …
CHARLIE SHEEN'S EX GARNISHES WAGES: A judge in California has seen to it that CHARLIE SHEEN won't be a deadbeat dad and ordered that $55,000 a month be garnished from any payments CBS makes to Charlie and send it to the actor's ex-wife Brooke Mueller. Sources tell TMZ Charlie is not behind on child support, but Brooke wanted to insure she'd get the money should he ever run low on cash. Word is Charlie IS hurting for money these days.