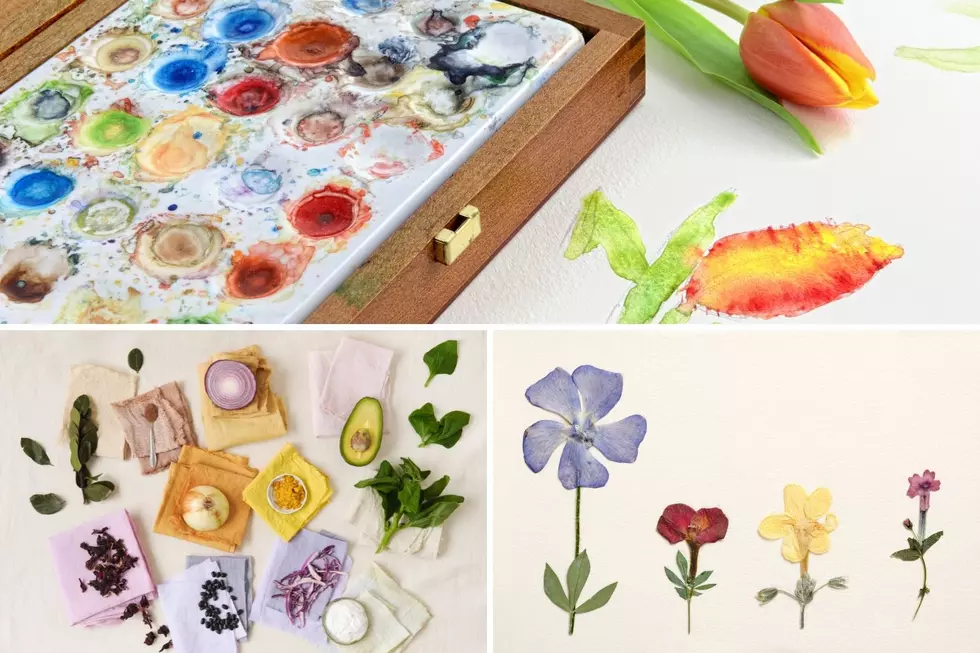 Here's Great Way to Use Plants for Arts and Crafts
TSM Amarillo
Did you know that the plants in your garden can be used for different things? Yes, they are there to look pretty. Some help the environment, some help the ecosystem in our area, and others can be used for food.
Did you know that you can use different plants to make art?
Not only can you make a project out of growing the plants, you can also use the plants in the art or use them for the art.
Dye
Did you know you can make natural dyes from plants?
A yellow dye can be made from plants like marigolds and sunflowers. Heck, get rid of those pesky dandelions in your yard and turn them into a dye.
Need orange? You can make orange dye from onion skin. For pinks, you can use roses and even lavender. Need something more purple, you can use blueberries or grapes,
The easiest way is to take whatever plant you decided to use and put it in a crockpot and barely cover it with water. Set the crock pot to low and leave it overnight the next morning you'll have useable dye.
If you need it quicker, you can always put them on a pot on the stove and bring them to a boil and simmer until the water turns the color of the plant. Let it cool and it is ready to use.
Of course strain the remainder of the plants from the liquid.
Baskets
You can use different plants to make baskets. Some of those plants include corn husks and stalks, wheat, and broom sedge.
Art Pieces
You can take just about any type of flower and press it and use it in pictures or other arts and crafts. One way is to place it between the pages of a book and let it stay there for a day, week or month to flatten out. If you need it faster, put it between some wax paper and run an iron over it. The wax paper keeps the iron from burning the flower and it leaves a waxy protectant on it.
Or you can dry the flowers and use them in an assortment of crafts, from bookmarks to wreaths. The possibilities are endless.
Stencils or Sketches
You can take certain leaves and use them as stencils, you can place it on a piece of paper and paint over them, peel it off and an outline of the leaf remains.
You can place the leaf under the paper and take a pencil and go back and forth on the paper and see the shape of the leaf appear.
Paint Brushes
You can even use different plants as paint brushes. Just stick them in the paint and go to town. Use a rose as a paintbrush.
You can also use corn husk or cobs. You could even use dandelion. Cattails could be a useful paintbrush.
Just take a look in your garden and you can see a ton of useful plants for creating amazing art.
The Five Beautiful Murals Added to Downtown Amarillo
The HooDoo Mural Festival of 2021 means there are five more gorgeous works of art that can be seen in Downtown Amarillo. These gorgeous splashes of color and creativity are a sight to behold.
Amarillo Botanical Gardens
The Amarillo Botanical Gardens is an oasis in the High Plans. If you haven't already been to this beautiful place, be sure to pop in for a visit. You'll fall in love with the beauty and color given by this place.
The Downtown Art Of Amarillo Centennial Plaza
Centennial Plaza is an often overlooked jewel in downtown Amarillo. There are several unique highlights in this downtown fixture dedicated to Amarillo's first 100 years.