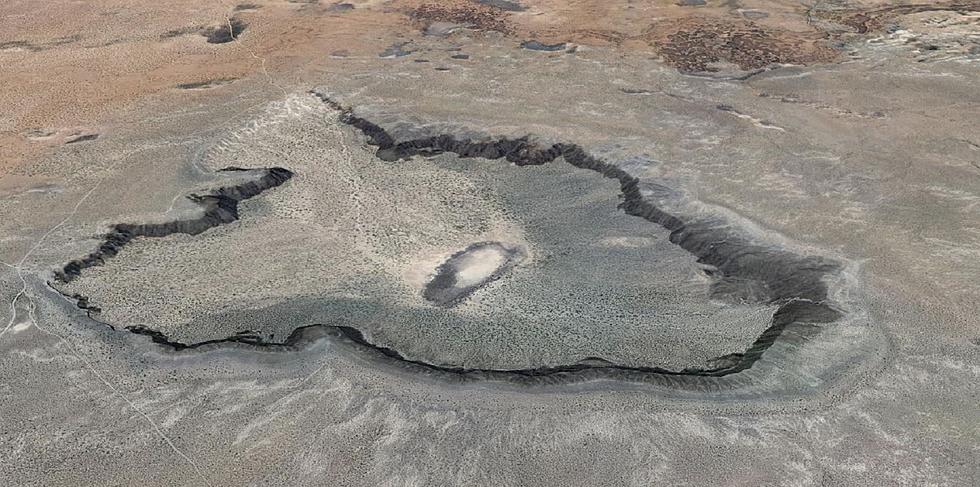 Explore An Ancient Dormant Volcano Just 30 Miles From El Paso
Google Earth
El Paso and Las Cruces sit close to the remnant of an ancient volcano crater that erupted centuries ago.
Kilbourne Hole Volcanic Crater sits just 30 miles away from El Paso and has served as a training ground for astronauts during Nasa's Apollo program.
Listen to Monika middays all week on 93.1 KISS-FM and download our free 93.1 KISS-FM App.
The volcano has been dormant for thousands of years, and it probably won't ever erupt again, but you never know - Mother Nature always does her own thing.
The site of this fascinating discovery was designated a National Natural Landmark in 1975 and is managed by the U.S Department of The Interior Bureau of Land Management.
Kilbourne Hole is not your typical volcano because the crater formed when magma heated groundwater, creating extreme pressures, followed by a steam explosion emitting mostly volcanic gas and leaving behind an elliptical-shaped crater known as a Maar.
According to the Bureau and Land Management, the crater is "somewhere between 24,000 and 100,000 years old, measures 1.7 miles long by well over a mile across, and is hundreds of feet deep."
The Kilbourne Hole Volcanic Crater is a rare example of volcanic action with no mountain rim. Due to its unique nature and resemblance to craters on the moon and Mars, astronauts from NASA's Apollo program 12 through 17 used the site as part of their geology field exercises.
El Paso is only an hour away from the Kilbourne Hole sitting between the Potrillo Mountains and the Rio Grande in southern Doña Ana County by the Potrillo volcanic field that stretches towards Colorado.
The Maar also offers up a bevy of unique minerals that remained after the ancient eruption, which left behind volcanic bombs or molten rock that range from black to brown. When split open, they often reveal a brilliant, sparkling yellow and green interior of olivine glass granules.
Open year-round, the crater is a favorite hot spot for tourists, hiking enthusiasts, and explorers. However, there are no restrooms or drinking water available and no cell service, so pack accordingly if you're planning a trip.
For directions and more information on the Kilbourne Hole Volcanic Crater, call 575-525-4300 or visit the Bureau of Land Management HERE.
The 11 Tallest Buildings In El Paso
All 10 Of El Paso's Nicknames