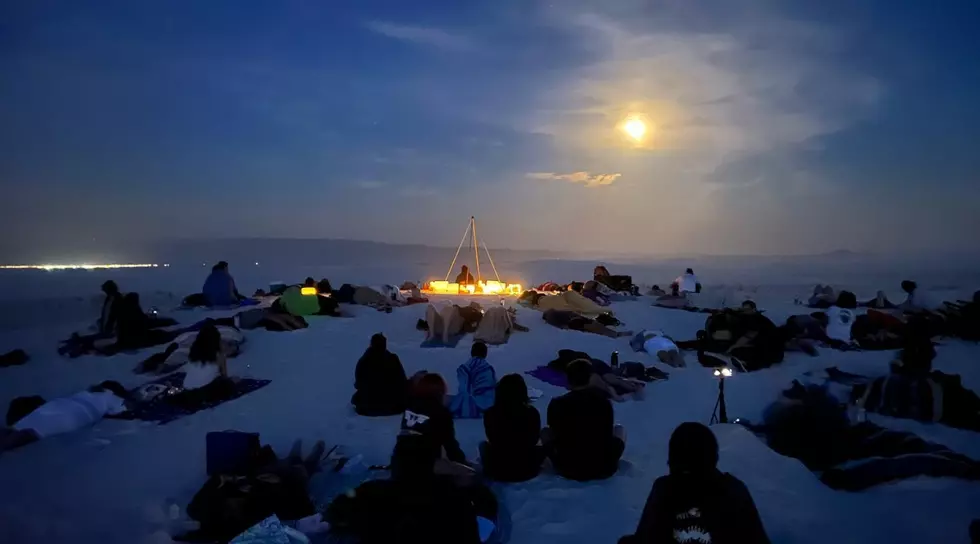 Experience A One Of A Kind Full Moon Sound Bath At White Sands
Instruments Of Healing
This month is your chance to experience an ancient healing practice during a full moon with a magnificent sound bath at White Sands National Park on July 13, 2022.
El Pasoan Cesar Lujan of Instruments of Healing is back this month with another Full Moon Sound Bath experience that will reinvigorate the mind and body.
Lujan, a professional Sound Healing Teacher from El Paso, travels across the country performing his meditative skills trained in Crystal Healing, Holy Fire III Usui & Karuna Reiki, Metatronia Therapy, and Raindrop Technique.  
Attendees will enjoy a meditative journey allowing the sound bath's healing and hypnotic vibrations to resonate through the body as the full moon glows over the gypsum dunes at White Sands National Park.  
A sound bath is a form of ancient acoustic therapy dating back thousands of years across many cultures worldwide which carries many health benefits from deep relaxation to lowering stress and anxiety while improving mood and well-being.   
What To Know Before You Go
The evening event will take place outdoors, so dress accordingly.   

 

Participants can bring blankets, pillows, chairs, jackets, umbrellas, and drinking water.  

 

Crystals, amulets, and elixirs are all welcome to charge under the moonlight and vibrations of the crystal singing bowls.  

 
Admission:   
The full moon sound bath is free, but a $25 donation (to cover transportation costs) is encouraged -  but not required.  

 

White Sands National Park entrance fee is 

$25 per vehicle

. 

 

Click Here to reserve a spot
This week, experience a one-of-kind healing sound bath during July's full moon at White Sands - and make your reservation because space is limited and fills up fast.
Wednesday – July 13, 2022

 

Sound Bath begins promptly at 7:00 p.m.  

 
Here's Where To Find All Of El Paso's 3D Balloon Mural Series:
Discover El Paso's most famous murals created to unite our community by local artist Tino Ortega.
Yum! Weso Steakhouse Sneak Peek & Menu In Downtown El Paso
Weso Steakhouse is a new restaurant that will have carnivores drooling over their prime-cut meats.
Photo Gallery: El Paso Sun City Pride Fest & Pride Parade 2022
El Paso showed up for the 2022 Sun City Pride Fest and Pride Parade which also happened to be the largest in El Paso history with over 100 floats and thousands of participants and spectators celebrating inclusivity and diversity.