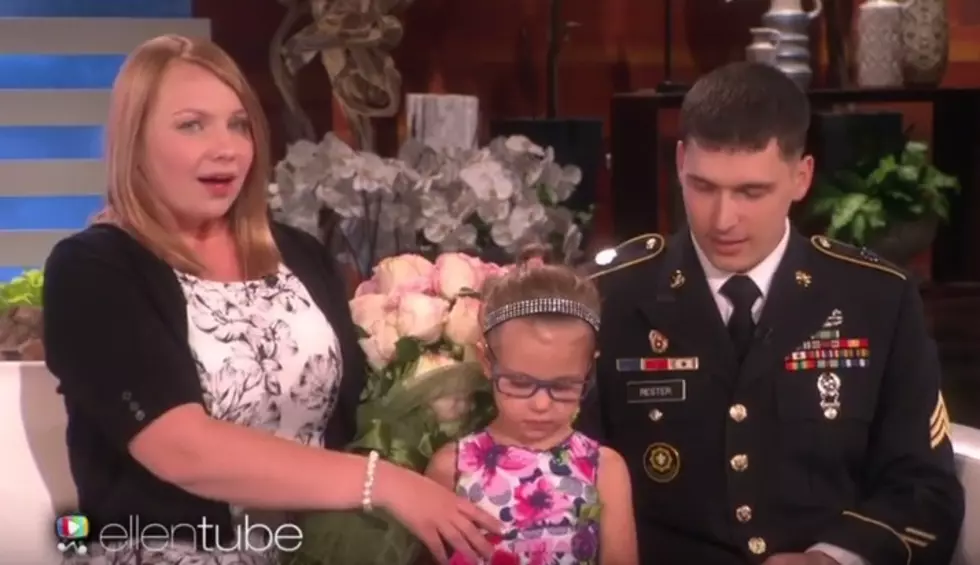 Adorable 4-Year-Old Gymnast from El Paso Reunited with Her Daddy on 'Ellen'
The Ellen Show via Youtube
Remember the adorable 3-year-old gymnast from El Paso who wowed Ellen DeGeneres and her viewing audience this past March?
Well, Emma, who is 4 now, and her mom Annie returned to "The Ellen Show" this afternoon, and this time they were joined by a very special guest -- her daddy!
Brent Rester has been stationed in Korea, and sadly, missed Emma's birthday celebration (shout out to Junkle Jaks!), but it's all good now.
Thanks to Ellen, Emma and Annie will spend two glorious days with Brent at The Happiest Place on Earth. Dad and Mickey Mouse for two days?! She is one lucky little girl.
Watch an unusually reserved Emma and her heartwarming reunion with her daddy in the video below.
After taking a moment to process the happy, but unexpected surprise, Emma took to Instgram to thank Ellen for her way-cool birthday present.
And then it was off to Disneyland ...