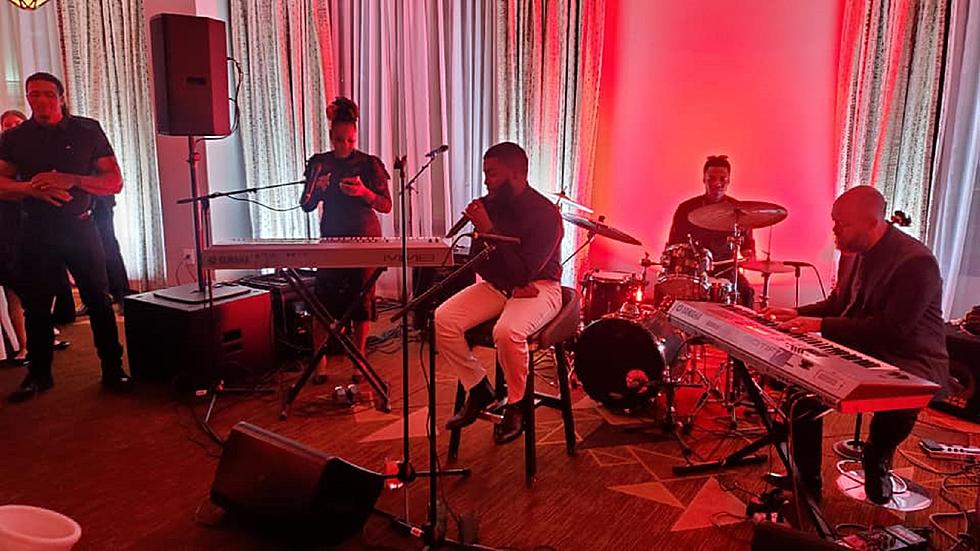 El Pasoans Welcome Khalid Home For First-Ever Sun City Gala
Billy Townes
Khalid comes home for the first-ever inaugural Sun City Gala benefitting his namesake's foundation.
Sporting a sleek white tux and a black shirt and bow tie, Khalid sang and danced the night away at the first annual Sun City Gala with proceeds benefitting The Great Khalid's Foundation year-round initiatives celebrating its continued service in the community.
The intimate black-tie affair took place at the newly renovated Plaza Hotel as guests enjoyed a five-course chef-curated menu, live entertainment, and a silent auction showcasing one-of-a-kind memorabilia.
The evening also included more surprises as Linda Wolfe, executive director for The Great Khalid Foundation, and Khalid's mom also took the stage to belt out some tunes accompanied by local musicians Billy Townes and R& B/Soul musician Sha'Vonne.
As Khalid's fame continues to rise, the international star is getting ready to release an EP in November. In July, he debuted the first single, New Normal, which included a shout-out to his hometown with a few easter-eggs featured in the futuristic music video. While in El Paso Khalid posted a video atop the Plaza Hotel parking garage following him throughout the day into the evening's festivities that showed him singing, dancing, and having the time of his life promoting his new single that's dropping in a few weeks.
Since 2019, The Great Khalid Foundation has served over 4,600 families through its various community initiatives, including awarding $60,000 in scholarships to local students, hosted the first-ever Fine Arts Student Black History Art Exhibition, distributed over 1000 backpacks filled with school supplies, donated $500,000 to the victims of the August 3 shooting, and so much more, including passing out a complete Thanksgiving meal to over 1,000 El Paso families in 2020.
25 Celebrities Who Have Stayed at The Historic Hotel Paso del Norte
Loteria Del Chuco Preview
El Paso's Blue Moon Drive-In